Interest in Nashville Sex Club Posing as Church Surges After City Files Complaint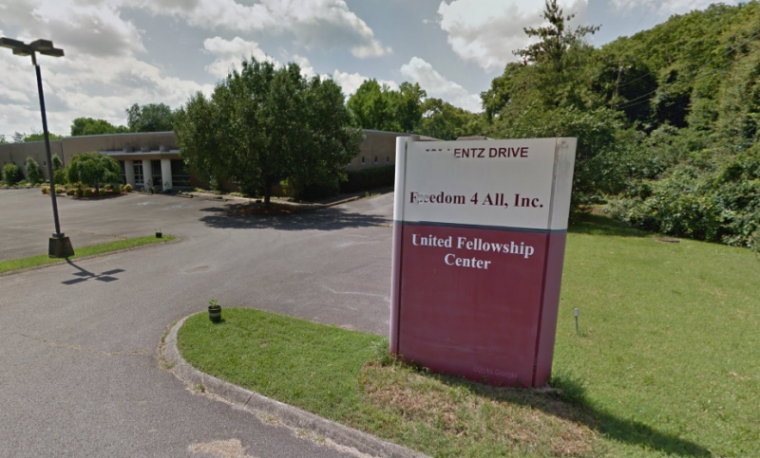 Calls of interest surged at a controversial sex club in Madison, Tennessee, posing as a church next door to a Christian school after the Metropolitan Government of Nashville and Davidson County filed a complaint in court Thursday seeking an injunction to permanently close it.
The complaint states that Freedom 4 All, Inc. was issued a permit to operate a church at 520 Lentz Avenue in Madison but has been busy operating a sex club in violation of the permit instead.
It argued that Freedom 4 All, Inc. is "maintaining a public nuisance by permitting acts of lewd conduct" and is in violation of city ordinances and state law which prohibit operation of the club within 1,000 feet of a school.
It was reported in 2015 that developers had fought for months to open a swingers club at the address next to the Goodpasture Christian School about eight miles north of downtown Nashville but the city council had blocked the plans.
Developers, however, filed a new set of plans to renovate the building as a church and it was approved to operate as the United Fellowship Center.
When two inspectors from the city's Sexually Oriented Business and Licensing Board visited the church in March, however, they didn't find people praising God. Instead, they encountered people performing sex acts in multiple rooms including one designated for the "choir."
The people in the building were identified as participants of The Social Club, advertised online as "Tennessee's oldest LifeStyle event since 1980."
The complaint states that "The Use & Occupancy Certificate (of the building) was granted upon the specific representation that Defendant would lease the building to either The Church of His Enduring Grace or Pavilion Church and that no other business would operate therein." 
Undercover city officials who visited the club on March 25 paid a fee of $40 to enter the club and noted in affidavits that they witnessed multiple lewd acts.
"Once inside Gibson and Earles observed approximately one hundred patrons. The building houses 12 individual rooms which all had doors and either a bed or lounge type chair within. Some rooms allowed viewing into the rooms. Gibson and Earles observed patrons openly engaging in sexual conduct and intercourse in the rooms and foyer," the complaint said.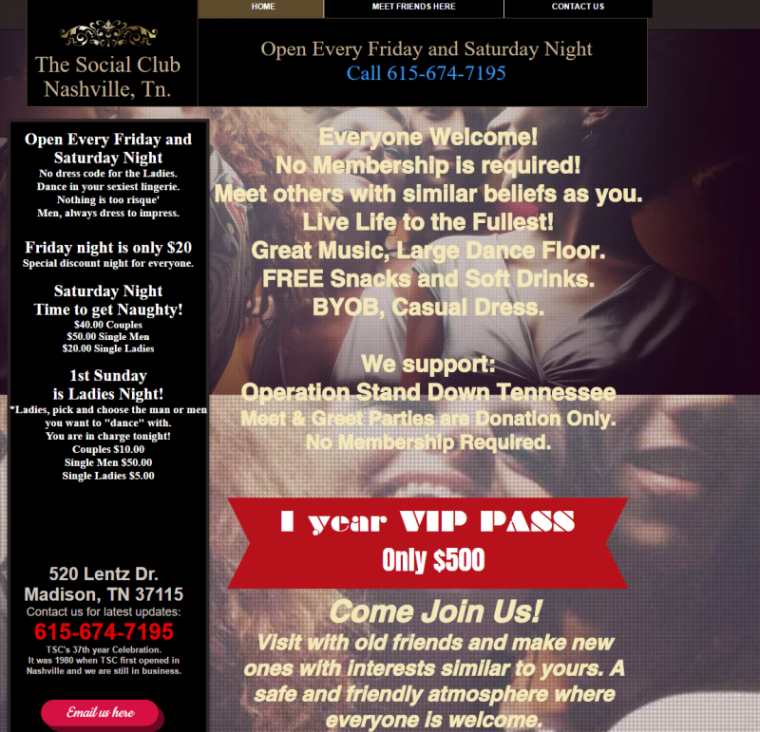 The Christian Post reached out to the club Friday and a man who said he had been a club participant for 15 years answered the phone. He said could not give his name because he had grandchildren but confirmed that they would abide by the terms of the injunction.
He said that they were planning to move at the end of August and the city's court action is simply making them relocate sooner than planned.
"My understanding is that the club was going to move to the right place within a couple of months and they were in the process of giving the property to homeless veterans as a homeless shelter," he said.
When asked if the city officials were correct in their assessment of what they saw at the club in March, he said he wasn't sure.
"I can't dispute it or deny it or agree with it at all 'cause I wasn't there," he said. "I don't believe I was there. Honestly, I don't remember if I was there at all."
He explained that the club did not have official members and anyone could walk in and meet with people who share the same interest, desires and beliefs.
When asked if those beliefs involved sex, he said he could not speak for the beliefs of the other persons who were involved with the club but in the 15 years he and his wife have been attending the weekend gathering, they had never had sex there.
"Personally, my wife and I have never had sex there. We just go to meet people. But what the other people say they saw I can't say yes or no," he said.
When asked if they worshiped God at the club, he said: "Well, you come in and meet other people that have the same interest and desires as you."
He further noted that "there are four or five ministers that are a part of the club too." Some, he said, were local Christian ministers while others came from different states.
He claimed that the group not only met to socialize but also donates much of the money they collect to homeless shelters and other charitable groups.
A church used to meet at the location for about six months prior to The Social Club, henoted, but they fell behind on rent and had to be evicted.
When asked if participants in the club were upset about the injunction, he replied, "Not really."
"The thing is I've been getting phone calls from people who didn't even know that there was an organization in Nashville, that they picked it up from the news, that they wanna come," he said.
"There's about five or six different people that answer this phone as it rotates and we all have been busy (since the news)."