Interracial Family Creates 'We Are the 15 Percent' Website to Counter Cheerios Ad Backlash
About a fortnight after a Cheerios commercial featuring an interracial family faced backlash on the Internet, an interracial family has responded by launching a website called "We Are The 15 Percent."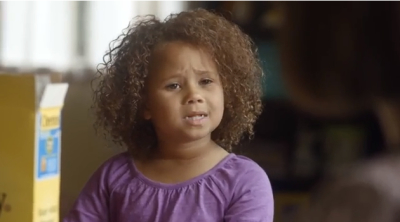 The website, created by photographer Michael David Murphy, allows interracial families to upload their pictures. "We created this site to publicly reflect the changing face of the American family," Murphy and his wife, Alyson West, the creators of the website, say on "We Are The 15 Percent."
"According to the 2008 census, 15% of new marriages are interracial," the website says. "And yet, it still feels rare to see something like the Cheerios ad represented in mainstream culture."
The couple says when they watched the commercial, "it felt great to (finally) see a representation of our own family."
In the Cheerios ad, which began airing about two weeks ago, a bi-racial girl asks her white mother about the health benefits of Cheerios. The ad features a black man as her father.
Soon after the commercial was posted on YouTube, reactions to the biracial family portrayed in the video turned so negative that the comments section on the video had to be disabled.
"We're not just reacting to negativity, we're boosting representation, elevating the conversation and hopefully giving context that reaches beyond Madison Avenue," The Huffington Post quotes Murphy as saying. "These families exist; we eat breakfast and walk our dogs and love just as hard as families in other cereal commercials."
Murphy and his wife know what it feels when sneered. West was recently asked at a park if she was her 1-year-old daughter's babysitter.
But their website is receiving hundreds of submissions from across the country. "Just like us, [these families] are proud to see representations of their normal. We're glad and grateful we can help produce that, even if it's just one little site on the Internet," Murphy says.
Christopher Colbert, the father of the interracial girl featured in the ad, was interviewed by MSNBC earlier this month. "There is many other things that we could talk about in America but this still being an issue, people having a problem with who I choose to love or whom you choose to love it shouldn't be an issue anymore, I actually don't understand why it's still is this issue that keeps going and going and going," he said.
"When we first saw the first five comments, they were good and then it started to get negative after that point," Colbert added. "My reaction to it was very exciting because being a part of the biracial family is just a reality. We're also part of the face of America and so America needs to see this is just a way of life and this is the way that life is today."
Camille Gibson, vice-president of marketing at General Mills, which makes Cheerios, earlier said, "We were trying to portray an American family and there are lots of multicultural families in America today."
The number of interracial couples across America has reached an all-time high, according to data recently reported from the 2010 census. One in 10 – or 5.4 million – heterosexual married couples identified as interracial, reflecting a 28 percent increase from 2000. Some 18 percent or 1.2 million heterosexual unmarried couples were also from different races.
Just Checking