Interview: Alan Chambers on Closing Exodus Int'l and Starting a New Ministry
Alan Chambers served as the president of Exodus International, the world's largest ministry to those struggling with unwanted same-sex attraction, for more than a decade before it was announced Wednesday that the organization would be shutting down. In an interview with The Christian Post, Chambers shared how Exodus came to its end and what ministry plans he has for the future.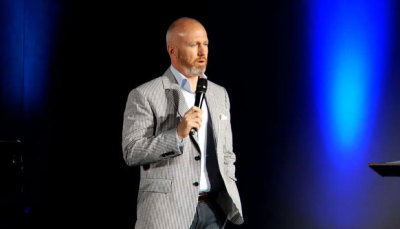 Before the 37-year-old ministry announced it would be closing it underwent significant changes in the last few years. Most notably, perhaps, was its decision to stop promoting reparative therapy as a way to reduce or eliminate unwanted same-sex attraction. Many people felt the therapy did more harm than good, filling those seeking help with unrealistic expectations of change.
In addition to this week's shut-down announcement, Chambers apologized to the gay community for the pain Exodus' teachings and practices might have caused them in a letter on the ministry's website and on an episode of "Our America with Lisa Ling."
The following is an edited transcript of CP's interview with Chambers:
CP: The board voted unanimously to shut down Exodus, and the press release says that they prayerfully considered doing so over the course of a year. What topics came up in the discussions about potentially closing the ministry?
Chambers: First, I'll start with, in 2001 when I was being hired by Exodus, the hiring committee and the board of directors asked me a final question in that process and they said, "What does success for you look like in the ministry of Exodus?" And I said, "Very quickly, success looks like Exodus going out of business because the church is doing its job." And over the course of my 12 years in leadership at Exodus, that has been on the forefront. It has been a part of every message I have given. Our leaders have become very well aware of that as a mission. The board hired me in spite of all of that, knowing that the goal really for all of us is to promote the local church and to build the kingdom through the local church, and so that's been our priority.
We put in place, over the course of the last eight or nine years, a thriving church association. We've devoted the majority of our time in my office to … building relationships with churches in hopes that they would really take up the mantle of responsibility for reaching out to people who have same-sex attraction, and also realizing that there is a tremendous need to build relationships with gay and lesbian people, with whom they often disagree. And so that's been, really, at the forefront of all of this. And 18 months ago – we have an annual leadership conference at Exodus. We bring all of our leaders into Orlando – and so 18 months ago, January 2012, about 150 of our leaders were together. And I had been working with people who had been pioneers and mentors and leaders at Exodus and in the Christian world to really decide what to do with the ministry of Exodus.
And ... I felt like we'd come to a crossroads. The culture was changing. Exodus had become a lightning rod in many senses. And most of the good that we had done or could do was being overshadowed by the negative. And so our four options were, number one, to stay the same, which really was an option I was unwilling to be a part of. The second thing was to rebrand. The third thing was to modify. And the fourth thing was to shut down. And our leaders reacted pretty strongly against the idea of shutting down. In my gut, and in the gut of some of our core leaders, we really knew, I think, that that was probably going to be the option at some point.
But we opted to modify, and I think that's really been where a lot of people have seen our course corrections over the course of the last year or so, from some of the statements we've made distancing ourselves from reparative therapy and those types of things, and really trying to make up for the difficulty that it's been to be a very large, worldwide entity that encompasses thousands and thousands of people, ministries and stories that, at the end of the day, all get labeled "Exodus." And so we've tried to make some positive changes and make amends where we could. And what we've realized over the course of many months now is no matter what we do it will never be something that we can completely be out from underneath.
About three weeks ago I sent a letter to my board and just said this is just something that I believe has to happen. It has to happen quickly, and we need to ... close the ministry. And they responded affirmatively. I sent it to my leadership and my staff and many very close friends within Exodus and outside, and they resonated with that. People I seek wise counsel from resonated with that decision as well. And so we got together this week with the intent of closing Exodus and dreaming of something brand new. And so it's been a difficult decision but it's the right one … Even within groups of people in the church, large groups of people in the church, who agree with us on theology or our beliefs about sexual expression rooted in Scripture, which have not changed, what they said is, … "We won't partner with you. We won't partner with a ministry that has so much negative attached to it." And so we've had to look at that. It's not just our typical critics, but it's our friends who have said, "It's time, and let's end this and move forward." So we did.
CP: Was there something in particular that caused you to send that letter to your board three weeks ago?
Chambers: Just really knowing that our annual board meeting was coming up, that our conference was coming up, that we had an opportunity to make a very clear statement. I knew that the interview I had done with Lisa Ling for "Our America" on the Oprah Winfrey Network was airing. I was putting out a public apology on behalf of Exodus, and it was time. It all needed to coincide with each other and to be done very, very quickly and very decidedly.
CP: You made the announcement after the 38th annual Freedom Conference had already begun. From your point of view, how has that affected the tone, or maybe even the message, of the conference?
Chambers: I think it definitely has affected the overall feeling of the event. We're all here together, lots of people just trying to wrap their brains around it. People who have never been to an Exodus conference before realizing: We've waited all these years to come to this conference. We've dreamed about coming to this conference, or we saw this as just such a beacon of hope and now we're closing. But for us, what we've also sensed is a lot of people really excited to do something new. The people who are here have stuck with us or joined us over the course of the last year. So while there is great surprise, they're also really interested in the next Christians, the new things that are coming in the church and a new opportunity to be the church in a way that I believe God is calling us to be the church in this season.
CP: You just mentioned you issued an apology on "Our America with Lisa Ling," and you did that in front of a group of people who felt that they had been harmed by reparative therapy. What was that experience like for you to sit in front of them and to give that apology, and also to get feedback from them as well?
Chambers: Excruciating … I mean, it was something that had to be done. I don't know many pastors or leaders who have sat and listened to people who have been hurt. Many of them shared stories about Exodus. Many of them, people that I had never met, who went through a various ministry or worked with a counselor or people who had been hurt by the church. And I don't know many Christians who sit down and listen to that and really own the burden of the hurt that we have caused through words we've used or things we've believed or things like that. And I think it really is time for the church to turn around and listen to the people who are screaming with fever pitch about the things that the church has done to hurt them, because there are those things, and we must own them. If we're ever going to be credible, if we're ever going to be taken seriously, if we're ever going to compel people toward the good news of the Gospel we have to be willing to make amends and say we're sorry and listen to people scream at us without screaming back.