Interview: Eric Metaxas on Biblical Manhood, Christianity in New York City, and Gay Marriage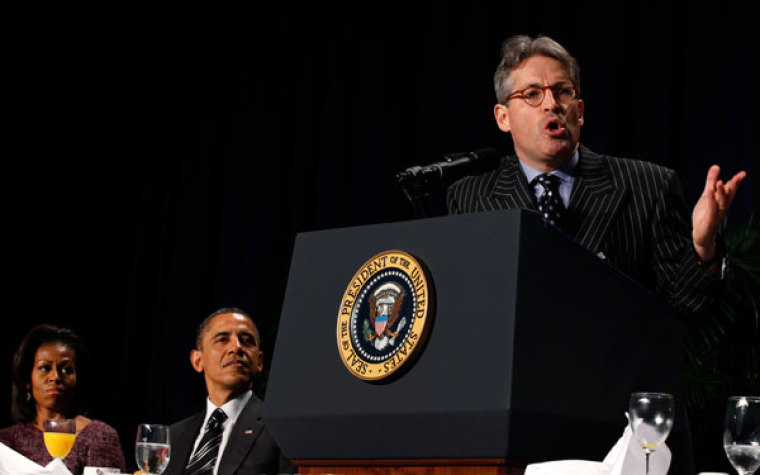 Eric Metaxas, New York Times bestselling author, keynote speaker at the 2012 National Prayer Breakfast in Washington D.C., and a voice of BreakPoint radio, discussed his latest book 7 Men And The Secret of Their Greatness with The Christian Post this week. He shared the need for authentic biblical manhood, his efforts in promoting the life of faith in New York City, and guidelines for a discussion on gay marriage.
"There's a crisis of manhood in the culture," Metaxas said, "and it is at the heart of many of our problems." His new book emphasizes seven role models to reintroduce a positive view of manhood.
He opened by criticizing the notion that men and women are in a "battle of the sexes" for jobs and social leadership. The world views strength as a selfish tool "to aggrandize myself and to keep others down, which, of course, is the opposite of God's plan," he said. Since the world views strength as negative, it advocates a great equalization – women should be stronger and men weaker.
But "when you have a biblical idea of men's strength, you know that God only gives us anything good to be used for his purposes and mainly to serve others," Metaxas added. Strength isn't bad, "the misuse of strength is bad."
"Young men, more than anything, need good role models in their lives," he added.
Each of Metaxas' 7 Men had great strength, but used it for good. "The thing that holds all of them together," he said, "is that every one of them made some noble sacrifice. They had some great strength and they sacrificed it for others – for a larger purpose."
Jackie Robinson, for example, "gives up the ability – the right – to fight back so that generations ahead of him can be blessed." The African American baseball star who broke the limits of segregation endured a great deal of hate and racial slurs, but chose not to react due to his strong Christian beliefs.
Eric Liddell, the Scottish Olympic champion immortalized in the film "Chariots of Fire," refused to run on Sundays, giving "up a practically guaranteed gold medal to honor God."
The book also focuses on a less well-known event, the "Newburg Conspiracy," in which George Washington told his troops not to overthrow Congress and make him king. "We've not really appreciated how tremendous – how huge the sacrifice is that he made," Metaxas noted. "To me, he is in some ways a classic case – the classic case – of greatness."
"In the case of George Washington – which I really think is the most dramatic in some ways – he gives up virtually unlimited political power to do the right thing, to stand up for the idea of liberty and democracy," he said.
As he was writing the book, Metaxas witnessed the death of his friend, Chuck Colson. He originally intended to include Abraham Lincoln in the book, but Colson's death altered his plans. "I knew that he needed to be the Seventh Man," Metaxas shared.
"Chuck Colson bumped Abraham Lincoln," which the author found "very funny."
If he writes another volume, he plans to include Lincoln, and may include Martin Luther King, Jr., who didn't make the cut because Metaxas was not as familiar with his story. "It's a very subjective list," he acknowledged.
Despite his great successes with biographies of Dietrich Bonhoeffer and William Wilberforce (both of whom made 7 Men), Metaxas said he does not plan to "ever write another long biography." He did, however, promise that he would "write a 7 Women – probably – before I wrote another 7 Men," and that Lady Margaret Thatcher would likely make the cut.
Christian Life in New York City
When he isn't writing books, Metaxas leads "Socrates in the City" in New York City, a monthly event that examines big questions of life from a biblical viewpoint. While most of the events have featured a lecture from a distinguished speaker, Metaxas said, "I think we're going to be doing mostly interviews." Interviews fit the style of Socrates (as portrayed in Plato's Dialogues), and the first interview – on Metaxas' 50th birthday – proved a success.
The goal of his efforts in the Big Apple is two-fold. "On the one hand, I'm trying to reach out to unchurched folks, but I'm also trying – in the words of my friend Andy Crouch – to model a Christian posture to the world."
Gay Marriage Debate
On the issue of gay marriage, he said his big concern is the "ramifications for religious freedom."
"It's a tremendously important issue and it's being ignored utterly. It's essentially being steamrolled over and that will lead to real trouble in the years ahead," Metaxas said. "The movement toward redefining marriage to include same-sex couples is currently moving along like a freight train and as it speeds along no one is saying 'wait a minute, we need to slow down and ask what will this mean for religious freedom in America...' And I think that's very dangerous."
He favors listening to the voices of dissent on the gay marriage issue, "because religious freedom is at the heart of America."
"When people say that the debate is over, I think what it really means is that they are deathly afraid that a real debate will begin – and then the holes in their argument will be revealed," he said. "To try to preemptively shut-down debate with name-calling is profoundly un-American and will harm this country. Everyone needs to stop and breathe and look at how redefining marriage will have a hugely chilling effect on religious liberty in America. If we do not do that, we will pay a terrible price in the years ahead."
Evangelical Immigration Table
Metaxas also criticized what he alleged to be another instance of political manipulation – the Evangelical Immigration Table. Even before reports suggested George Soros may be involved in the group – a claim which all members have denied – Metaxas left because he signed on "to some pretty simple ideas, and that was twisted to say we support the Gang of Eight."
"When you sign on to something that says we agree with these values as Christians," he explained, but then "translate that into specific policy, like this Gang of Eight immigration bill – which I think is bad policy – then you really need to make that clear."
The Christian Post is giving away 4 copies of 7 Men. For more details, click here: 
http://blogs.christianpost.com/bookstop/book-giveaway-7-men-by-author-eric-metaxas-16926/