(Interview) Francis and Lisa Chan: We're Not Perfect Christians; Every Day We Fight for an Ounce of Holiness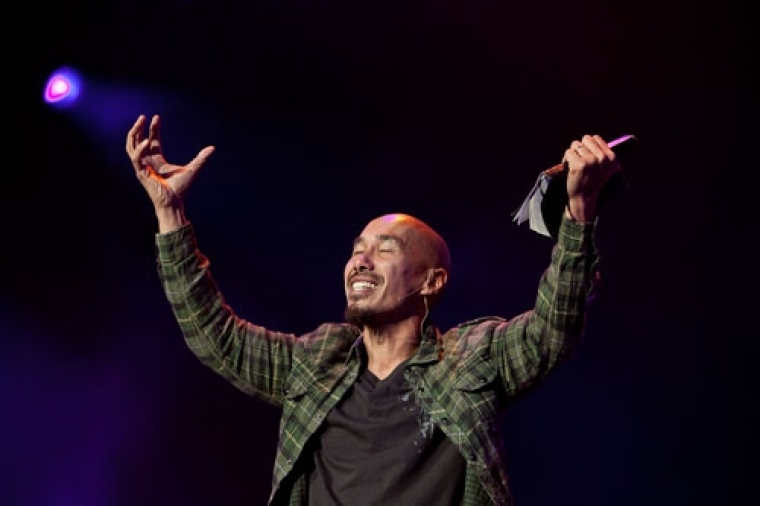 You and Me Forever: Marriage in Light of Eternity co-authors Francis Chan and his wife, Lisa, insist that they wrestle with fear and selfishness just like everyone else despite the public putting them on a pedestal after they left the stability, comfort and spotlight of leading a California megachurch in 2010 to surrender to God and let Him call them anywhere in the world and do anything He wants.
"I'm as selfish as the next guy. I'm just thankful for the grace of God, that He opens my eyes occasionally to make the right decisions, decisions that I won't regret," Francis told The Christian Post in an interview this past week.
"We fight every day for any ounce of holiness."
Lisa shared that some of the most rewarding decisions they've made have also been very painful.
"That's why I get so emotional when I talk about something like inviting Shawn and Carolyn because I know what it's like to wrestle with my own fear and selfishness," Lisa, who is working with her husband to bring the Gospel to inner city apartment complexes, told CP.
She tearfully recalled the choice to allow a former inmate and his family to move into their San Francisco home and the resulting blessings from that decision. "To have them come and live with us and now to see them serving God, loving each other, discipling others, it just makes you, you know, your heart so overwhelmed with the thought and the joy of why would God allow us to be part of that."
She also wondered what would have happened if she had let fear or selfishness hold her back. "If I had said no. If I had said this is my house, I don't want to give up my bedroom, where would we be? What would have happened?"
Living for Christ doesn't mean being devoid of emotions, she explains. "We have to fight through the fear and the selfishness and it can be done and I want other people to know that it's possible."
And that is what the Chans encourage other couples to do in their new book You and Me Forever: Marriage in Light of Eternity. "We have grieved as we watched couples pursue happiness while neglecting their mission on earth," wrote the Chans in the book.
Francis told CP that the popular view of marriage held by many Christians as a union in which spouses strive to make each other happy is not completely supported by the Bible. "I think about how Paul in 1 Corinthians 7 pushes making the mission and the Gospel so much larger than marriage and that's really the message we don't hear about very often," he said.
About his own marriage, Francis says, "If there were no eternity and we were just living for this life, then I would love Lisa much, much differently. I would just think, well let me just wine and dine and buy her anything she wants. You know, make her as happy as possible down here and just all the luxuries and comforts she's ever wanted. But because there's an eternity, we do things differently."
In eternity, Chan writes, referring to Matthew 25:23, "I want her to hear God say 'Well done, good and faithful servant. You have been faithful over a little; I will set you over much. Enter into the joy of the master.'"
As hard as it is sometimes, Lisa says, "The thing that I'm most grateful for with my husband is that he does all of this, [and that he's] always thinking of eternity."
You and Me Forever: Marriage in Light of Eternity hard copies can be ordered online. The Chans are donating all of the net proceeds from the books to various ministries providing for orphan children and exploited women around the world. You and Me Forever is also available online as a free PDF.