Interview: Luis Palau on Misunderstandings of the Christian Life
Luis Palau, the fiery preacher who some have called the "Latin Billy Graham," knows what it's like to be a dry, fruitless and unhappy Christian. For years, he practiced faith with determination, trying hard to study the Bible and to pray, yet felt like he was stuck in a desert life – without joy and without victory. Then came a realization that led to Palau's radical renewal in faith: It is not I but Christ living in me.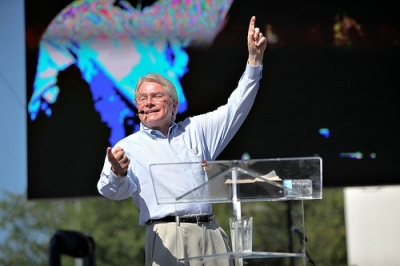 In his new book, Out of the Desert: Into the Life God Fully Intended, Palau shares about struggles from his early years as a Christian and offers biblical principles that have helped him become a Christian with real joy.
Palau recently spoke with The Christian Post about his struggle as a "sincere hypocrite," misunderstandings about the Christian life that lead to frustration among believers, and how he protects himself from the self-destruction that has happened to even the most respected Christian leaders.
CP: In the book, you called yourself a "sincere hypocrite." Do you feel that term describes Christians today?
Palau: I don't know about others but I know that it described me. I came up with that idea years ago because in a way, I was a sincere hypocrite though it sounded like a contradiction. I was brought up to know the Bible and in a church and I loved it. So I knew what your behavior was supposed to be like. But I realized that no matter how hard I tried, I wasn't even living up to close to even some of the standards. Then you unconsciously began to put on an act. It wasn't really an act to put on other people or to pretend you are better. I felt that I got to show that I really know Christ. I know that I should love people. I don't always feel loving but I'm going to act like I do. And Christians are supposed to be happy so let's act happy.
And in fact, there was a sermon by John Wesley, which probably he would recant today, in which he said if you want to love people, preach about love and eventually you'll love them. Or if you want to talk about happiness, preach about happiness and eventually you'll be happy. Well, I tried it for four or five years and it didn't work! You know, you feel like -- Boy I'm playing a game here, a sincere game. It wasn't that you were putting people on just to impress them necessarily but because you feel that I would dishonor the Lord if I wasn't happy, even though I don't feel like it, or if I wasn't pure, even though I don't feel very pure. So that's where that term came from. And it was real. It was very real.
We had a prayer group of young people. I think it's in the book somewhere. We used to pray Friday nights, seeking holiness, confessing our sins, and eventually one by one, some of them dropped out because they said, "We're never going to make it. We're never going to achieve it." I know I came to a crisis too. So that's why that phrase "sincere hypocrite." I finally began to think, you know, maybe the Gospel doesn't deliver what it claims or else I'm so bad, so depraved that I'll never make it, you know. So, it was a very frustrating time. It seemed -- I could be wrong -- but it seemed to me that I never heard someone explaining how do you live a life of integrity, transparency, not a perfect life that's the goal, but a life that really resembles what the New Testament teaches. That's the background for it. And I was searching desperately.
CP: So, you've written this book because you felt a lot of Christians were in your shoes?
Palau: Yes, yes. And I've gotten feedback in preaching about it. Speaking and preparing a city for a campaign or festival as we call them now. We would gather Christians and say to them, before we teach you how to win others to Christ as a counselor, let's talk about living a Christian life. So basically, I just put on paper biblically what I had experienced. And we got such good sense of God's blessing and people were saying, "Boy, this is what I've been searching for."
And my wife, who is wonderful but a big critic, kept saying, "Now you've finally found something to tell people and it's necessary." And for many years, I've talked about it. Then I felt, my goodness, I've been talking about the indwelling life of Christ, all that it means and what life could be like for so long that I'd better change my direction. And then about five, seven years ago, my wife said, you know, you got to get back to teaching people about the indwelling life of Christ because so many are frustrated, so many are in the desert -- that's where the title came up. In the desert, so many people feel dry, fruitless. So the more earthly types decide to switch husbands or wives and the more spiritual ones switch churches and they feel that maybe it's my church or I'm bored or I'm not living that joyful, fulfilled, not perfect, but you know a life that you kind of expect. So we decided to publish it.
CP: Something led to your radical renewal as you call it. What are the realizations from your mistakes that other Christians can learn from?
Palau: Well, I can look back on it and one of them was the thought of I'm not consecrated enough. The thought that I've held back. Even though I've said in the early years that I've dedicated myself, I've rededicated myself and I've super rededicated again myself. I've laid it all on the altar. Some preachers in camps or youth meetings would say, have you laid it all?
CP: How many altar calls did you answer?
Palau: A lot of them! Not for salvation but for rededication. I used to feel, yes, I'm holding something back.
And now, I'm reading a book this past week (I won't give his name because I haven't gotten permission to talk about it even though it's in a book form), he just got drunk, even though drinking was not my thing. But he kept falling and falling and falling. Now, he's an old man and he's still going back to getting drunk. I feel like saying to him, boy, you've missed the principle that's here. Yes, the temptation still may be there. For me, it was maybe you haven't searched your heart enough, or maybe you haven't dragged out every last bit of sin. But then I began to realize and as I walked along I began to discover this wasn't the answer, that wasn't the answer. It was that the Holy Spirit knows where we are. God, of course, knows. It isn't that we have to search ourselves. This book I'm telling you about? He just went to retreats, conference centers and rehab centers. Much of the time, we are self-searching. Have I been honest with myself, am I a liar? You spend your life focusing on yourself and nothing is more depressing than focusing on yourself.
So for me, I think one lesson is: Don't keep looking at yourself. That is highly depressing. Romans 7 - Paul says no good things. What a miserable man I am, who will rescue me from this body of death? Paul was going through that but then he emerges on the other side. One of the lessons is: Don't look at yourself, you have to look at the risen Christ.
Secondly, stop trying to find some little sin that you forgot to confess. The Holy Spirit convicts of sin. The Lord says, remember? In John 16, he says that the Holy Spirit will convict the world. Satan accuses, the Holy Spirit convicts. And if the Lord says, Luis, there is a sin that you have to confess and settle, the Holy Spirit doesn't toy with us or play with us or play games with us, he will quickly say this is the very thing you have to settle. This Sunday, at my church, our pastor spoke on Jonah. He says there is one point in your life that you are disobeying God. So I thought about it and I had one area so I confessed it. Now, the next step is to obey and do what you are told to do.
So those are some of the areas: looking at yourself, keep on searching and thinking that you haven't committed. That is part of the way where too many people get stuck, always searching themselves. And that is the mistake that I think too many preachers make, we lead them right there instead of taking them further. And I do believe, that in the U.S.A. today -- and I'm not a critic of the church in the U.S.A. I believe it is better than in many countries in the world, actually -- but there are many people who have reached the point where they say: What else is there? Something's missing? What is it? And I think the book really does try to take them one step at a time, from where they are to the where you should be and want to be.
CP: There are many misunderstandings that people have when coming to faith. Some think that after I become a Christian, after I've accepted Jesus, everything should change and I'm on the yellow-brick road to salvation and to God. What is the greatest misunderstanding that Christians have before and after becoming a Christian?
Palau: Well, there are quite a few. One of them is, okay, I'm forgiven, I'm going to heaven. Now, between today and the day He takes me home it's up to me. It's up to me to be holy. It's up to me to love people. It's up to me to serve. There's a sense that salvation is a free gift, but now it's up to me. And yes, there is a measure of truth to that but if you try to live that way in your own power, within two or three years, you will fall on your face thinking that I've made a big mistake that Christianity isn't working or something isn't working.
The second mistake is having an excessive view of how holy you can be before you meet Jesus Christ. You know, we shall be like him, because we shall see him for what he is. That's John 3. We look at other Christians and elderly people. I used to look at my mom and she was a saint. She made mistakes but I couldn't name too many of them. I thought, boy, I'll never be like her. So you look at other people and read biographies. Some biographies of the 1800s were very idealistic and dreamy. But the biographies were painted as if he never made a mistake. Then came a period in the 1940s, 50s and 60s, when people began to write "realistic" biographies that kind of shocked you. Whoa, Hudson Taylor did that, huh? He had a girlfriend and this and that. You realize, okay, they're not as perfect as I imagined. So there is an imagined perfection. My wife told me that at a certain college she attended where the president said, I have not sinned in 12 years. I was like let's ask his mother-in-law, you know? Really, it's a grand illusion to say such a thing when the scriptures has provided for our failures. 1 John 1 -- if we confess our sins. An unrealistic view of holiness, an unrealistic view of what your duty is, and almost not understanding, not even getting the point that it's not I but Christ living in me, which was the turning point for me.