Iraqi Priest Who Terrorists Smashed Face With Hammer: US Must Recognize Christian Genocide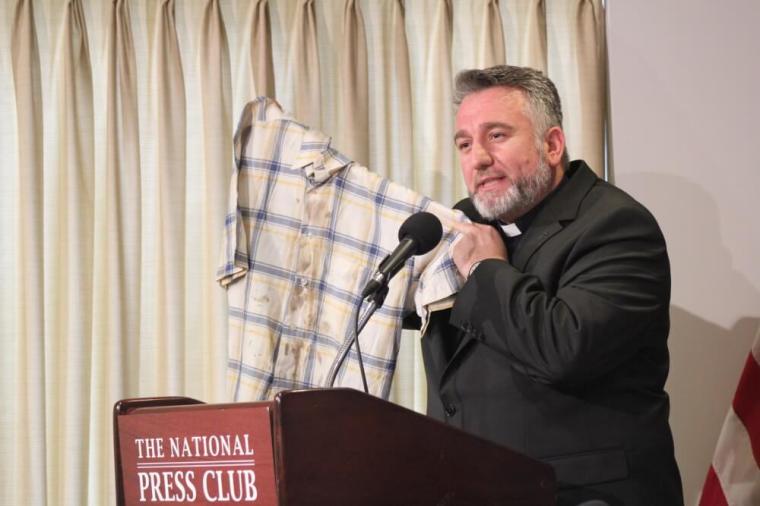 An Iraqi priest who was tortured brutally by terrorists has said that the United States must ensure that the Middle East massacre of Christians at the hands of the Islamic State terror group is recognized as a genocide.
"From 2006 to 2014, nobody heard about my story because who am I to complain, as a priest? Who am I to complain about my life?" Father Douglas al-Bazi told The Daily Signal. "I don't like for people to feel sorry about me. But in 2014, [with] what happened with ISIS to my people, I said, that's it — we have to talk. We have to put an end to this."
Bazi, who was interviewed by The Christian Post last week, explained that he was kidnapped in November 2006 while serving as vicar of the St. Elia Catholic Church in Baghdad.
"I got shot and survived many times," he revealed "They robbed my church. It happened after the ceremony mass. They told me, personally we don't know you. We have a list and your name is on the list. And they told me we have to bring you here. We lost everything because we are Christian."
The priest suffered heavily over nine days of captivity, where the terrorists smashed his face with a hammer, crushing his front teeth and breaking his nose. He was eventually released after the Chaldean Catholic Church paid $80,000 in ransom.
Intensified calls for President Barack Obama's administration to recognize the genocide of Christians at the hands of IS took a positive step on Monday after the House of Representatives unanimously voted 393 to 0 to declare the persecution of Christians as a "genocide," though Obama will still have to back the bipartisan resolution.
If successful, the resolution will also brand IS' actions as "crimes against humanity."
Conservative law groups, such as the American Center for Law and Justice, praised the House vote, noting that it is "a significant victory, incorporating a number of our key policy recommendations, but the fight for our brothers and sisters in Christ continues."
In his interview with CP, Bazi noted that the persecution of Christians in the Middle East has a long history, and will likely continued even after IS is destroyed.
"We are victims. The word [genocide] sometimes doesn't make sense to us. Genocide is a big word here. To me and to my people, 'genocide' is a polite word. I think we need to find another word to be fitting for what has happened to my people," the priest said.
"We are talking about systematic genocide. We are not talking about one [instance] just happening by the Islamic State. We are talking about a huge history of targeting our people. We are are one of the oldest groups — Christians in Iraq and Mesopotamia. Just suddenly we find ourselves losing everything."