Is Actress Emily Letts' Abortion Video Actually a Fake?
Letts' Employer Is the First Clinic in the US Sued for Not Informing Women That Abortion Can Increase the Risk of Breast Cancer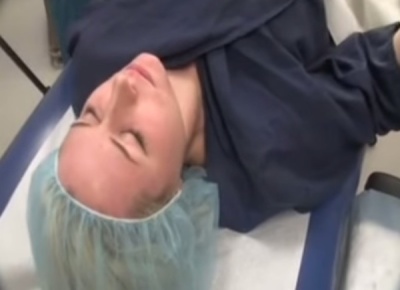 Former actress and abortion counselor Emily Letts, who posted a video on YouTube that allegedly shows her having a surgical procedure for an early first trimester abortion, is being called out by some pro-life advocates as having possibly faked the video due to its glaring inconsistencies.
Letts, 25, is working as an abortion counselor at the Cherry Hill Women's Center in New Jersey, and was awarded a cash prize from a pro-abortion group for submitting a 3-minute video of herself allegedly having an abortion as an entry in the "Abortion Stigma Busting" contest. Her video has already garnered over 2 million views on YouTube and she also wrote a column that was published in Cosmopolitan magazine to help promote the abortion video.
In 2003, the clinic that employes Letts paid an undisclosed settlement in a malpractice lawsuit that was filed against the facility after the abortionist on staff, Charles Benjamin, performed a second trimester abortion on a 17-year-old student from Pennsylvania without obtaining parental consent.
The clinic's staff also falsified the student's records and subsequently failed to inform her about the increased risk of breast cancer due to abortion.
In an effort to put a jovial face on the horrifying abortion experience, and to promote her abortion clinic, Letts entered the "Abortion Stigma Busting," video competition co-organized by the Abortion Care Network and the 1in 3 Campaign, a project of Advocates for Youth, which advocates for adolescents' access to abortions without parental notification or consent.
The Christian Post contacted Jen Boulanger, the communications director for Cherry Hill Women's Center who's coordinating interviews with Emily Letts, but all CP interview requests went unanswered. Boulanger is also a member of the Abortion Care Network, which co-organized the video contest that Letts entered and won.
As previously noted by Live Action contributor Cassy Fiano earlier this month, there are many red flags that she and other pro-life advocates can point to that lead to Letts' video possibly being a fake, such as the gestational age of the baby, the type of procedure Letts said was used to terminate her baby, and the fact that Boulanger, whom she works with, helped to coordinate the video campaign.
Similarly, when CP contacted the abortion clinic to ask if Letts' video is real, no one on staff would confirm its authenticity.
Whether Letts' video is real or was actually faked is not the sole issue of concern, according to Lila Rose, president of the pro-life group Live Action, who told CP in a recent interview that the video's authenticity is not the most important question.
"Certainly it's good to call into question the factors of the video and whether or not it was an actual video of her undergoing the procedure. But I think the most shocking aspect that makes it surreal and lacks reality is that women do not go into abortions with smiles on their faces," Rose explained.
"And when she's having the abortion, we never actually get to see the victim of the abortion or the violent aspects of it, and how this is killing a person. The fact that she shielded that from view, whether it's because it never actually happened and the whole thing is a hoax, or if it's because it's part of her propaganda, either way, the viewer doesn't see the reality," added Rose, whose organization relased a 60-page multi-state investigative report about Planned Parenthood, the nation's largest abortion provider, on Wednesday.