'Is Christianity Dying?' Russell Moore Says Rise of Nones, Decline of Christians in America 'Good News' for Church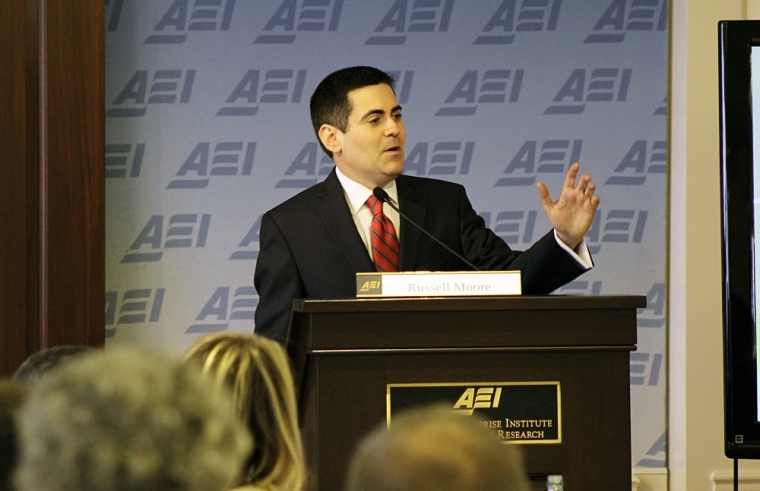 Russell Moore, president of the Ethics and Religious Liberty Commission of the Southern Baptist Convention, responded to the new Pew Study survey documenting the decline of Christians and rise of religiously unaffiliated, by calling the "increasing strangeness" of Christianity "good news" for the church.
"Christianity isn't normal anymore. It never should have been. The increasing strangeness of Christianity might be bad news for America, but it's good news for the church. The major newspapers are telling us today that Christianity is dying, according to this new study, but what is clear from this study is exactly the opposite: while mainline traditions plummet, evangelical churches are remaining remarkably steady," Moore said in a statement.
He added that the report shows that there are more honest atheists in America today, and that they are rejecting what Moore called "almost-Christianity," or traditions that "jettison the historic teachings of the church as soon as they become unfashionable."
"The churches that are thriving are the vibrant, countercultural congregations that aren't afraid to not be seen as normal to the surrounding culture. This report actually leaves me hopeful. The Bible Belt may fall. So be it," he continued.
"Christianity emerged from a Roman Empire hostile to the core to the idea of a crucified and resurrected Messiah. We've been on the wrong side of history since Rome, and it was enough to turn the world upside down."
The Pew study, released on Tuesday, noted that the religiously unaffiliated group rose to 22.8 percent share of the population in 2014, eclipsing the number of Catholics in America, who fell to 20.8 percent.
Christians as a whole fell from 78.4 to 70 percent of the population between 2007 to 2014, with every major group experiencing a decline. Evangelical Protestants fell from 26.3 to 25.4 percent, and Mainline Protestants declined from 18.1 to 14.7 percent.
The number of self-described atheists among the unaffiliated nearly doubled, however, rising from 1.6 to 3.1 percent of the total population in the same time period.
In a posting titled "Is Christianity Dying?" on his blog "Moore to the Point," the ERLC president wrote that the Pew study shows that it is not so much that atheist are rising in numbers, but that more people are refusing to identify as Christians simply because of societal pressure.
"In the Bible Belt of, say, the 1940s, there were people who didn't, for example, divorce, even though they wanted out of their marriages. In many of these cases, the motive wasn't obedience to Jesus' command on marriage but instead because they knew that a divorce would marginalize them from their communities. In that sense, their 'traditional family values' were motivated by the same thing that motivated the religious leaders who rejected Jesus—fear of being 'put out of the synagogue,'" Moore offered.
"Secularization in America means that we have fewer incognito atheists. Those who don't believe can say so—and still find spouses, get jobs, volunteer with the PTA, and even run for office. This is good news because the kind of 'Christianity' that is a means to an end—even if that end is 'traditional family values'—is what J. Gresham Machen rightly called 'liberalism,' and it is an entirely different religion from the apostolic faith handed down by Jesus Christ."
He added that the type of Christianity that simply reflects culture "only lasts as long as it is useful to its host."
"That's because it's, at root, idolatry, and people turn from their idols when they stop sending rain," Moore reflected.