Is Islam a Peaceful Religion? Think Again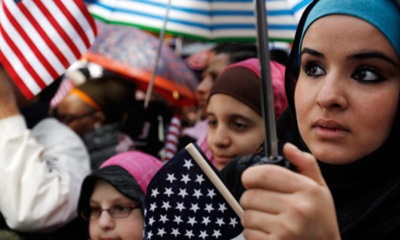 If I were to ask you why Tom Cruise has a reputation for being a bit … eccentric, what would you say?
You'd probably say that it is because of his religion of choice: Scientology.
I would then say you are a racist. Yes, anyone who would say something like that is clearly bigoted against rich, white, Scientologist Hollywood action-hero types. Next think you'll be telling me that John Travolta is also a weirdo and …
Absurd, right?
Well, this is precisely where we find ourselves with the current debate—to the extent that there is any debate—on the twin issues of Islam and terrorism. Take the latest terrorist attack for example. Earlier today, gunmen entered a museum in Tunisia and, so far, 22 have been killed and many more taken hostage. Not surprising to anyone but the Cultural Left, the terrorists were Islamic militants.
No doubt this attack, like so many others before it, will generate endless discussion, head scratching, and handwringing about how something so terrible as this could happen. Pundits will then consider every possible explanation—Western imperialism, unemployment, a lack of dialogue and mutual understanding between peoples of diverse beliefs, no Starbucks in the mosque lobby—except the obvious one:
Islam.
We will then be told that this is not representative of "true" Islam (it is, as you know, "a religion of peace") and when the logic and rationality of this assertion is contrasted with the facts, those doing the questioning will be denounced as bigots or, to use the epithet currently in vogue, "Islamophobes." The most notable instance of this was when Reza Aslan, the Left's current religion "expert" of choice and a kind of postmodern yuppie Muslim, leveled precisely this charge against Bill Maher when Maher said that there is "a connecting tissue" between Islam and terrorism. But that was hardly an isolated occurrence. President Obama essentially said the same thing at last month's National Prayer Breakfast and a simple search of the words "Islam" and "bigotry" yields many such articles in just the last week that employ this sort of argumentation.
You see, whether or not so-called "radical Islam" is the representative of the Islamic faith is irrelevant; that it is a representative of that religion is undeniable. It simply won't do to characterize ISIS, the Taliban, Boko Haram, Al-Qaeda, Hamas, Hezbollah, Jamaat-ul-Ahrar, et. al. as fringe elements of Islam the way that Dennis Rodman is on the fringe of fashion. These groups occupy whole countries, not a mosque or two.
Furthermore, the data indicates that these groups enjoy a great deal of support among Muslims globally. A Pew Research survey found that only 57% of Muslims have a negative view of Al-Qaeda and only 51% have a negative view of the Taliban. One wonders just what, exactly, these terrorist groups would have to do to get a negative review from the other 43% and 49%—behead some people or massacre children in a school? … Oh, wait, they already did that.
A February 2015 BBC poll of British Muslims found that 27% were "sympathetic" with the Charlie Hebdo attacks. The BBC headline read: "… an overwhelming majority of British Muslims oppose the use of violence …" 27% is not a majority, but 1 in 4 is hardly nothing. That translates to roughly 700,000 Muslims in Britain alone. If 1 in 4 Christians were "sympathetic" with abortion clinic bombings, I dare say the headline would not read: "an overwhelming majority of Christians oppose the use of violence …" No, we would hear about the potential terrorists in our midst.
According to the Global Terrorism Index, there has been a fivefold increase in fatalities from terrorist acts since 9/11. Four groups are responsible for most of these. All of them are Islamic. Shocked? Of course you aren't. I mean, did anyone for a moment think the Amish or Presbyterians did it?
The point, I hope, is clear: the continual insistence that these terrorist groups are in no way expressions of real Islam is nonsense. This line of reasoning presupposes the religion is monolithic. It isn't. No religion, no philosophy is. Are all Muslims terrorists or would-be terrorists? Of course not. But if we are to win the war on terror we must come to terms with the fact that theirs is a religion with a disproportionate number of adherents who believe that when Islam is practiced faithfully it means non-Muslims must convert or die.
And this begs an interesting question: how sizable does an element within a religion have to be before it is the religion?
It seems we are reaching a tipping point.
Larry Alex Taunton is the founder and executive director of The Fixed Point Foundation and author of The Grace Effect: How the Power of One Life Can Reverse the Corruption of Unbelief. Twitter @larrytaunton