Is the national media obsessed with racial conflict?
The tragic events that transpired in Atlanta earlier this week serve as a vivid illustration of how ill-served the American people are by their media. A very troubled 21-year-old white man attacked three spas in the Atlanta area, murdering eight people, six of whom were Asian women.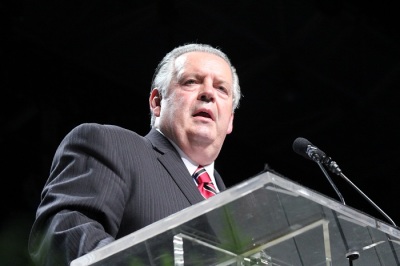 The perpetrator said he was a sex addict who was seeking to remove sexual temptation (all three spas were listed on Rubmaps, an "erotic review" telling people where they can locate and rate illicit massage parlors), and when captured, he was on his way to attack other sexually-oriented businesses. However, the media immediately glommed onto the fact that six Asian women had been murdered by a white man — and instantaneously the media started chanting "hate crime" and "systemic white racism."
The New York Times' front page, top fold headline is illustrative: "Rampage in Georgia Deepens Fears of Rising Anti-Asian Hatred in U.S." USA TODAY, the slightly more monosyllabic New York Times' "mini-me," breathlessly proclaimed just below the newspaper masthead, " 'Horrific Georgia' killings heighten fear of hate." 
Perhaps the apex of nonsense was achieved by Rep. Bee Nguyen, a Georgia legislator, queen of politically "hip" lingo who described the murders as "at the intersection of gender-bias violence, misogyny and xenophobia."
What all of these reporters have refused to see in their single-minded obsession with ethnicity is that this young man was in the grips of a far more prevalent evil in our society — pornography.
If this young man was a sex addict you can bet that pornography started him on this devastating journey. He probably started when he was 11 or 12 years old when he saw hard core pornography for the first time likely on a friend's cellphone.
Some of us have been warning for a generation that the bitter fruit of the current immersion of our young men in hard core electronic pornography so readily available to all, would produce generations of men imprisoned by pornography in ways that will stifle, stunt, warp, and doom their chances to develop into the men, husbands, and fathers God created them to be.
Such massive exposure to this spiritually and emotionally toxic waste, especially in a culture already given to addictively narcissistic self-worship, would, and will, prove to be catastrophic. 
Yet, our culture and our media have been so desensitized to the evils that pornography generates that it has been blinded to the even more depraved and bizarre sexual behaviors that it produces. Decades ago, Ed Meece's Attorney General's Commission on Pornography report demonstrated that a certain number of men who view pornography will become addicted.  Having become addicted, they need evermore depraved subject matter to receive the same endorphin hit. At some point, some become so addicted to depraved behaviors that not even prostitutes will perform these acts for money — thus the demand for sexual slavery and the increase in sex crimes.
As I read this story of the massage parlor murders and the press coverage of them, I was reminded of a discussion that occurred over lunch on November 12, 2001, in the Attorney General's private dining room in the Justice Department in Washington D.C.
The guests were Dr. James Dobson, Chuck Colson, and myself. Attorney General Ashcroft asked each of us what we felt was the single greatest threat facing America. I think all of us were somewhat surprised since each of us had a different answer. The Attorney General turned to me first, and I said that until a few years ago I would have answered without hesitation the assault on the "sanctity of human life," starting with abortion and moving out to the culture of death that it has engendered:  the killing of already born babies, the killing of partially born babies, the push for physician-assisted suicide, and the right to withhold sustenance from prematurely born babies. This whole "culture of death" has devalued life and has caused people to challenge the innate right to life mandated by our Creator.  
However, I told the Attorney General that I had recently changed my mind, not because the sanctity of life issue has gotten any better, but because hard core pornography has overtaken it. I believe hard core internet pornography is destroying more lives every day than the several thousand killed each day through abortion. 
Chuck Colson said he hated to disagree, but that he believed that the greatest problem facing America today was still the denial of the sanctity of life. Dr. Dobson declared that he believed that both Chuck and I were mistaken. He believed the greatest single threat to America was the radical LGBT agenda that sought to dismantle the traditional family, the basic building block for Western civilization.
Actually, from the perspective of 2021, it would seem that all three of us were right.  Pornography, the culture of death, and the radical homosexual assault on the family are the three horsemen of the modern Apocalypse, wreaking havoc and destruction across the landscape of 21st century America. Racial and ethnic hatred and violence are terrible. And they should be denounced. However, no matter how politically incorrect it may be to say so, such hatred and violence does not pose as grave a threat to Americans and our civilization as these three lethal horsemen.
Dr. Richard Land, BA (magna cum laude), Princeton; D.Phil. Oxford; and Th.M., New Orleans Baptist Theological Seminary, was president of the Southern Baptists' Ethics & Religious Liberty Commission (1988-2013) and has served since 2013 as president of Southern Evangelical Seminary in Charlotte, NC. Dr. Land has been teaching, writing, and speaking on moral and ethical issues for the last half century in addition to pastoring several churches. He is the author of The Divided States of America, Imagine! A God Blessed America, Real Homeland Security, For Faith & Family and Send a Message to Mickey.