Is There a 'War on Easter'? Pastor Robert Jeffress Denounces Progressives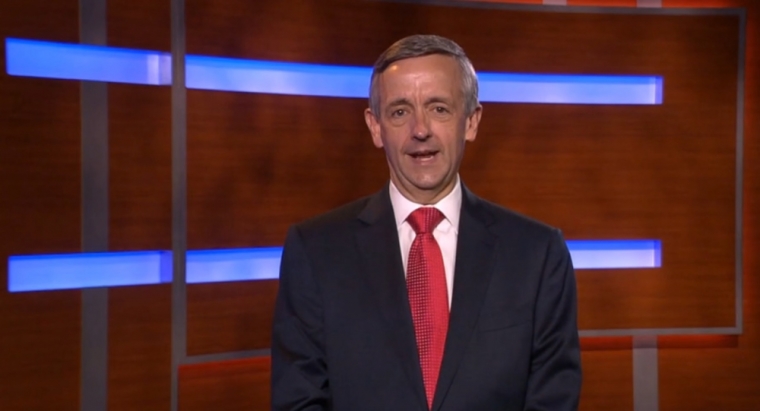 Megachurch pastor Robert Jeffress weighed in on whether there is a war on Easter, following such controversies as Cadbury removing references to the Christian holy day in the U.K.
Jeffress, who leads First Baptist Dallas in Texas, told Fox Business on Wednesday that efforts to airbrush Christianity are going to backfire.
"One thing Britain and the United States have in common is our strong, historic Christian roots. As a Christian I am not necessarily threatened by this, [but] I am offended by it," he said.
Jeffress was referring to the Cadbury-sponsored annual egg hunt in the U.K., which initially removed "Easter" references from its event promotion. Following backlash, the company added "Easter" back in.
Prime Minister Theresa May condemned the initial move, calling it an "absolutely ridiculous" decision to remove "Easter."
"Easter's very important. It's important to me, it's a very important festival for the Christian faith for millions across the world," she said.
The Archbishop of York, John Sentamu, also pointed out that John Cadbury, the founder of the chocolate company, was a devout Christian.
"To drop Easter from Cadbury's Easter Egg Hunt in my book is tantamount to spitting on the grave of Cadbury," Sentamu said.
Jeffress agreed that the initial removal of "Easter" was in a way akin to "spitting" on Christianity.
"I think he would be rolling over his grave over this," the pastor said of John Cadbury.
"Progressive secularists are trying to separate our country from its Christian roots in order to further their secular progressive agenda," he noted, speaking also of America's battles. "That's really what's behind much of this."
Still, the Texas pastor suggested that Christians should never be discouraged when Easter comes along.
"I just returned from Israel today, and I have the breaking news that the tomb of Jesus Christ is still empty, just as it has been for 2,000 years, and nothing a candy company does is going to extinguish that historic fact. That is the hope of Christians around the world," he declared.
In 2013, Fox's Bill O'Reilly blasted similar moves to remove "Easter" references from Easter-related events.
"In 10 days it will be Easter Sunday, but in some schools you are not allowed to say the word 'Easter.' On Long Island, the East Meadow school district, holding a spring egg hunt — not Easter eggs, spring eggs," he said at the time.
"It's happening, and there is a reason why it's happening," he continued. "Secular progressives are running wild with President [Barack] Obama in the White House. They feel unchained, liberated, and they are trying to diminish any form of religion."