Is US as Religiously Diverse as You Think? 'No' Says Pew Study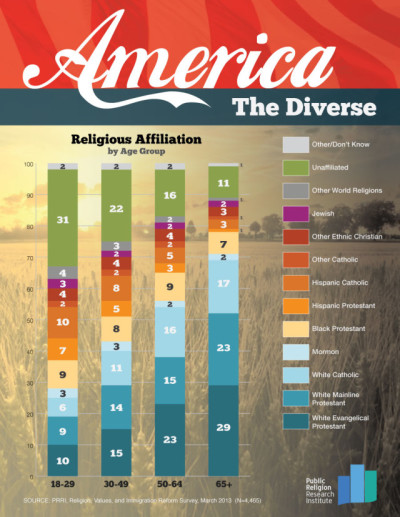 While many Americans take pride in the country's religious diversity, a new study by the Pew Research Center shows that the United States cannot be seen as a highly diverse country, at least not from a global perspective.
The U.S. ranks 68th out of 232 countries and territories on Pew's Religious Diversity Index, which shows that 95 percent of the country's population is either Christian or religiously unaffiliated, while all other religions combined account for just 5 percent of Americans.
If diversity within Christianity were taken into account, America would likely rank higher, says the study released Friday. But it treats all Christians as members of the same religion.
The study has classified America as "moderate" in its religious diversity.
The adherents of most of the world religions who live here represent less than 2 percent of the U.S. population, it points out. Jews account for 1.8 percent, Buddhists 1.2 percent, Muslims 0.9 percent, Hindus 0.6 percent and folk or traditional religions 0.2 percent, it says.
"The country has certainly changed over the centuries, but it remains a nation with an overwhelming Christian majority," remarks Alan Cooperman, Director of Religion Research at the Pew Research Center.
France, which ranks 25th on the index, has a much higher degree of religious diversity than the United States. Christians make up 63 percent of France's population, the religiously unaffiliated are 28 percent and Muslims 8 percent.
Singapore has the highest score on the index. While 34 percent of Singapore's population is Buddhist, 18 percent of its citizens are Christian, 16 percent describe themselves as religiously unaffiliated, 14 percent are Muslim, 5 percent are Hindu and less than 1 percent are Jewish. The remainder of the population belongs to folk or traditional religions.
Taiwan, Vietnam, South Korea, China and Hong Kong are also among the world's most religiously diverse countries.
Cuba, Netherlands, Malaysia, Japan, New Zealand, Belgium, Australia, Sri Lanka, Sweden, Laos, Canada, Germany and even North Korea are described in the report as having "high" religious diversity.
Among the nations described as having "moderate" religious diversity, the United Kingdom, Russia, Israel and even the United Arab Emirates score higher than the United States.
The study is part of the Pew-Templeton Global Religious Futures project that analyzes religious change and its impact on societies around the world, and looks at the percentage of each country's population that belongs to eight major religious groups, as of 2010.
The study was focused on religious diversity, and did not take into account religious freedom.