ISIS Buried Over 1,600 Bodies in Mass Graves in Yazidi Town of Sinjar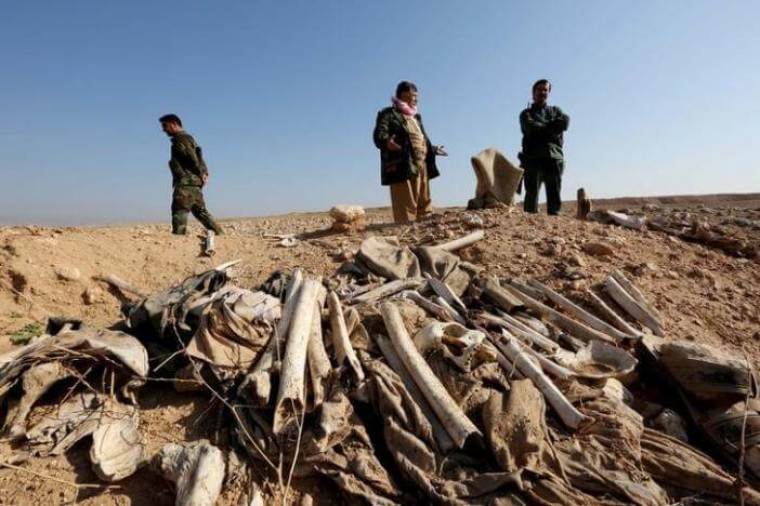 The dead bodies of over 1,600 people have been discovered in 31 different mass graves in the predominantly Yazidi town of Sinjar in northern Iraq, the town's mayor said.
Mayor Mahma Khalil told the Kurdish news outlet Rudaw that a total of 1,646 dead bodies have been found by crews tasked with finding mass graves of Yazidis killed by IS (also known as ISIS, ISIL or Daesh).
Khalil explained that all 31 mass graves were found in the administrative areas of Sinjar.
As previously reported, IS militants systematically separated women and children from the men when they took over Yazidi areas in northern Iraq in the summer of 2014. The men and older teen boys were usually slaughtered in mass killings, while the women and girls were taken, raped, abused and sold as sex slaves. In some instances, the young Yazidi boys were brainwashed and trained to become jihadis or suicide bombers.
Although Khalil knows of only 31 mass graves that have been discovered, he explained that teams are still searching for more and that there could be as many as 50 mass graves located in the town.
An investigation done by the Associated Press in August 2016 found that Islamic State buried execution victims in as many 72 mass graves throughout its territories in Iraq and Syria.
The estimated number of known victims in the 72 mass graves, the report states, is between 5,200 to 15,000. The report notes that the Sinjar mountain is littered with mass graves.
In March 2016, former United States Secretary of State John Kerry labeled IS' massacre of Yazidis, Christians and other religious minorities in Iraq and Syria as a "genocide" after human rights advocates pressured the U.S. government, other foreign governments and international bodies to make the distinction.
"We see clear evidence of the intent to destroy the Yazidi people," Naomi Kikoler, deputy director of the Center for the Prevention of Genocide at United States Holocaust Memorial Museum, told AP. "There's been virtually no effort to systematically document the crimes perpetrated, to preserve the evidence, and to ensure that mass graves are identified and protected."
Speaking at the Women in the World Summit last week in New York City, a Yazidi woman named Shireen Ibrahim who escaped from the wrath of IS, recalled the horrific experiences she faced after IS came into her town and took her family members captive.
She explained that she was bought and sold five times as a sex slave for $1. She was even electrocuted at one point for trying to escape from the so-called caliphate.
Although she is now free from the grips of IS and living in a displacement camp in northern Iran, she explained that she only knows the whereabouts of 20 of her 40 familiy members.
Many other displaced Yazidis living under the protection of the Kurdish Regional Government are also wondering about the fate of their own missing family members.
Also speaking at the summit was Yazidi activist Feryal Pirali who described the horrific experience of her friend, whose family was living in northern Iraq when IS took over. She explained that her friend, who was pregnant at the time, could not escape before IS captured her.
Pirali said that IS militants cut open her friend's stomach, ripped her unborn baby from the womb and proceeded to rape the baby and the mother.