ISIS Burns 12 People Alive in Metal Cages as Punishment for Trying to Flee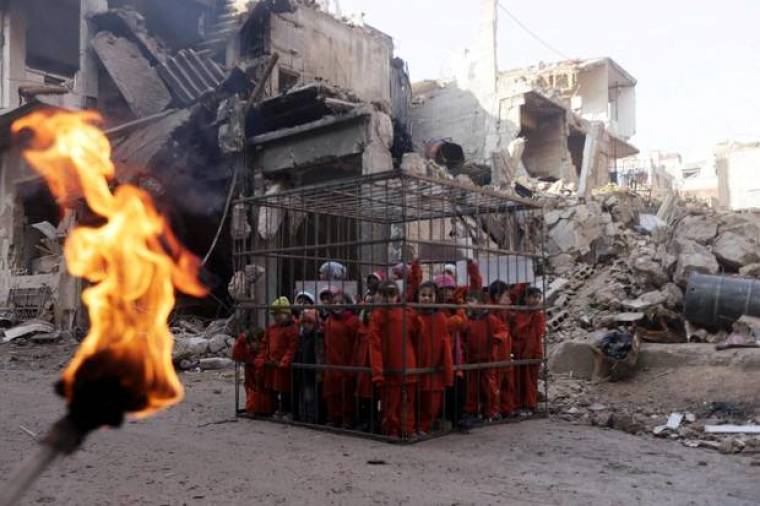 The Islamic State terrorist group has reportedly burned alive 12 people, including a family of four, after shoving them into metal cages and dousing them with oil for attempting to escape the radicals in Iraq.
Al-Sumeiryeh news reported on the execution based on the account of a local source on Sunday, who said that the 12 Iraqis had been trying to flee from Hawija in Iraq's Kirkuk Province.
The radicals, who have burned alive scores of other people, reportedly tied the hands of the victims before shoving them into the metal cages. They then poured oil over the prisoners, before setting them on fire and watching them burn.
Iran Front Page News also reported on the incident, adding that the jihadists have carried out a number of disturbing executions in the region.
Late in June, the radicals reportedly decapitated seven Iraqi civilians in Hawija, and left the corpses in the southwestern part of the city.
IS has not spared children in such horrific executions either. Back in March, Iraqi News reported that the terrorists burned alive nine civilians, including children, also for tying to flee Hawija.
The victims were charged with "abandoning the land of the Caliphate," which is an accusation often issued against refugees fleeing the radicals.
Another report from Iraqi News in March noted that the jihadists burned alive three women who refused to slaughter civilians in Mosul.
AhlulBayt News Agency said on Sunday that IS recently burned alive one of its own preachers for implying that the group's leader, Abu Bakr al-Baghdadi, has been killed.
"Abu Qatibeh, who was a close friend to al-Baghdadi, implicitly endorsed earlier revelations about the death of IS' ring leader and cried for him in his Friday Prayers sermon, which raised several questions. ISIS kept mum on the issue at first, but later arrested him and executed him on charges of sedition," a source said.
The jihadists stormed the house of the Friday Prayers leader in the town of Tal Afar Abu Qatibeh on Friday.
"Abu Qatibeh's arrest was done one day after he implied al-Baghdadi's death, causing vast arguments among ISIS members about their leader's fate," the source added.
Rumors about al-Baghdadi's death swirled in June following an airstrike in Syria, but the U.S. government and other world powers have not yet confirmed his status.
Although a coalition army has been pushing IS further and further out of Iraq, looking to liberate the city of Mosul, a number of the districts around Kirkuk Province remain in captivity.