ISIS Burns Infant, 7 Others to Death for Fleeing 'Caliphate' Stronghold, Report Says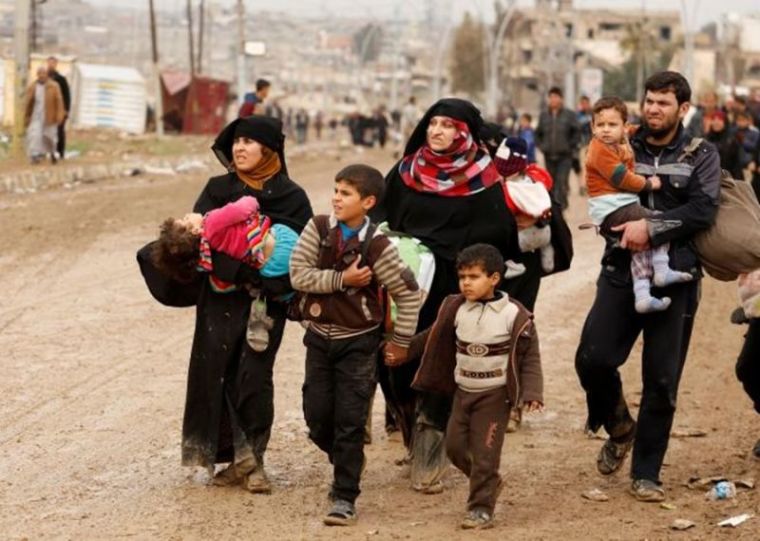 The brutal and twisted Islamic State terrorist organization has reportedly burned eight civilians, including one infant, to death in Iraq for trying to escape the so-called "caliphate."
According to the Erbil-based agency BasNews.com, an anonymous security source told Al-Sumaria News that the eight victims were caught trying to flee from one of the group's territories in the southwest Kirkuk governorate.
Specifically, the victims were caught trying to flee from the city of Hawija, which has been held by the terrorist group since 2014, and were headed toward the al-Alam region in the Salahaddin province.
However, they were arrested by IS (also known as ISIS, ISIL or Daesh) militants.
The source relayed that the victims were all put into a cage and had tar poured on their bodies before they were set on fire and left to burn to death. 
Since the Iraqi-led coalition effort to liberate IS' stronghold of Mosul and areas in the Nineveh plains began last October, reports have circulated showing that IS has systematically killed residents of its strongholds caught fleeing from the so-called "caliphate."
Though liberation efforts have pushed IS jihadis out of the Mosul area and fighting has continued in towns like Raqqa, Syria and Tal Afar, Iraq, IS still maintains control of areas in the Kirkuk province, such as the city of Hawija, which lies over 100 miles southeast of Mosul.
In July, it was reported that IS militants burned 12 people alive in metal cages as a consequence for trying to flee Hawija. The 12 victims were doused in oil and set on fire.
A month earlier, militants in Hawija decapitated seven civilians in a public execution on charges that they committed espionage. The beheadings came after collective prayers for the Muslim holiday of Eid al-Fitr were conducted, Al-Sumaria News reported.
IS militants reportedly burned nine civilians, including children, alive in March after they were caught trying to flee from Hawija.
And in January, IS reportedly burned a mother and her four children alive for trying to flee Hawija.
Kuridstan24 reported on Monday that senior Peshmerga Commander Kamal Kirkuki announced that a military offensive to push IS out of Hawija will likely begin after the Kurdistan region's independence referendum takes place on Sept. 25.
Iraqi Prime Minister Haider al-Abadi has also said that the military operation to retake Hawija will begin "soon."
As IS has suffered losses in Tal Afar, IS leaders burned alive 10 of their own soldiers for trying to flee the battlefield last month. Iraqi Brigadier General Mohamed al-Jabouri told BasNews.com that militants were burned to death in front of dozens of civilians as a warning against fleeing.
"The group informed the people that they were traitors who attempted fleeing," al-Jabouri said.