ISIS Destroys 2,500-Y-O Iraqi Temple, Threatens to Blow Up Egypt's Giza Pyramids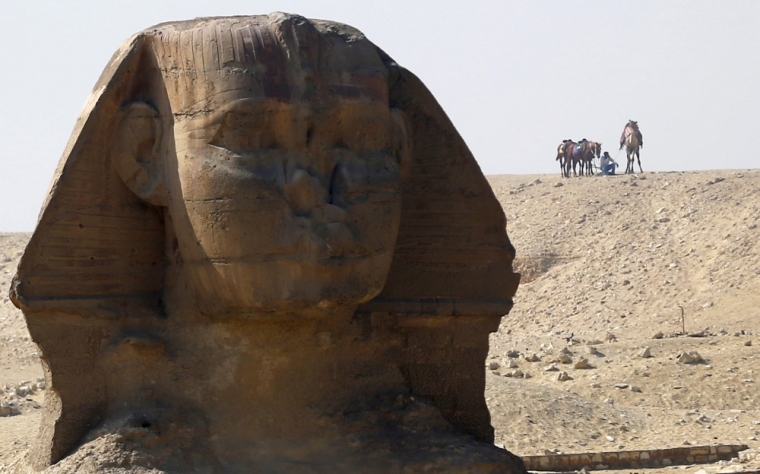 A new ISIS propaganda video shows the destruction of an Iraqi temple and makes threats to one of the seven wonders of the world — Egypt's Giza Pyramid complex.
In a 10-minute video posted this week by the DailyMail, IS militants are seen laying waste to Iraq's Nabu Temple, an ancient landmark dedicated to Nabu, the Babylonian god of wisdom, situated in the country's northwestern Nineveh province and is considered a culturally significant site that predates Islam.
The propaganda video footage shows multiple angles in which the 2,500-year-old site is destroyed. Satellite imagery from the United Nation's Institute for Training and Research, or UNITAR, which used optics captured on June 3 compared against photos taken back in January, confirmed the destruction.
"The results of the analysis show extensive damage over the area known as Nabu Temple, inside of Nimrud's Citadel," the agency reported.
Raafat al-Zarari, head of Nineveh's media office, told ARA News that before its destruction, the site was one of the most recognized in the province. "The Nabu temple was one of the most renowned archeological sites in Nineveh, before the ISIS jihadis destroy[ed] it," he said.
The video also shows Nabu Temple's Adad and Mashki gates at Nineveh being bulldozed, as well as images of Egypt's Giza Pyramid complex — inferring that it might be a future target, since militants can be heard saying they will destroy the infidels.
The destruction of ancient sites that it considers to be idolatrous isn't a new practice for Islamic extremists. In fact inflicting significant damage to the Giza Pyramid complex wouldn't be a first, either. Ever wondered what happened to the nose of the Sphinx in front of the Pyramid of Khafre? The nose is said to have been destroyed around 1378 by a Sufi Muslim by the name of Muhammad Sa'im al-Dahr.
Historians say Sa'im al-Dahr destroyed the nose after Egyptian peasants made offerings to the Sphinx in hopes of a better harvest. Offended by their act of devotion, legend has it that Sa'im al-Dahr destroyed the nose.
So is the Giza Pyramid complex still safe following the recent threat? According to Egyptian Streets, a local publication, tourist sites and antiquities are in fact safe.
"Egypt's antiquities and tourism sites are highly secured and monitored, ruling out the possibility of any attacks," the publication assured.
See the latest IS video of the destruction of Iraq's Nabu Temple and threats to the Giza Pyramid complex below.