ISIS Displaced Children in Iraq to Receive 60,000 Gift-Filled Shoeboxes by Franklin Graham's Operation Christmas Child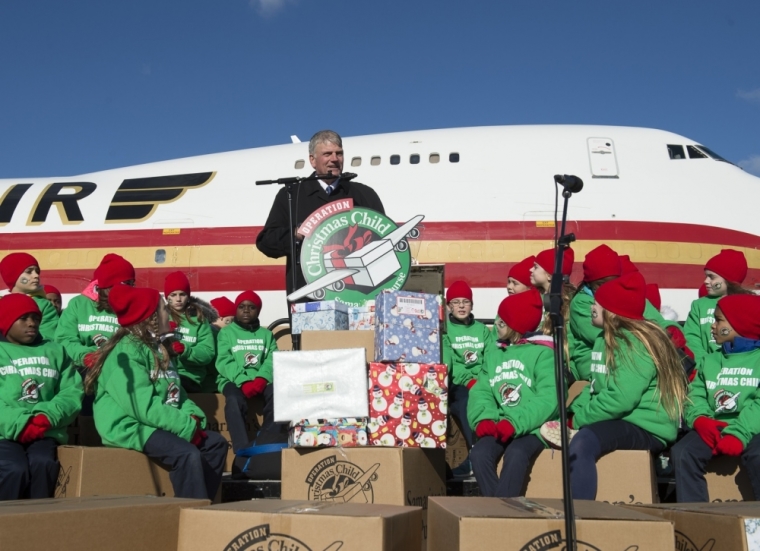 The evangelical humanitarian organization Samaritan's Purse airlifted over 60,000 gift-filled shoeboxes on Wednesday to the Kurdish-controlled region of Northern Iraq, intending to provide hope to children living as refugees after they were forced to flee their homes to escape from the wrath of the Islamic State.
Through Operation Christmas Child, a program run by evangelist Franklin Graham and his Samaritan's Purse organization, people from all over the United States, United Kingdom and Canada have combined efforts to fill up 60,000 shoeboxes with small gifts and uplifting messages, which will be flown from Baltimore-Washington International Airport to the city of Erbil in Iraqi Kurdistan.
With Samaritan's Purse already supporting a major refugee camp in the town by airlifting supplies in October, the Operation Christmas Child airlift is the second that Samaritan's Purse has conducted to support the refugees living in Iraq.
The shoeboxes will not only be distributed by local partners to the kids living in the Samaritan's Purse-supported refugee camp, but will also be distributed to the refugee children in the neighboring areas of Dohuk, Operation Christmas Child Domestic Director Randy Riddle told The Christian Post in a Wednesday interview.
Some typical gifts that are included in the shoeboxes are school supplies, hygienic needs, hard candy, balls for boys, baby dolls for girls, t-shirts, socks, jewelry, sunglasses and other small items that can fit inside of a shoebox.
"Many of these children have never received a gift in their lives and that was when they were living in their normal circumstances [before the ISIS takeover]," Riddle said. "Now, they have been removed from everything that they know: their homes and their families. They are living in the refugee camp and these gifts will provide a moment of hope. Of course, they will be delivered in the name of Jesus."
The operation also encourages its donors to include a photograph of themselves and an encouraging letter reminding the kids that they are still loved by God.
"These children will be reminded that there is a God who loves them. That is the point and the purpose of Operation Christmas Child, is to share the love of Jesus Christ," Riddle said. "We see it as opportunities to share the gospel and we want these children to know that they are loved by not only from people [all over the world] but there is a God who loves them, and that will be the message that these children will hear."
Although many of the people living in refugee camps are no longer being threatened by the Islamic State, they have sub-par living conditions with a cold winter approaching. The refugees are living in tents, and with the fact that many were forced to leave all their possessions behind, including winter clothing, the cold weather could present real issues for them.
In October, another Samaritan's Purse airlift sent 80 tons of aid supplies including heaters and winter coats to Iraqi refugees to help keep them warm.
"Most of them are living in tents without floors. Samaritan's purse has provided a large number of heaters and winter coats. They are doing the best that they can in a tent community, a tent city," Riddle said. "These shoeboxes will just be additional forms of encouragement. These conditions are difficult. We are unable to change their permanent condition but we are able to provide a moment of hope and a reminder that these children are loved."
With over 60,000 shoeboxes being distributed in this one airlift, Riddle says Operation Christmas Child plans to deliver over 10 million more shoeboxes to underprivileged children worldwide. He explained that over 8 million of the shoeboxes will be donated by families and individuals inside the U.S., while the remaining 2 million shoeboxes will come from donors in U.K., Canada, Australia, Germany, Holland and Finland.