ISIS Executes 15-Year-Old Boy Accused of Homosexuality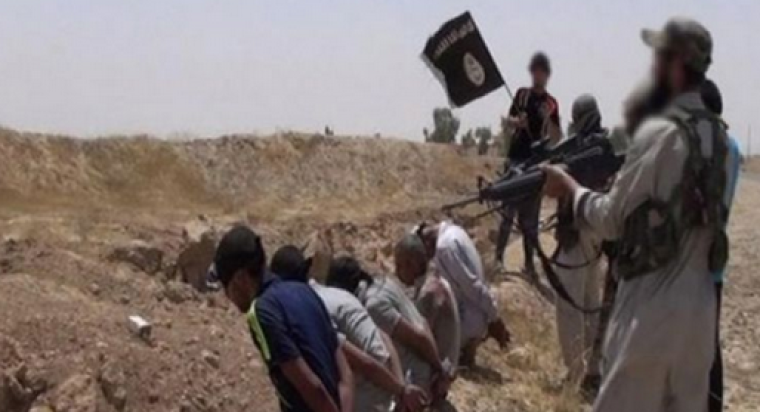 The Islamic State terror group has reportedly executed a 15-year-old boy accused of homosexuality, along with nine other men, which it shot on two separate instances.
While seven of the suspects were executed in Rastan, the Homs province of central Syria, the teenager and two other men were killed in the town of Hreitan in northern Aleppo, as reported by Syrian Observatory for Human Rights Founder and Director Rami Abdel Rahman.
Rahman told MailOnline that the boy had initially been arrested and locked up when he was 14.
The men in Rastan were reportedly killed in front of a large crowd that had gathered to witness the executions.
Over the past year, there have been a number of IS videos released depicting the punishment of people accused of being gay, including footage of men being thrown off the roofs of tall buildings.
Gay people have also reportedly been stoned to death by crowds carrying out sentences as directed by IS fighters.
The Islamic militants have deemed homosexuality punishable by death, and have also been heavily persecuting other minorities throughout Iraq and Syria, especially Christians and Yazidis.
In August, human rights activists told the U.N. Security Council that ISIS has taken credit for killing at least 30 people accused of sodomy.
"At the executions, hundreds of townspeople, including children, cheered jubilantly as at a wedding," said Subhi Nahas, a gay refugee from the Syrian city of Idlib. "If a victim did not die after being hurled off a building, the townspeople stoned him to death. This was to be my fate too."
U.S. Ambassador Samantha Power said at the U.N. meeting that it is time for the spotlight to be placed on IS' treatment of gay people.
"It's about time, 70 years after the creation of the U.N., that the fate of LGBT persons who fear for their lives around the world is taking center stage," Power said.
"This represents a small but historic step."
Another activist, identified as Adnan from Iraq, revealed that IS uses social media to hunt down gay people.
IS fighters "are professional when it comes to tracking gay people. They hunt them down one by one. When they capture people, they go through the person's phone and contacts and Facebook friends," Adnan revealed.