ISIS Extremists Vow to Send Militants to Fight Ferguson Police Forces Once Rioters Pledge Allegiance to Caliph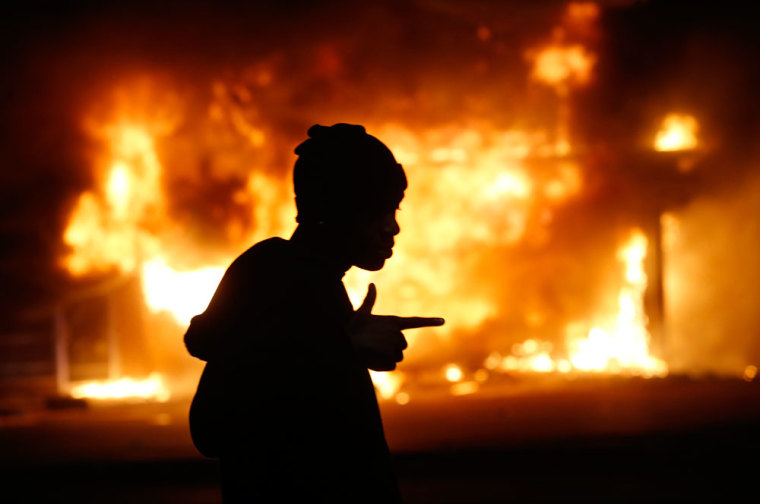 British jihadis now fighting for the Islamic State in Syria have tweeted a letter urging rioters in Ferguson, Missouri, to pledge their "allegiance" to ISIS leader Abu Bakr al-Baghdadi. In return, militants would be sent to "shed" their own "blood" to help fight police forces.
Trying to take advantage of the social unrest following the Ferguson grand jury decision not to indict police officer Darren Wilson for shooting dead unarmed teenager Michael Brown, a British Islamic State militant tweeted a series of photos on Wednesday featuring a hand-written letter to the Ferguson protesters calling for them to convert to Islam and support ISIS.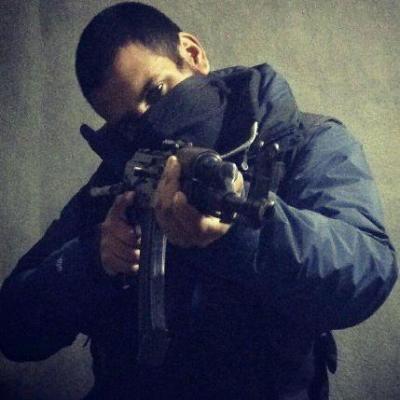 Twenty-year-old ISIS extremist Junaid Hussain, a well-known British internet hacker now going by the nom-de-guerre Abu Hussain al-Britani after joining ISIS in Syria, posted on Twitter one photo containing a close up shot of the letter, entitled "From #IS 2 Ferguson," followed by another photo of five masked jihadis yielding assault rifles and ISIS cell phone cases while posing in support of the letter.
The body of the militants' letter to the Ferguson protesters states: "We hear you and we will help you if you accept Islam and reject corrupt man-made laws like democracy and pledge your allegiance to Caliph Abu Bakr and then we will shed our blood for you and send our soldiers that don't sleep, whose drink is blood, and their play is carnage."
"Accept Islam & give bayah (allegiance) to Abu Bakr Al Baghdadi & then we will send u soldiers that don't sleep!" Hussain added in the text of his tweet.
Another British Jihadi using the Twitter handle @Abu3antar, or Abu 3antar Britani, urged Ferguson protesters by using the draw of historic American human rights activist Malcolm X.
"From #IS to #Ferguson we heard your call and we are ready to respond! #FergusonDecision #BeLikeMalcolmX #FightBack," the tweet from @Abu3antar states.
A third extremist, using the pseudonym Abu Dujana, posted a tweet urging the protesters to learn about Bilal Ibn Rabah, who became one of Prophet Muhammad's most trusted and loyal companions after being freed from slavery.
"Read the story of Bilal Ibn Rabah oh people #Ferguson and see how an oppressed slave became a hero & warrior through Islam," Dujuana tweeted.
This is not the first time that ISIS extremists have tried to use the Ferguson protests to their advantage. Back in August, during the initial riots after the shooting, ISIS extremists and supporters used tweets to urge protesters to act on their anti-government sentiment and convert to Islam.
In an interview with The Washington Post in August, co-founder of the disbanded British al-Muhajiroun terrorist group, Anjem Choudary, said that there is real potential for blacks in America to embrace Islam.
"I think blacks in the U.S. will look more towards Islam," Choudary said. "The only way of life today that does not look at race is in fact Islam. Islam only distinguishes people by whether they are Muslim or not. The color of their skin does not play a role."
Hussain, who sparked the most recent ISIS social media targeting of the Ferguson protesters, has seen success in the past getting foreign recruits to leave behind their families to pledge to ISIS.
Hussain is believed to have married a blonde caucasian 45-year-old British mother of two, whom he met online and successfully convinced to leave behind her family to marry him and immigrate to the caliphate in Raqqa.
Earlier this year, Hussain's alleged wife, Sally Jones, or Umm Hussain al-Britani, asserted in a tweet, "You Christians all need beheading with a nice blunt knife and stuck on the railings at raqqa … Come here I'll do it for you!".