ISIS Hospitals: Militants Whip Patients Who Disagree With Doctors; Prevent Women in Labor From Receiving Pain Killers at Night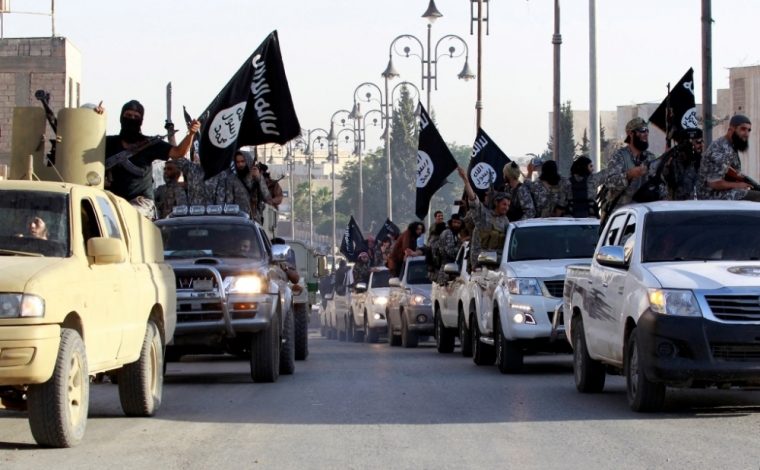 As the Islamic State attempts to further establish its caliphate in Iraq and Syria, the terrorist organization has taken control of all the hospitals inside its strongholds, where militants are said to have instituted ridiculously sexist policies, abuse patients and execute doctors.
Although medical staff in most hospitals around the world are suppose to accommodate and politely adress questions that patients might have concerning their health issues, Islamic State-run hospitals, especially those in the Iraqi stronghold city of Mosul, are doing things differently in a negative way.
One doctor from Mosul told the newsite TheStar.com that in early November he witnessed a case of one male patient being brutally beaten after having an arguement with an ISIS-affiliated doctor.
The doctor said that the day after the man had argued with his ISIS doctor, militants forcefully brought him back to the hospital where they proceeded to whip him in the hospital lobby and made him apologize to the doctor.
The Islamic State has also imposed strict guidelines, that the militants claim to be religion based. Many of ISIS' regulations have solely affected the women in the hospitals, whether they are female patients or female doctors.
Such rules include forcing females doctors to fully cover their faces with veils, even though it prevents them from seeing what they are doing, and prohibit female doctors from working night shifts.
By preventing female doctors from working at night and not allowing male doctors to treat female patients who are pregnant or have issues with their genital areas, the Islamic State has put female patients in danger, even though ISIS' reasoning is because it is "improper" for a man to see another man's spouse giving birth.
Another Mosul doctor told TheStar.com that one night, over the summer, he witnessed ISIS officials blocking a male anestegeolist from treating a women in labour. The doctor said that since it was at night and no female doctors were allowed to work at the time, the woman had to give birth without the benefit of pain medication.
As a UN Report from earlier this year pointed out, female doctors who refused to wear a veil were often beaten. Witnesses cited in the report claimed that in some instances an ISIS official would stand outside of the hospital entrance to prevent female doctors who were not wearing a veil to enter.
"They forced us to wear a burqa and a niqab. Usually men are not allowed in the delivery room, but they just enter with all their guns and their filth, claiming they are there for monitoring purposes," Dr. Salwa Mohajer told the new site Al-Akhbar in August.
A Syrian rights activist told TheStar.com that one male pharmacist was arrested because he sold medication to a woman, whose face was not properly veiled. The activist said the pharmacist has not been seen since his arrest.
Although the Islamic State is having trouble finding qualified doctors to help run its health care system – judging by the Islamic State's recent recruitment pleas to get doctors to travel to join the caliphate – the ISIS militants seemingly had no problem executing 10 doctors in its Iraqi stronghold city of Mosul on Nov. 22.
"The ISIS organization executed 10 doctors in Mosul because of their unwillingness to treat its elements injured as a result of the military operations and airstrikes by international coalition," a local source told IraqiNews.com on Nov. 25. "The 10 doctors were executed in the south of the city three days ago, before delivering their bodies to the Forensic Medicine Department."
As more and more ISIS fighters are being wounded in the ongoing conflict and many doctors in the caliphate have fled, ISIS has desperately gone about their recruitment of additional medical personnel.
As TheStar.com reported, the jihadis issued an ultimatum in October to doctors that have fled from the region saying that if they do not come back to the caliphate to practice medicine than their homes will be seized and they will never be allowed to return.
Additionally, the organization has recently used a social media campaign to appeal to young medical and pharmacy students in Israel.
"They try to develop a personal connection with them, that they are obligated as Muslims to treat the organization's wounded who are fighting against Assad's regime," an unnamed family relative of one Israeli med student told Business Insider. "They give them all kinds of verses from the Koran to drill into them the belief that they are doing the right thing and a great deed."
The casualties among ISIS' militants due to U.S.-coalition airstrikes has seemingly stockpiled to a point where ISIS recently felt the need to evacuate patients out of all Mosul's major hospitals and "allocate" them to solely treat its own soldiers, IraqiNews.com reported.