Escaped Yazidi Refugees: ISIS Cut Throats of Babies; Killed Over 100 Kids in One Yazidi Village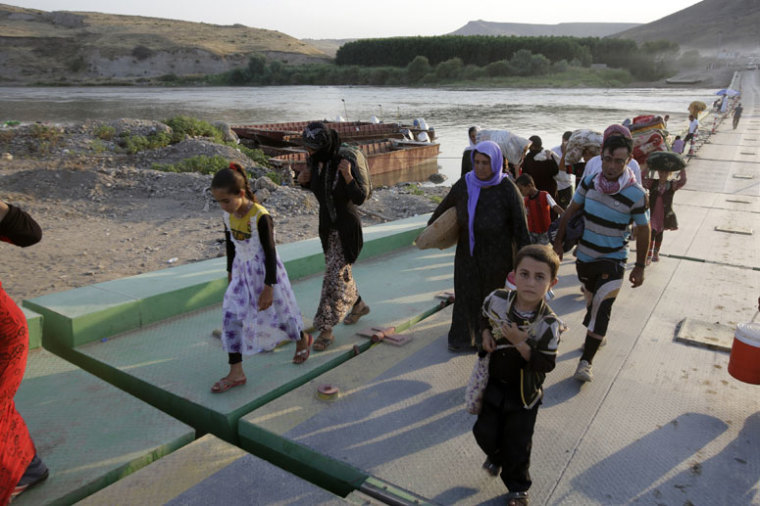 A number of Yazidi refugees now living in various refugee camps across Iraq have detailed, in recent interviews with The Daily Mail, how their family members were lost at the hands of the Islamic State while trekking across Northern Iraq in search of the safety and peace found in Kurdish-protected refugee centers.
Many of the Yazidi refugees said that when ISIS had taken control of most of the Nineveh Province in Northern Iraq in early August, they and their family members had to walk continuously over the span of several days in the blistering August heat to escape from the militants.
Although the refugees who spoke with The Daily Mail were fortunate enough to escape safely, many of them recounted how their mothers, fathers, brothers, sisters, sons and daughters were either killed or are now missing after being caught by ISIS militants.
One unnamed Yazidi mother said that although she made it safely to her refugee camp, it was not before ISIS got a hold of much of the rest of her family, whom she has not heard from since.
"We left Sinjar through the hills. We walked for seven days and seven nights. We had no food and no water," the Yazidi mother said. "The Daesh (Arabic term for the Islamic State) caught my two sons, my father, and two of my sisters. I have no news from them and I don't know if they are even alive."
Although the mother does not know of the status of the rest of her family, she does know, from first-hand experience, about the cruel nature of ISIS' operations and their barbaric treatment of children and babies.
"Daesh are crazy people. They even cut the throats of the babies," the mother asserted. "They want us, the Yazidis, to convert to Islam, but we refuse. As long as we are not in their hands, we survive. We prefer to die instead of being their slaves."
A Yazidi man named Tahysn, who was once happily married with two preschool-aged sons, said now all that he has left of his family is just a mere picture on his cellphone.
When ISIS took over Tahysn's Nineveh Province village, he was not in town at the time. However, he called his family and warned them to leave. But, he said, as they were fleeing to Mount Sinjar militants caught up to them and killed them all.
"My older brother, my father, my mother, my wife and even my two sons were killed," Tahysn claimed. "The Daesh are just savages. They do not respect religion or humanity. They are not humans. Even animals have more pity."
An 8-year-old Yazidi girl named Azin, said she could possibly now be an orphan since ISIS caught up to her parents and she does not know their whereabouts now. Although her parents were taken on the first day of the family's escape, Azin said she continued the journey by herself and, like the aforementioned unnamed mother, had to walk for seven days just to reach Kurdish protection.
"My father and my mother are no longer with me. They were caught by Daesh on the day we left Sinjar. I escaped on my own," Azin said. "The men from Daesh had long beards and big weapons … I don't know if my parents are still alive."
Thirteen-year-old Yazidi Hassan also has no idea where his parents are. Hassan said he decided to flee on his own after ISIS came into town and killed many of his best friends who were children. Hassan claimed that ISIS militants killed about 100 kids in his village.
"The Daesh came suddenly into my village with many men. I didn't understand what was happening and I was so scared," Hassan recalled. "I ran but many of my friends were killed. I lost my best friend Kasi. He was nine."
A Yazidi grandmother named Rezal, who hails from Sinjar, said she was left to look after the orphaned children, who are in the same shoes as Azin and Hassan. However, Rezal said many children were not fortunate enough to complete the journey because their undeveloped bodies could not handle the multi-day trek in nearly 120 degree heat and lack of food and water.
"When we left Sinjar, the kids suffered a lot. They cried a lot because we needed to walk day and night," Rezal said. "Many men from our village died, many women have been captured. I saw some kids dying because of the heat."
Although Rezal is now protected in her refugee camp in the town of Lalesh, she fears for the worse as the cold winter approaches.
"In Lalesh, the winter is so cold. Winter is coming and we are in a terrible state of health and mind," Rezal asserted. "We do not own anything anymore, we had [to] leave everything We have no clothes, no furniture, no ornaments … nothing."