ISIS Video Shows 5 Child Soldiers, Including One British, Executing Prisoners in Syria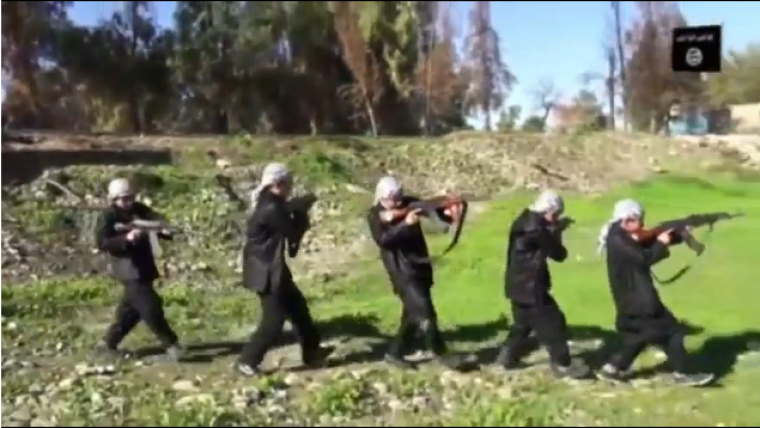 In a newly released propaganda video, the Islamic State terror group shows five children executing Kurdish prisoners in Syria's ar-Raqqah city, and one of the children is British, according to SITE Intelligence.
The child soldiers, shown in the 9-minute video wearing their military uniforms and black head covers, have been identified as British, Egyptian, Kurdish, Tunisian and Uzbek.
The five prisoners were "atheist Kurds" and "spies," according to reports.
The British boy's name is Abu Abdullah al-Britani, also known as JoJo, according to Al Masdar News, which quoted the boy's father as saying that the child was once a normal kid. "He was brilliant, just a normal boy — always chasing bugs, going down the park. I have had to block it out. It's been hard, we just have to carry on. It's disgusting he's been brainwashed."
The boy's mother, Sally Jones, a former punk rocker-turned-Wahhabist convert, moved with him to Syria three years ago.
"He was a happy boy, loving, caring, sensitive and a pleasure to be around," a friend of the child's father was quoted as saying. "I'm angry at Sally for taking an innocent child who doesn't know right or wrong. Children can be easily manipulated. He's an innocent party and I want to know what makes a mother put her child in such a dangerous position."
In February, a study by the Combating Terrorism Center said the Islamic State, also known as ISIS, ISIL or Daesh, is mobilizing children and youth at an increasing and unprecedented rate.
In 2015, 89 children and youth were eulogized in ISIS propaganda, the study found. Fifty-one percent were alleged to have died in Iraq, while 36 percent died in Syria. The remainder were killed during operations in Yemen, Libya, and Nigeria.
Of the 89 cases, 39 percent died upon detonating a vehicle-borne improvised explosive device against their target, it added. Thirty-three percent were killed as foot soldiers in unspecified battlefield operations, 6 percent died while working as propagandists embedded within units/brigades, and 4 percent committed suicide in mass casualty attacks against civilians. The final 18 percent were inghimasis (derived from the Arabic "to plunge"), meaning they died in what we more commonly term marauding operations in which a group of mostly adult fighters infiltrates and attacks an enemy position using light automatic weapons before killing themselves by detonating suicide belts.
ISIS, an offshoot of al-Qaeda and which seeks to establish a caliphate in the Levant region and beyond, seeks to radicalize Muslim youth, including in the West, who know little about Islam.
Earlier this month, thousands of leaked ISIS documents carrying employment forms showed that most of its recruits from its earliest days came with only the most basic knowledge of Islam, and the terror group was happy they could easily be indoctrinated.
More than 3,000 documents acquired by the Syrian opposition site Zaman al-Wasl and shared with The Associated Press revealed that 70 percent of recruits in 2013 and 2014 were listed as having just "basic" knowledge of Sharia, around 24 percent were categorized as having an "intermediate" knowledge, and just 5 percent were advanced students of Islam. Only five recruits were listed as having memorized the Quran, the newswire found.
New recruits were shown IS propaganda videos on Islam, and the visiting imams repeatedly praised martyrdom, a 32-year-old European recruit was quoted as saying.
The newswire said it analyzed the IS entry form documents of around 4,030 foreign recruits who crossed into Syria in 2013 and 2014.
The Sunni terror group uses brutal methods to torture and punish those who it considers to be its enemies, including Muslims who do not believe in its version of Islam. Christians and other minorities are among its main targets.