ISIS Radical Seen Dragging Child as Human Shield in Mosul Drone Footage (VIDEO)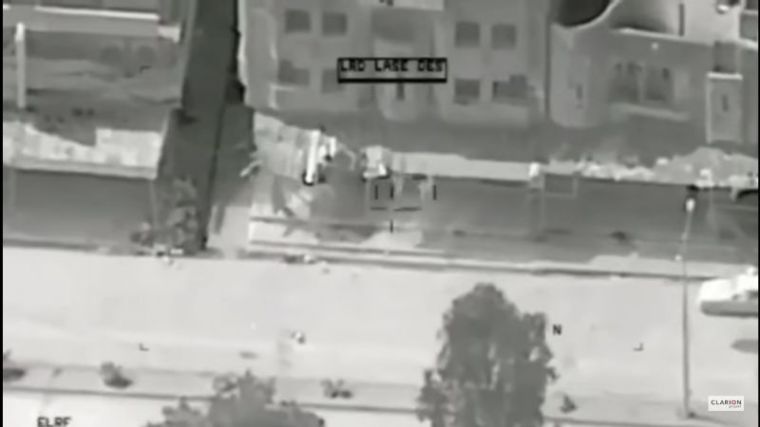 Drone footage from the embattled city of Mosul shows an Islamic State terror group radical dragging a child through the streets as he's being used as a human shield.
The Clarion Project posted a link to the 1-minute long video, which it says was taken from an Iraqi drone documenting an IS fighter and his victim.
The black and white video shows the jihadi pulling the child along as they attempt to cross a road surrounded by several buildings. The two make it to a side street, but it's not clear what happens to them after the footage cuts out.
The video was released following a report from the Iraqi Observatory for Human Rights agency, which said earlier this week the Islamic radicals have kidnapped 197 children in western Mosul, and could be planning on using them as human shields.
Erbil-based BasNews.com said the militants intend to use the abducted children as human shields in their defense of the captured city against advancing coalition troops.
The coalition forces, backed by U.S. air strikes, have for months been seeking to liberate the city, which is one of IS' last remaining strongholds in Iraq.
As many as 4,000 civilians have been killed in and around Mosul as the battle between the coalition and IS rages on.
Iraqi Brig. Gen. Thaer al-Mosawi told the Turkish Anadolu Agency that the high casualties are being reported by those who have fled the city, adding that 22,000 Mosul residents have been injured in the conflict.
IS' desperate attempts to keep hold of Mosul have resulted in several brutal attacks on children. In February, it was reported that radicals chopped off the hands of two children who refused to kill captives in front of their families.
The two children who suffered the punishment were reportedly between the ages of 10 and 12.
"The Islamic State's leaders issued orders to train a group of children on fighting in the group's camps in Nables neighborhood, in the western side of Nineveh," a source with Alsumaria News said at the time.
The Al-Hashd Al-Sha'abi militia group revealed in another report in February that IS has even been strapping explosive devices on dogs, with a video showing jihadists claiming that the bomb, likely filled with shrapnel, could kill three to four people.
"ISIS has just sent an innocent animal with explosives wrapped around it to our position to try and blow our troops up," the militia members said, adding that that they later managed to disarm and rescue the dog.
"[The] animal is being sent to the Baghdad Zoo for a nice break from the war zone and well away from ISIS fighters trying to blow animals up for their sick war."
Watch the Clarion Project drone video of IS using a child as a human shield below: