ISIS Says Pope Francis Is Next Target in Video, Warns 'Religion of Cross Will Be Broken'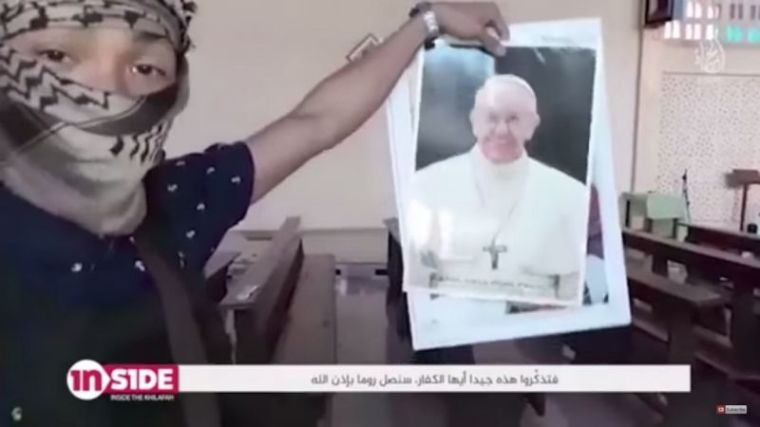 A top aid for Pope Francis has admitted that the latest Islamic State video that targets Pope Francis is prompting concern but said the pope won't be making any schedule adjustments. 
"I saw, yes, yesterday that video that was shown on TV: evidently, one cannot avoid worrying. Especially because of this senseless hatred that there is," Vatican Secretary of State Cardinal Pietro Parolin said on Saturday, according to Crux Now.
Still, Parolin shared that he is unaware of any new security measures that the Vatican will be taking as a result of the video, which was released last week.
Paloma García Ovejero, the pope's deputy spokesperson, added: "We haven't raised the security measures because the controls are already very high. St. Peter's Square, as pilgrims and tourists can ascertain, is always very well protected."
Ovejero affirmed that the Roman Catholic Church leader will not be cowered by IS.
"Pope Francis hasn't changed a thing in his agenda, nor is he going to. Furthermore, he'll continue to foment dialogue, creating bridges, defending peace. With Muslims and Christians," he stated.
Catholic News Agency reported on Friday that the video, filmed by IS militants in the Philippine city of Marawi, features scenes of jihadists setting fire to churches and destroying Catholic statues and relics.
In one of the scenes, an extremist tears up a photo of Francis and Pope Emeritus Pope Benedict XVI Benedict XVI, declaring: "Remember this, you kuffar (non-Muslims) – we will be in Rome, we will be in Rome, inshallah [god willing]."
A narrator vows: "After all their efforts, it would be the religion of the cross that would be broken. The crusaders' enmity toward the Muslims only served to embolden a generation of youth."
The video was reportedly distributed by pro-IS group Al Hayat, and depicts scenes of the battle for Marawi, Philippines, parts of which were seized by IS-linked Maute militants back in May.
Most of the city's 200,000 population, the majority of whom are Muslims, have fled, with reports from mid-July indicating that at least 400 people have been killed.
Roman Catholic church leaders have hailed what they called the "stunning stories" of Muslims saving Christians in the terror-stricken city.
"We all cry from our hearts: War in Marawi, never again! War in Marawi, no more!" the Philippine bishops said in a statement in July.
"Even now Christians are assisting thousands of Muslims who have fled from Marawi for safety. These are indisputable signs that there is no religious war," they added, while condemning the militants "in the strongest terms possible, as did Islamic religious scholars in Mindanao."
IS has been attempting to spread in SouthEast Asia and the jihadists have carried out a number of terrorist attacks across Europe in recent years.
IS' video targeting Pope Francis can be seen below: