ISIS Sex Slave Survivor: Terror Group Says Raping Underage Girls Is OK 'Under Islamic Law'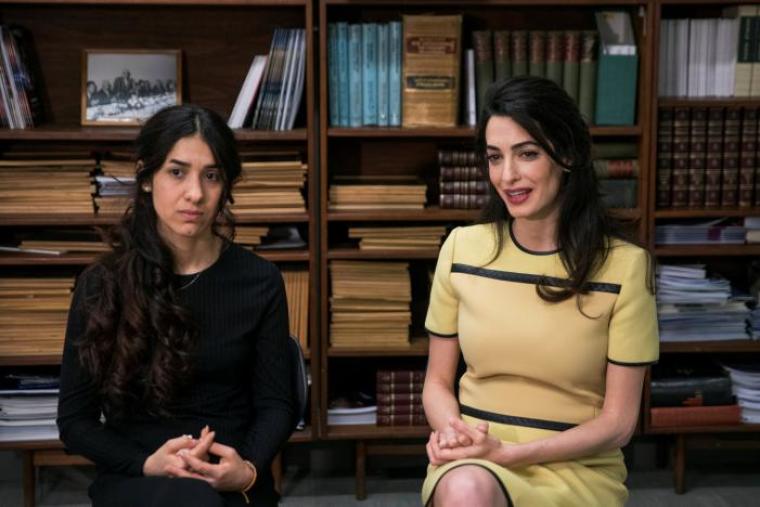 Human rights activist Nadia Murad, who was held captive by the Islamic State terror group and gang-raped and forced to watch the execution of several of her family members, says the radicals use Islamic law to justify their selling and rape of underage girls.
"Early morning on Aug. 3, 2014, they attacked us," Murad said in a CNN interview, describing the scene when she was kidnapped from her home in Sinjar, Kurdistan.
"Nearly 6,500 women and children from the Yazidi were abducted and about 5,000 people from the community were killed during that day. For eight months, they separated us from our mothers and our sisters and our brothers, and some of them were killed and others disappeared."
Murad, who has spoken before the United Nations and several human rights organizations about the horrors she endured, added that her mother and six of her brothers and stepbrothers were executed.
As an unmarried woman, she was taken as a sex slave and passed around to various IS militants, at one point even being gang-raped until she passed out.
She eventually escaped and has since bee speaking out against IS' practice of selling young girls as slaves.
"They sold girls, girls that were underage, because ISIS considered that permissible under Islamic law," Murad revealed. "They came not just to attack certain people, but they came for all Yazidis."
Previously, Murad said that some of the things IS is making women do are "more difficult than death," adding that she was raped by 12 men.
"The last man who bought me said he would take me to someone from Syria. He went to buy clothes for me and there were no guards in front of his house; he told me to prepare because he was going to rape me," she said.
Christians and other religious minorities have suffered great atrocities in IS' captured territory in Iraq and Syria, with former U.S. Secretary of State John Kerry declaring the radical terror group's actions a "genocide" back in 2016.
International human rights lawyer Amal Clooney, serving as Murad's counsel, said that despite such declarations, not a single court anywhere around the world has yet successfully prosecuted IS members.
Clooney has asked the U.N. directly to pressure the Security Council into setting up an investigation in Iraq to start collecting evidence.
"So, my message to the U.N. was, this is a global threat. It needs a global response. And part of that response must be a judicial one. It cannot be only on the battlefield. You can't defeat ISIS on the battlefield alone, because you have to also deal with future recruiting," she added.
"And I think trials and exposing the brutality of ISIS and trying to make a dent in some of their shiny propaganda by showing that it's not a holy war and showing what they're really doing to children, to women, is one way to help that."
Rep. Anna Eshoo, D-Calif., who co-sponsored the House version of the genocide bill with Rep. Jeff Fortenberry, R-Neb., admitted that more work remains to be done.
"We're in a somber moment," Fortenberry said, according to Catholic News Service.
"The injustice continues. We cannot stop. ... We have a concern about resecuritization," he added, referring to helping minorities return to their homelands without fear of persecution.
Fortenberry agreed that those who were "accessories to genocide" must be "brought to justice so that it never happens again."