ISIS Suicide Bombing in Yemen Kills at Least 54, Wounds 67 at School Compound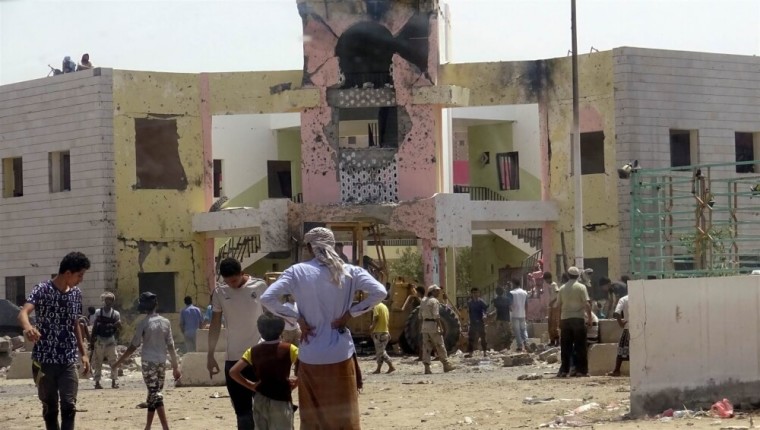 Fifty-four people were killed in the Yemeni port city of Aden on Monday, after an Islamic State suicide bomber drove a car bomb into a military compound.
Al-Khader Laswar, the director general of Yemen's Health Ministry in Aden, told Reuters that at least another 67 people were injured in the attack, which targeted a school compound where conscripts loyal to the government had gathered for breakfast.
Amaq news agency, a media outlet that functions as a part of IS, said the terror group took responsibility for the attack in a statement reading: "Around 60 dead in a martyrdom operation by a fighter from ISIS targeting a recruitment center in Aden city."
The victims of the suicide bombing were transported to a hospital run by medical charity Medecins Sans Frontieres, which said that it was overwhelmed by the number of casualties, noting that it received at least 45 bodies and more than 60 wounded people.
The Independent reported that the suicide bomber entered the compound behind a truck that was bringing in meals.
One eyewitness, identified as Mohammed Osman, described the attack, saying, "Bodies and body parts are scattered all over the place. It was a massacre."
Other witnesses, such as Ahmed al-Fatih, who had been working at the centre, said security at the site was too lax.
"So it was easy for al-Qaida or Daesh to pull off such an act," he added, using a different name for IS.
The radical terror group has been using Yemen's 18-month-old civil war between President Abd-Rabbu Mansour Hadi's government and Shiite Houthi rebels loyal to the former president in order to launch several attacks in the country.
In another major attack back in May, a suicide bomber killed 40 army recruits and injured 60 others at another compound in Aden.
The United Nations has said that as many as 9,000 people have died in the Yemeni civil war since violence escalated in March 2015, while another 3 million people have been displaced inside the country.
U.N.-led peace talks earlier in August held in Kuwait were suspended with no signs of a solution concerning the civil war.
Christians in Yemen have also suffered terror attacks, including a shooting at a Missionaries of Charity-run retirement home in Aden back in March. IS again claimed responsibility for the attack, in which 16 people were killed, including four Roman Catholic nuns.