ISIS Tunnels to Biblical King Find Assyrian Goddesses, Rotting Corpse
ISIS Tunnels to Biblical King Find Assyrian Goddesses, Rotting Corpse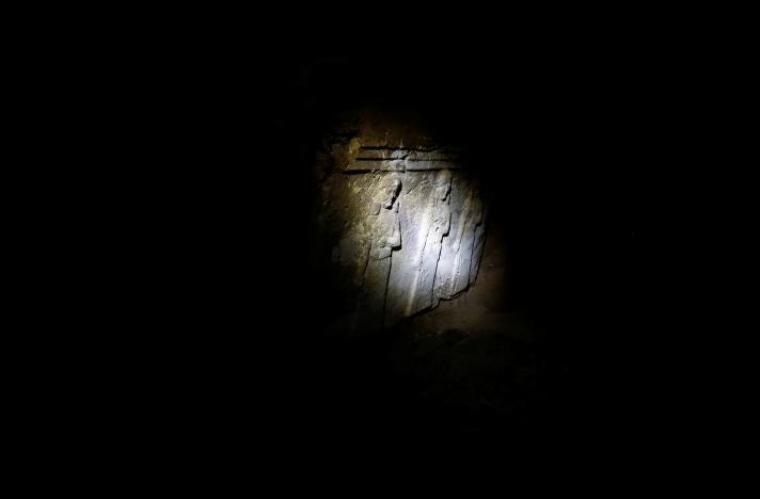 Archaeologists exploring the tunnels dug by the Islamic State terror group beneath the tomb of the prophet Jonah in Niniveh, which led them to the palace of biblical King Esarhaddon, have reported new finds, such as statues of Assyrian goddesses, and an unknown rotting corpse.
"It is typical of the hypocrisy of the Daesh [Islamic State], that they destroy a site with explosive on video as they deem it un-Islamic, then dig beneath it to steal and sell the artifacts," archaeologist Layla Salih explained in an interview with The Times.
"But in a strange way it is the one positive thing to come out of all this. For their tunnelling for plunder has revealed a palace we would never have been allowed to excavate."
IS destroyed Jonah's shrine in 2014, and dug tunnels underneath which led them to the palace of King Esarhaddon, who ruled 2,700 years ago and renovated the palace built for King Sennacherib, whose military rule is mentioned in II Chronicles 32:1 in the Bible, where it says: "After all that Hezekiah had so faithfully done, Sennacherib king of Assyria came and invaded Judah. He laid siege to the fortified cities, thinking to conquer them for himself."
Although the Islamic radicals have sold many of the priceless artifacts they discovered, the Iraqi research team has been uncovering statues of "winged bulls and lions," along with ancient inscriptions
The Times report describes how the researchers "discerned winged bulls and goddesses, cuneiform reliefs, bones and pottery and knew that we were stumbling not through an abandoned terrorist sanctuary but in the footsteps of ancient kings in a palace from the dawn of history."
Paul Collins, curator of ancient near east at the Ashmolean Museum of Art and Archaeology, Oxford, commented on some of the female figures found in the palace ruins, explaining that mid-seventh century B.C. Assyrian reliefs are known to represent "female deities, goddesses and supernatural figures."
"I have seen some of the photographs, and the cuneiform inscriptions confirm the site as the palace of Esarhaddon," Collins said.
Salih previously said "We believe they took many of the artifacts, such as pottery and smaller pieces, away to sell. But what they left will be studied and will add a lot to our knowledge of the period."
The archaeologists also found grim reminders of the ongoing war with IS, however, as Iraqi ground forces move closer and closer every day to pushing the terror group out of Mosul.
The team discovered orange jump suits, which prisoners have often been forced to wear in IS' infamous execution videos, along with the stench of a rotting body.
"Could be a dead fighter, or a prisoner," Salih said. "We know the Daesh used their prisoners to dig these tunnels," she added, using an alternate name for IS.
The Times added that until Mosul is fully liberated and the terror threat subsides, full investigative work into the palace of King Esarhaddon is unlikely to begin.