ISIS Using Churches as Torture Chambers, Forcing Christians to Convert or Be Killed
1 Christian Is Martyred Every 5 Minutes, Says Christian Freedom International Ahead of Nov. 8 Day of Prayer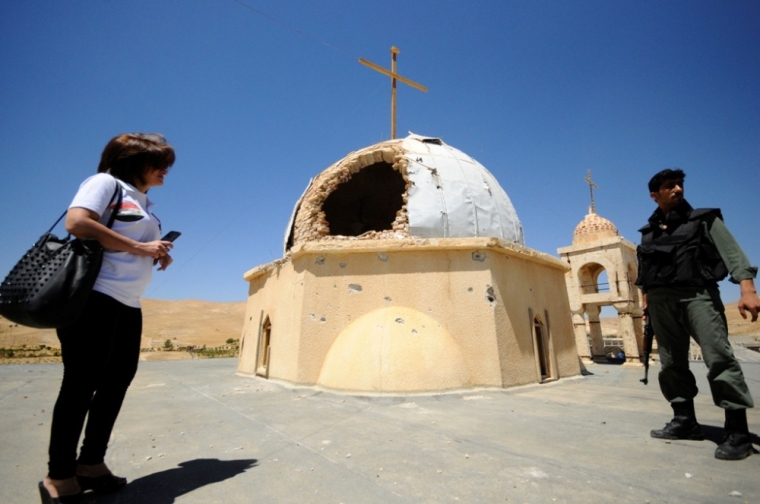 The head of a Christian humanitarian organization reports that the Islamic State terrorist organization in has turned captured church buildings into torture chambers that are being used to coerce Iraqi Christians into renouncing Christ and converting to IS' brand of radical Islam.
Christian Freedom International, a Virginia-based aid organization that provides necessities to Christians living in nations that are the most hostile toward Christianity, has released a new video that reveals alarming statistics showing the number of Christians throughout the world who are being persecuted or killed for their faith.
The video, released ahead of the organization's day of prayer on Nov. 8, explains that there are over 200 million followers of Christ who face some form of persecution in 105 of the world's 196 countries.
The video also provides an even more staggering statistic by stating that one Christian is martyred every 5 minutes because of their faith. CFI also estimates that more Christians have been martyred in the 20th and 21st centuries than in the previous 19 centuries combined.
Since the summer of 2014, the Islamic State terrorist group has taken over large territories throughout Iraq and Syria, including many predominantly Christian towns. The group has become notorious for brutally killing anyone who does not agree ideologically with the group, or refuses to renounce their religion and follow IS' extremist brand of Islam.
As hundreds of thousands of Christians in Iraq and Syria have fled their homes and villages in order to spare themselves from IS' brutality, CFI President Jim Jacobson told Breitbart London that some captured Christians in Iraq have been tortured into converting to Islam inside of buildings that used to be churches.
"Islamic State militants in Iraq are using Christian churches as torture chambers where they force Christians to either convert to Islam or die," Jacobson said.
Not only is IS trying to cleanse the region of Christianity and any other religions that are not its own brand of Islam, the militant group has also destroyed ancient Christian monasteries and holy sites.
Jacobson also explained that IS is selling ancient Christian artifacts to help fund its jihad.
"Islamic State militants are also stripping the former places of Christian worship of ancient relics which in turn are smuggled to Western collectors to help fund their terrorist activities," Jacobson said.
The CFI video states that the organization's goal is to "reach the part of the persecuted Church that is the most repressed, most at risk and most isolated. In parts of the Middle East and Africa, CFI provides emergency aid, security, education, Bibles and other necessary supplies to Christians living in slavery and suffering persecution at the hands of the Islamic extremists."
In India, Hindu extremists often attack Christian villages in order to force Christians out of their homes. For the persecuted Christians in India, CFI provides clothing, drinking water and Bibles for those who've been forced to flee their homes.
"I encourage you to pray for persecuted believers," Jacobson said. "They are your Christian family throughout the world. Pray for their safety; that they would be emboldened to continue sharing the Gospel even in the face of persecution; that their persecutors would also come to know Christ as they observe the courageous witness of these believers."