Islamic Militants Kill 21 in Attacks in Iraq, Invade Country's Biggest Oil Refinery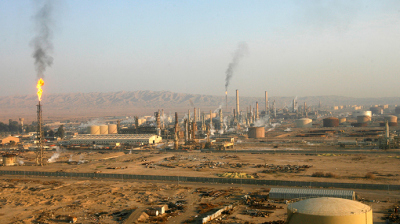 Islamic militants killed at least 21 people in Baghdad and another Iraqi city on Tuesday in their offensive to capture the capital. Jihadists have also invaded Baiji, the country's largest oil refinery.
AFP News Agency reported that the violence came during a major offensive spearheaded by the jihadist Islamic State of Iraq and the Levant group, which has already captured the city of Mosul and much of the Nineveh province.
A car bomb killed at least 11 people and wounded more than 20 in the predominantly-Shiite Muslim area of north Baghdad, while five more bombings killed a further six people and wounded 14, officials said.
Fallujah, which is west of Baghdad and has been held by anti-government fighters for more than five months, suffered shillings that killed another four people and wounding three.
Militants also now reportedly control close to 75 percent of the Baiji oil refinery, 130 miles north of Baghdad, after pounding it with mortars and machine guns from two directions.
BBC News added that government forces have sent air strikes against militants advancing toward the capital.
While President Barack Obama has said that the U.S. will not be sending troops into Iraq to fight the Islamists directly, nearly 300 security forces were deployed earlier this week to protect the American embassy in Baghdad, which has remained open.
The Baghdad embassy released an emergency message for U.S. citizens on Monday, stating that it is reviewing its staffing requirements as a result of the ongoing violence in the country, and urged Americans to take caution.
"The Department of State urges U.S. citizens to avoid travel to Iraq because of current safety and security concerns. U.S. citizens concerned for their safety should make plans to depart by commercial means. U.S. citizens will be responsible for arranging their own travel out of Iraq," the message read.
"U.S. citizens living and working in Iraq should understand that they accept risks in remaining and should carefully consider those risks. Those who remain should prepare to depart at short notice."
An official White House statement on Monday announced that the 275 U.S. military personnel will assist with the relocation of staff at the Baghdad embassy.
"These U.S. military personnel are entering Iraq with the consent of the Government of Iraq. The U.S. Embassy in Baghdad remains open, and a substantial majority of the U.S. Embassy presence in Iraq will remain in place and the embassy will be fully equipped to carry out its national security mission," the statement noted.
Other important cities in the region under threat include Baquba, which is 40 miles north of Baghdad. CNN noted on Wednesday that if Baquba falls at the hands of fighters from the Islamic State in Iraq, the implications for the capital could be "dire."
Families are reportedly leaving in droves from Baquba and other Iraqi cities, while close to half a million people are said to have fled last week during ISIL's attack in Nineveh.
Persecution watchdog groups like Open Doors and International Christian Concern have noted that Christians are also fleeing the region from the jihadist threat.
Meanwhile, the Chaldean Archbishop of Mosul Amel Shamon Nona told Fides News Agency that armed intervention will not solve the crisis.
"In the villages in the Nineveh plain that accommodated part of the population fled from Mosul, the situation is worsening day by day. There has been no water and electricity for two days. Fuel is beginning to run out. And last night a part of Mosul was bombed, causing a new exodus of civilians," the Archbishop said.
He added that people in Iraq have seen many times that military intervention does not solve anything, and "the problems sooner or later explode again in a more devastating way. A common language and instruments of dialogue must be found with patience that engage all Iraqis."