US Sending Nearly 300 Troops Into Iraq to Protect Embassy From Islamic Jihadist Threat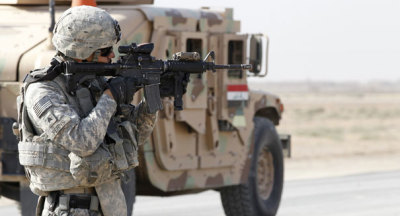 The U.S. is sending nearly 300 troops into Iraq to protect the American embassy in Baghdad amid escalating threats that Islamic jihadists who have captured several cities in the region could move in on the capital.
"The personnel will provide assistance to the Department of State in connection with the temporary relocation of some staff from the U.S. Embassy in Baghdad to the U.S. Consulates General in Basra and Erbil and to the Iraq Support Unit in Amman," the White House said in a statement on Monday. "These U.S. military personnel are entering Iraq with the consent of the Government of Iraq. The U.S. Embassy in Baghdad remains open, and a substantial majority of the U.S. Embassy presence in Iraq will remain in place and the embassy will be fully equipped to carry out its national security mission. "
The approximately 275 U.S. military personnel were authorized by President Barack Obama who transmitted a report notifying Congress of the decision, which the White House says is consistent with the War Powers Resolution.
The militants from the Islamic State of Iraq and the Levant terrorist group overran the city of Mosul and much of the Nineveh province last week, forcing close to half a million people to flee, including many Christians.
Formed in the wake of the fall of Saddam Hussein in 2003, the militants are said to be targeting Baghdad next, in a mission to establish Islamic rule over the country. They have also been active in war-torn Syria, where several different rebel groups are trying to take down the government of Bashar al-Assad.
The Associated Press reported that on Monday night Obama met with his national security team to discuss options of countering the ISIL group, though no final decision has been made yet on the course of action the U.S. will take.
CNN added that dozens of marines and Army troops are already at the U.S. Embassy in Baghdad, while another 100 personnel are in the region to provide support if needed. Furthermore, aircraft carrier George H.W. Bush and five other warships are now in the Persian Gulf, while more than 500 marines and dozens of helicopters are on standby.
"Well, they are not the whole answer, but they may well be one of the options that are important to be able to stem the tide and stop the movement of people who are moving around in open convoys and trucks and terrorizing people," Secretary of State John Kerry said in an interview with Yahoo! News, talking about the possibility of using airstrikes on Iraqi targets.
"When you have people murdering, assassinating in these mass massacres, you have to stop that and you do what you need to do."
Obama has ruled out the possibility of sending troops to battle the militants directly, but said that other options are being considered that could help support Iraq's security forces.
"Any action that we may take to provide assistance to Iraqi security forces has to be joined by a serious and sincere effort by Iraq's leaders to set aside sectarian differences, to promote stability, and account for the legitimate interests of all of Iraq's communities and to continue to build the capacity of an effective security force," Obama said on Friday. "We can't do it for them. In the absence of this type of this type of political effort, short-term military action, including any assistance we might provide, won't succeed.
Persecution watchdog group Open Doors has shared of fears that Mosul could be entirely emptied of Christians. Followers of Christ in Iraq have shrunk from 1.5 million to an estimated 200,000-400,000 in the past decade.
"The Islamist terrorists want to make Iraq a 'Muslim only' nation and as a result they want all Christians out," commented Open Doors USA President/CEO Dr. David Curry. "The situation for Christians has deteriorated each year over the past 10 years. Iraqi Christians have faced kidnappings, threats and even death for being followers of Jesus. And they have little faith in their government to provide security as we see in the tragedy unfolding this week."