Islamist Rebels Driven Back in Egypt After Months of Attacking Christians; But Some Skeptical If Peace Will Last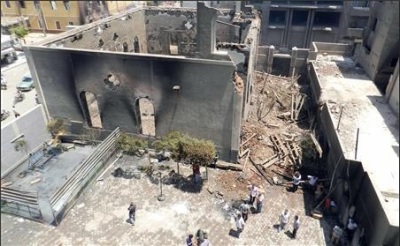 Coptic Christians have reacted with nervous relief to the Egyptian military's pushback of the Christian-persecuting Islamist rebels who had taken over Dalga.
During the two and half months that Islamist rebels held control, Christians suffered the vandalism and destruction of a monastery, two churches and close to three dozen homes. Recently, they had reported that the rebel rulers had forced them to pay a "jizya" or tribute tax to the Islamists — in essence, bribing their oppressors to let them stay in their homes.
Further, Copt incomes also suffered severely — the majority of Christian-owned small businesses were shut down during the Islamist takeover. In response to these measures, hundreds of Dalga's 20,000 Christians fled the city.
However, Coptic Christians have now expressed concern that the Egypt government's decision to move into Dalga and push back the Islamist rebels was less an attempt to rescue them, and more to capture a single Islamist fugitive, according to The New York Times.
The Egyptian army and police entered the town backed with helicopters on Monday. The military had twice tried to enter before but had been attacked and held off both times; eyewitnesses said the Islamists put up no resistance as the troops entered the town this week, according to the BBC.
But despite the lack of military resisistence to the military, the majority of the province of Minya, where Dalga is located, sided with, and in many ways still actively supports deposed Egyptian President Mohamed Morsi. Hundreds, and at times, thousands of his supporters march nightly through the streets, The Times has reported.
In August, the military killed dozens of people in Dalga when security forces went after protesters — mirroring on a smaller scale the hundreds of protesters shot by security forces in Cairo.
Shortly after this violence, Christians, whom Islamists have made scapegoats after Morsi was forced out, found their churches and institutions attacked across the province, while police stood refusing to intervene.
One Christian, Magid Nessim, has said that Copts in the region are now concerned that should the military pull out again, they would once again be the victims of the angry Islamist mobs.
"There could be retaliation attempts against Copts from Islamists or other people who are angry now at the army's presence," he told The Times.