Islamophobia? Americans Voice Their Freedom of Speech, Descend on 'Stand With the Prophet' in Texas to Protest Shariah Law, ISIS
(Photo: The Christian Post)
5 photo slide
(Photo: The Christian Post)
(Photo: The Christian Post)
(Photo: The Christian Post)
(Photo: The Christian Post)
GARLAND, Texas — Protesters holding signs against Shariah Law and the Islamic State shouted "go back home" toward Muslims as their cars crept past to enter the "Stand with the prophet against hate and terror" event that aims to "challenge growing Islamophobia in American society," which was held less than two weeks after Parisians' lives were rattled by terrorist attacks committed by radical Islamic jihadists that left 17 people dead.
For the hundreds of protesters who traveled near and far to counter what they see as encroaching Islamization in Europe, Canada and the United States, their fears are justified. Many Muslims, however, expressed deep concerns about the vicious verbal attacks that were shouted against them, and said their hope is for unity and understanding in their communities where some see them as nothing more than a potential terror threat.
According to the "Stand with the prophet" conference website, one objective of Saturday's event was to raise money to build a Strategic Communication Center "for the Muslim community, which will develop effective responses to anti-Islamic attacks, as well as to train young Muslims in media."
"This is not an event. It is the beginning of a movement. A movement to defend prophet Muhammad, his person, and his message," the website continued, claiming that "Hate groups in the U.S. have invested at least $160 million dollars to attack our prophet and Islam. ... While the U.S. is where this hate machine is based, Islamophobia is causing problems all around the world. Today, six European countries: Denmark, Poland, Iceland, Norway, Sweden and Switzerland, have put a ban on 'halal.' Three countries, including France, have put a ban on hijab; and in Switzerland, Muslims cannot build a minaret."
Sara Legvold, who drove to the venue from within the state to protest against the event and its message, said she did so to defend the freedom of speech. "Christians are being banned from every public venue because of this imagined separation of church and state, yet every time we turn around we have the Muslims being accommodated in every way, shape and form — even through halal food in our public school cafeterias."
"This event," she said, "is pushing for Shariah Law in our country and to silence our voices. That's what this is all about — it's a conference to figure out how they can silence their opposition and shut down out First Amendment right to insult Muhammad. I normally don't insult people, but I still stand by the right for someone to do that without being beheaded, murdered or having a fatwa put on their head."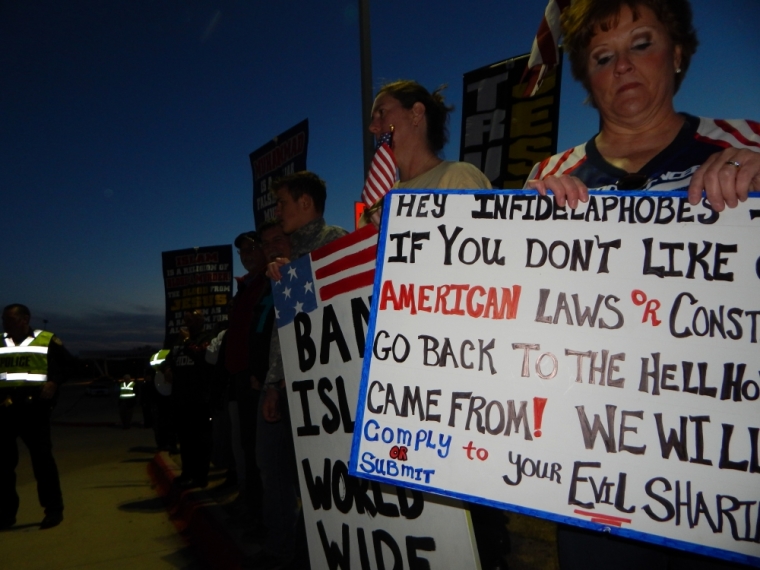 Ruben Israel, who's been a street preacher for 35 years and is a member of Bible Believers, which has 74 chapters nationwide, told The Christian Post on Saturday that he wasn't protesting any particular speaker, but the entire event, which he says was held in an attempt to deceive people into believing that Islam is a tolerant religion.
"I'm here like any red blooded, God-fearing Christian should be. You have an event like this, where they're trying to say Muslims are tolerant people — that's not true. Let's face it; what happened in France is because of Muslims. I'm not here to sing 'Kum Ba Ya,' I'm here to draw a line in the sand. They hold an American flag in one hand and a dagger in the other hand."
The five speakers at the event included: Kristiane Backer, author of From MTV to Mecca; Imam Alauddin El-Bakri, a founding member of the Inner City Muslim Action Network; Imam Abdul Malik Mujahid, founding chairman of Sound Vision Foundation; Georgetown University professor John Esposito, founding director of the school's Prince Alwaleed Bin Talal Center for Muslim-Christian Understanding; and controversial New York-based Imam Siraj Wahhaj, who was an alleged "co-conspirator" in the 1993 World Trade Center bombings.
"Wahhaj was once listed by prosecutor Andy McCarthy as an unindicted person who may have been an alleged co-conspirator in the deadly 1993 terror bombing of the World Trade Center," Fox News reports. "In 1995, Wahhaj, a U.S.-born Muslim convert, provided supportive testimony for Omar Abdel-Rahman, the 'blind sheik' who later received a life sentence for his role in the plot to blow up city landmarks."
Israel told CP that he's traveled to several countries throughout the West that have sizeable Muslim populations, such as France and Canada, and behind the scenes people tell him that they "regret giving them the freedom that they have."
"Freedom is good, but you have to earn it," he asserted. "These people despise this country. Everywhere Islam goes, it's bad news — crime, murder and destruction. Detroit, Michigan, is a perfect example. Once a God-blessed city, it's now almost cursed soil because of this religion."
Israel added that he cautions Christians not to believe that the two religions are the same. "We're not the same. At least we need to understand that. Their religion is one of hatred."
"They don't like our free speech. And understand, if free speech goes, freedom of the press is next, owning a gun is next. It's a domino effect. You don't like the way we have free speech, which they don't, freedom of the press would be next — France is very familiar with that," he argued.