Israel AG: Personal Friendship Wouldn't Deter Me From Indicting Netanyahu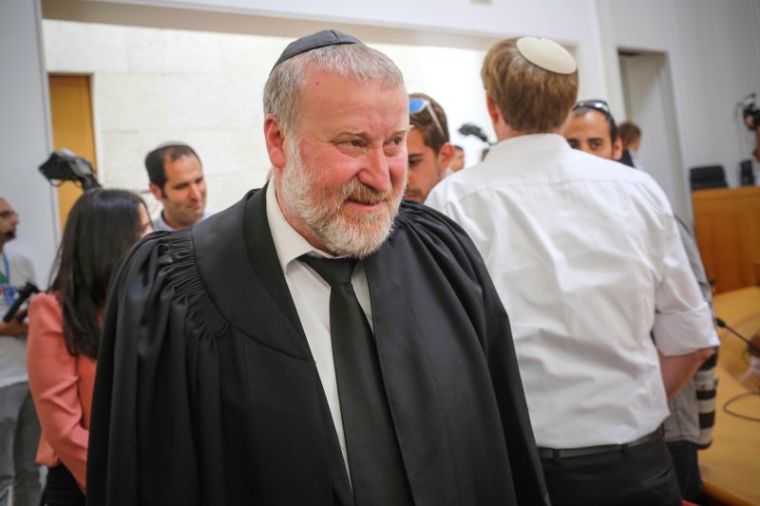 Attorney General Avichai Mandelblit threw his backing behind the Israel Police Thursday, saying investigators conducted their inquiries into Cases 1000 and 2000 in a professional and satisfactory manner.
After receiving the police summary of the investigation, Mandelblit must decide if there is enough evidence to indict Prime Minister Benjamin Netanyahu on corruption charges.
Responding to criticism that he would be hesitant to file charges against Netanyahu — the two are long-time confidants, with Mandelblit once having served as Netanyahu's cabinet secretary — Mandel said he would be able to maintain his professionalism, although it will not be a pleasant task.
"Of course, it would be difficult for me to fill an indictment against any prime minister or any minister who is currently serving. But I was raised to look for the truth, and I would have no problem if I had to indict the prime minister, or anyone else."
Speaking at an event organized by the Friends of Tel Aviv University Association and The Liberal Magazine, Mandelblit said the State Prosecutor's Office and police department worked on the investigation in close and excellent cooperation, although there have been rumors about tensions between them.
"We are all parts of the same system; all together we are the law enforcement apparatus, which is a strong and cohesive system that operates independently, impartially and without fear," he said.
The statement was Mandelblit's first since police recommended filing criminal charges against Netanyahu on Tuesday.
Following a 14-month long investigation, Netanyahu was charged with receiving cigars, champagne and jewelry worth over a million shekels (nearly $300,000) in what has been labeled Case 1000. Police said Netanyahu and his family received gifts from the billionaire Israeli producer Arnon Milchan during an almost decade-long period running from 2007 to 2016 and that from 2014 he had received gifts from the Australian businessman James Packer, who owns a house next to the Netanyahu's residence in Caesarea. 
In Case 2000, police allege that the prime minister traded favors with newspaper publisher Arnon Mozes. 
Netanyahu said Wednesday that the police recommendation to indict him on two counts was "as full of holes as Swiss cheese."
Speaking at the annual Council for Local Government conference at the Tel Aviv Convention Center, Netanyah said he would continue "to work on behalf of Israel." He added that the recommendations were "extreme" and "faulty," and repeated his oft-stated assurance that nothing would come of the legal process against him because no crimes had been committed.
"The recommendation ignores or even blurs the very close friendship I share with Milchan,  and that gifts were given in both directions. It also blows up the sums involved beyond all recognition. The numbers (that the police are reporting) have nothing to do with me," Netanyahu said.
"Most importantly, they ignore — as do all the commentators (in the media) — that I have worked against Milchan's interests, not on behalf of them." 
Mandelblit dispelled rumours of tensions between general prosecutor and police investigators.
"We were guided solely by professional considerations," he said. "I absolutely reject claims that any of the parties involved in the investigations acted in an unprofessional manner."
As to whether the prime minister should resign at this stage of the investigation, Mandelblit said, "He is innocent until proven otherwise but it is clear that the recommendations have significance.
"However, they have no legal validity."