Israel Is Only Mid East Nation Protecting Christians From Radical Islam, Netanyahu Warns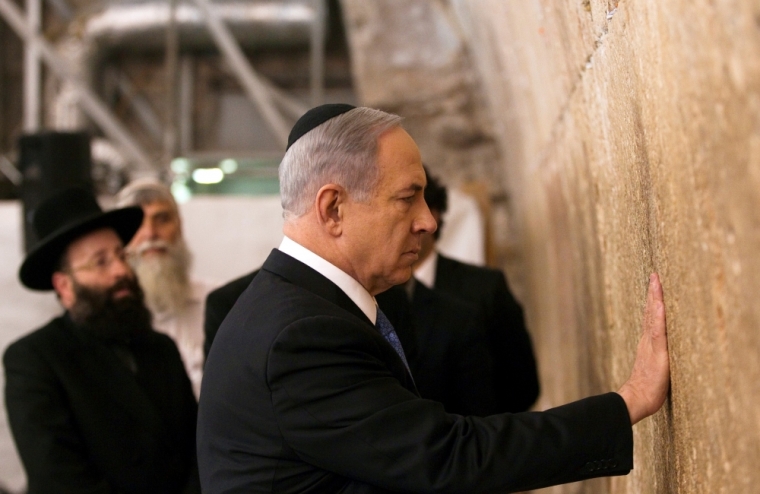 Israeli Prime Minister Benjamin Netanyahu has claimed that Israel is the only Middle East nation protecting Christians from violence at the hands of radical Islam.
Netanyahu pointed out that Christians are being persecuted and killed by radical Islamic groups across the Middle East, most notably by the Islamic State, and are facing violence and discrimination in Muslim majority nations. The Israeli leader apparently made the remarks in a video message to the Israeli Christians Recruitment Forum, Fides News Agency reported.
"You know very well that our region is in flames and Christians in Iraq, Syria and, unfortunately, under the Palestinian Authority, are suffering a lot because of radical Islam. These communities are persecuted, and unfortunately many people have lost their lives for their faith," Netanyahu added, praising the organization which enlists Christian soldiers into the Israeli army.
The Israeli PM pointed out that extremists target all people of faith who do not agree with their radical ideology.
"Radical Islam does not make any difference between Christians, Jews and Muslims who reject their extremism. They are all infidels who must be killed. For this now more than ever it is clear which is the only State in the Middle East that protects minorities, where Christians live in peace and where their community is growing: This state is the State of Israel," he declared.
Fides said there is some controversy over efforts to recruit Arab Christians into Israel's army, however.
The Justice and Peace Commission of the Assembly of Bishops of the Catholic Ordinaries of the Holy Land has in the past drafted documents warning that the Israeli army "is used as a means to impose and maintain the occupation of Palestinian territories and therefore prevent Palestinians from reaching dignity and independence."
Netanyahu has often decried all forms of Islamic extremism in the Middle East, and said that people who support a war against IS but not Palestinian group Hamas don't realize how similar the two militant groups are.
"ISIS and Hamas share a fanatical creed, which they both seek to impose well beyond the territory under their control," Netanyahu said in September 2014 before the United Nations in New York.
"As Hamas' charter makes clear, Hamas' immediate goal is to destroy Israel, but Hamas has a broader objective. They also want a caliphate. Hamas shares the global ambitions of its fellow militant Islamists, and that's why its supporters wildly cheered in the streets of Gaza as thousands of Americans were murdered in 9/11, and that's why its leaders condemn the United States for killing Osama bin Laden whom they praised as a holy warrior."
Several politicians across the world have meanwhile urged world leaders to recognize that IS is committing a genocide against Christian and other minorities.
Lars Adaktusson of the Christian Democrats Party in Sweden said in November that the Islamic radical group is attempting to eradicate all followers of Christ from the Iraqi and Syrian lands it has captured.
"The Islamic State's basic motive is clearly established and refer to an ethnic and religious cleansing of everything that doesn't fit into their own narrow definition of Sunni Salafism. The murders, rapes, kidnappings, eradication of cultural and religious history and the demand for submission is meant to obliterate or force out Christianity," Adaktusson added.
He warned that if the U.N. and European countries take too long to acknowledge and act upon this reality, Christians in the Middle East might "only be found in history books."