Israeli Arab Woman Loses Nazareth Mayoral Bid in Landslide to Christian Incumbent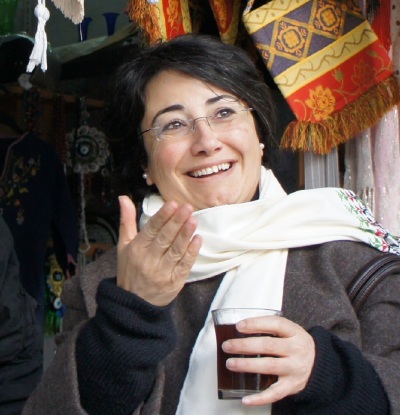 Israeli Arab politician, Haneen Zoabi, lost her bid to become Nazareth's first new mayor in 20 years. Zoabi, who ran against incumbent, Ramiz Jaraisi, who has been the city's mayor for almost two decades, only won 3,812 votes. Jararisi, a Christian, received 43.37 percent of the total.
Nazareth, a popular destination for Christian tourists hoping to step foot where Jesus was raised, is made up of about 70 percent Muslims and 30 percent Christians. It has a population of about 80,000 people. Outside of Nazareth, 20 percent of Israel's population is made up of Arabs.
Zoabi is one of 12 Israeli Arabs who currently holds a seat on Israel's parliament, or Knesset, where she has shown to be an outspoken critic of her country and encouraged her fellow Israeli Arabs to not allow themselves to be complacent bystanders who "thank Israel every day for not expelling them in 1948, who think they are not equal to Jewish citizens."
When Zoabi ran for reelection in January, many of her fellow members of parliament tried to have her disqualified, arguing that she had "constantly undermined the State of Israel and [had] openly incited against the government, its institutions and IDF soldiers." Israel's Supreme Court overturned the ban in December to allow her to run.
Potentially the pinnacle of Zoabi's controversial career was her participation on a flotilla protesting Israel's blockade of the Gaza Strip, whose members attacked unarmed Israeli Navy officers who boarded the boat in 2010.
Israeli soldiers stormed the ship in response to the attack, shooting and killing nine Turkish activists. The U.N. Human Rights Council, which interviewed 100 passengers aboard the ship, later concluded that "a number of passengers were injured or killed while trying to take refuge ... or assisting others to do so," and that many of those shot out "had already been wounded."
After the incident, Israeli Jews lashed out at Zoabi for her participation on the flotilla.
"For about a year and a half I was getting letters, e-mails, and telephone calls from people saying, 'You are a terrorist, a traitor, a piece of s***, we will get you, you and all the traitors,'" she told Foreign Policy, in an article dubbing her "The Most Hated Woman in Israel" in January.
Though she was also ultimately stripped of many of political privileges as an Israeli representative and frequently found herself the target of insults on the street, Zoabi said she had no regrets.
"The freedom flotilla sent a message to my people that I say and do what I believe and I will do the same in the municipality," Zoabi said.
Some of Zoabi's detractors said her Tuesday night loss was down to the fact that she is out touch with the people that she represented.
"PLO's Zoabi loses mayoral race in Nazareth because Israeli Arabs know she doesnt care about them," tweeted IsraelRadioGuy, a pro-Zionist blogger.
"Hanin Zoabi's crushing defeat in Nazareth to incumbent mayor proves Arab Israeli city not interested in her politics of hate and division," tweeted YaakovLappin, a journalist for The Jerusalem Post.