Israeli journalist mocked, spat upon after going undercover as 'Priest for a Day' in Jerusalem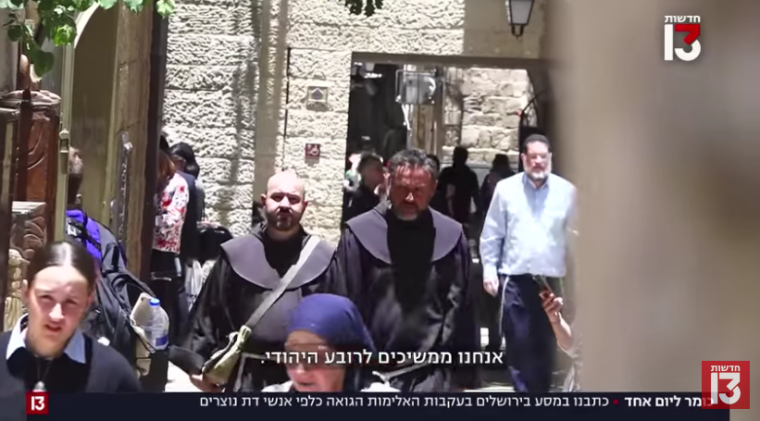 An Israeli journalist who disguised himself as a priest was mocked and spat upon in the Old City of Jerusalem in the latest incident of Jewish public animosity against Christians in Jerusalem.
Yossi Eli, a reporter with Israel's Channel 13 News, said the pair were assailed "by a child and a soldier" within minutes of donning a brown priest's robe and walking with a clergyman in the Old City, according to Haaretz. 
According to the report, a man was heard saying mockingly in Hebrew, "Forgive me, Father, for I have sinned" as the pair walked by. Moments later, they were spat on first by an 8-year-old child and then by a soldier while passing by several troops.
Eli later clarified that in his opinion, the mockers were not "mentally ill" but rather wanted to "express their hatred towards Christianity."
He tweeted a video of the incident with the following caption: "The justification of some Jewish groups for hate crimes is that they are 'mentally ill.' so no. Our investigation proved that the attacks are really not from the mentally ill, but people with a clear opinion who simply hate something they are not. Brainwash them that Jesus is bad. 
"Young extremists, children, and most sadly soldiers, the 'salt of the earth' express their hatred towards Christianity. Just think what the reaction of those Jews would have been if a Christian had spat on them in Europe. The full investigation, the truth? "Priest for a Day" was very difficult to digest."
?????? ?? ??? ???????? ???????? ????? ???? ??? ?????? ?????? ????. ?? ??. ?????? ???? ????? ???????? ?? ??? ?? ?? ???? ??? , ??? ????? ?? ??? ????? ????? ?????? ???? ??? ??. ???? ??? ?? ???? ???? ?? ??. ?????? ????????, ????? , ???? ???? ?????? , "??? ????" ?????? ?? ????? ????… pic.twitter.com/pBICUlRXFI

— Yossi Eli ???? ??? (@Yossi_eli) June 25, 2023
Father Francesco Patton, who serves as the Vatican's custodian of the Holy Land, told Channel 13 News that Israeli politicians are at least partly responsible for rising anti-Christian sentiment as "political language became more violent."
Pointing to the recent desecration of a Lutheran cemetery and the spray-painting of the message "death to Christians" on Armenian church property in the matter of just a few weeks, Patton said, "those who have power" are helping to create a hostile environment for Christians.
"I hear so many times people telling me, asking why do you stay here, go back to your country. This place is ours, it's not yours. Go back to your country," he said.
It's not just people that Jews are spitting on: Christian buildings, priests' clothing and "crosses hanging from the chest of monks ... have become favorite targets for Jews to spit on," according to a Jerusalem Post report last month. 
In response to this apparent trend, Israeli researcher and interfaith activist Yisca Harani joined with others to launch the Religious Freedom Data Center hotline, which, with the "blessing of the heads of the churches in Jerusalem," seeks to document "recurrent acts of violence" toward Christian clergy and pilgrims.
The attacks are part of a larger pattern that began earlier this year, most recently at an Evangelical Pentecost event in May, where several Orthodox Jewish activists — including a prominent rabbi and the deputy mayor of Jerusalem — took part in a protest that eventually turned violent, with several of the protesters hurling insults at Christians gathered in the area and others spitting on them.
Among those who participated in the protest were ultra-Orthodox Rabbi Zyi Thau, the spiritual leader of the Noam Party, and Arieh King, the deputy mayor of Jerusalem, who equated Christian missionary activity with radical Islamic terrorism.
In a tweet, King applauded the "dignified and proper protest" and said, "As far as I am concerned, every missionary should know that he is not a welcome person in the Land of Israel."
In April, the head of the Roman Catholic Church in the Holy Land, Latin Patriarch Pierbattista Pizzaballa, blamed the recent uptick in attacks in the Christian quarter on radical Jewish extremists feeling empowered and "protected" under Prime Minister Benjamin Netanyahu's government.
Pizzaballa told The Associated Press that the Christian community in the region is experiencing heightened assaults from extremists, who he claims are gaining confidence from Israel's most conservative government in recent history. These extremists, he added, have been increasingly harassing clergy and damaging religious properties at a concerning pace.
"The frequency of these attacks, the aggressions, has become something new," Pizzaballa was quoted as saying. "These people feel they are protected … that the cultural and political atmosphere now can justify, or tolerate, actions against Christians."