It's Official: Disgraced Democrat Anthony Weiner Is Running for Mayor of New York City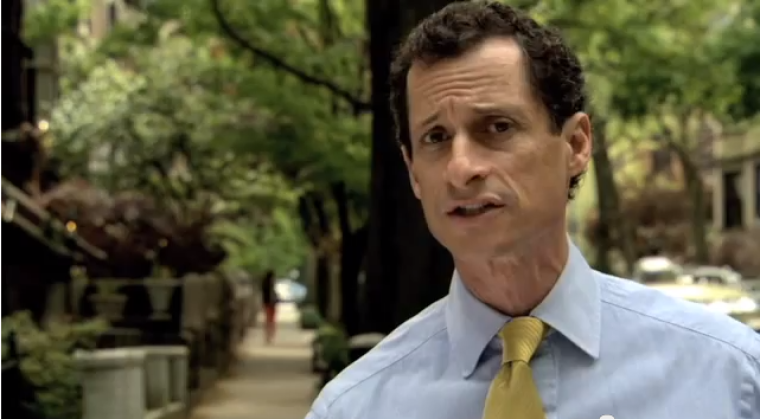 Disgraced Democrat Anthony Weiner could be the next big political comeback kid of the year behind Mark Sanford. Forced to resign from Congress two years ago due a sexting scandal, Weiner officially hit the campaign trail in a YouTube video sporting a clean-cut family man look and vowed to the make New York City the "middle-class capital of the world" while asking for a "second chance."
"I made some big mistakes and I know I let a lot of people down, but I also learned some tough lessons," he said in the video. "I'm running for mayor because I've been fighting for the middle class and those struggling to make it my entire life. And I hope I get a second chance."
The video features his wife, Huma Abedin, longtime aide to former Secretary of State Hillary Rodham Clinton, and their young son. In it, Weiner touts his middle class roots through a narrative about his hardworking public school teacher mother and his father, a lawyer.
"Theirs is the classic New York story. You work hard, you make it into the middle class and you make life a little bit better for your kids. That's how this city was built but it's getting harder and harder every day," said Weiner. "The very people that put everything they had into this city are being priced right out of it. It doesn't have to be this way."
He discusses his record on fighting for New York City in Congress, highlighting victories such as getting a billion dollars to put more cops on the beat in the city and getting help for 9/11 first responders. He also directs readers to his website where his manifesto, Keys to the City, features "64 Ideas to Keep New York City the Capital of the Middle Class."
Last month, an NBC New York-Marist Poll showed that Weiner is the closest rival to the leading candidate in the city's mayoral race, openly lesbian Council Speaker Christine Quinn.
Like ex-Governor of South Carolina Mark Sanford, who mounted a successful comeback to be re-elected as the Congressional representative of the state's First District after a scandalous affair, Weiner is hoping for similar redemption.
"… I want to ask people to give me a second chance. I do want to have that conversation with people whom I let down and with people who put their faith in me and who wanted to support me. I think to some degree I do want to say to them, 'Give me another chance,'" he said as a part of his apology tour in a New York Times Magazine interview in April.
And it looks like New York City may be poised to do just that. Comments on the YouTube campaign video have been supportive so far.
"Go for it Mr. Weiner, you will get my vote!" said Faisal Nahian.
"If those who can support their GOP special interest Mark Sanford party through thick and thin, I do not see why we cannot support Anthony. He's got my support. Everyone is human and everyone has made mistakes in their lives. Nobody is error free and exempt from being human. Anthony did fight for the Middle and working class," wrote another commenter under username hvacrdude1.