Jamal Bryant Explains Why He's Calling on Americans to Support Colin Kaepernick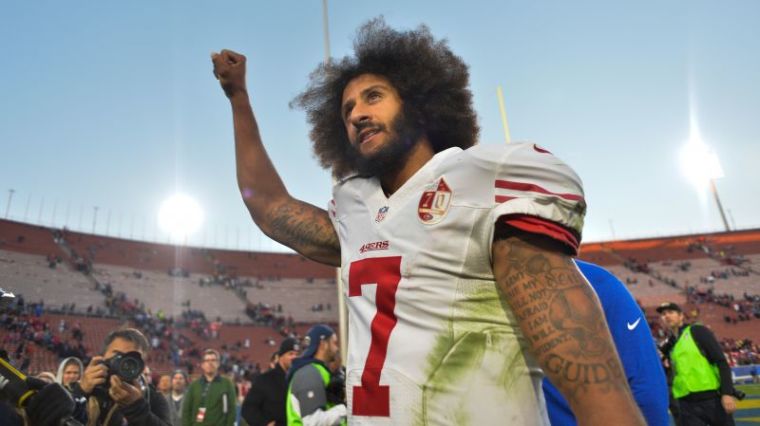 Pastor Jamal Bryant says he won't stop fighting for NFL free agent quarterback Colin Kaepernick who started a movement last year when he first began sitting then kneeling during the national anthem to protest police brutality in the black community.
Bryant, the senior pastor of Empowerment Temple AME Church in Baltimore, Maryland, is still advocating for the former San Francisco 49ers player one year after the QB began his protest and is calling Americans to join him. 
In an interview with The Christian Post, Bryant explained why he's spending his time and efforts defending Kaepernick, who still hasn't been picked up by an NFL team since opting out of his contract with the 49ers earlier this year.
"I think it's so important because [what's] been sold to so many black boys is the only way they can get out of the hood is to go through a sport. Somehow or another this translates [that] you go to sports for success and abdicate your social responsibility," Bryant said. "And so for a player who is economically comfortable, who is in fact at a meteoric rise, for this to make that kind of rift for his conscience, it didn't have to."
As a bi-racial player who was adopted into a white household and not living in one of the nation's toughest inner cities, Bryant said Kaepernick didn't have to use his platform to shed light on people of color being mistreated.
"The fact of the matter is Colin wasn't playing for the Chicago Bears or the Detroit Lions or the Baltimore Ravens. He was in San Francisco where there are not a lot of instances of police brutality," Bryant told CP. "For him to take Black Lives Matter from the fringes right to the kitchen table of America, I feel indebted as a part of that movement. Somebody was courageous enough to make that kind of stand."
Kaepernick began sitting and then kneeling during the national anthem last season to protest social injustice. He was also seen at training camp practices wearing socks depicting cops as pigs and even donated $25,000 to "Assata's Daughters," a group named after FBI fugitive and convicted cop-killer Assata Shakur. His donation was made "as part of his goal to provide $100,000 to underprivileged communities. He designated $2,500 specifically for 'Cop Watch,' a program that trains volunteers to follow and videotape police officers," Town Hall reports.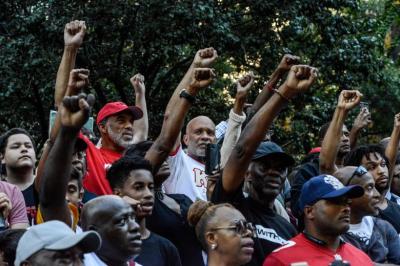 Bryant has been calling on Americans to boycott the NFL because Kaepernick remains unemployed due to the controversy, he says, while the organization continues to employ players who've committed misdemeanors and crimes such as assault and battery.
A few other NFL players had joined Kaepernick in his kneeling protest which started to die off until President Trump mentioned it during a campaign rally for Republican senate primary candidate Luther Strange against Roy Moore in Alabama last Friday, in which he suggested that players who kneel during the national anthem should be removed from the field or fired.
"Wouldn't you love to see one of these NFL owners, when somebody disrespects our flag, to say 'Get that son of a b---- off the field right now, out, he's fired. He's fired!'" Trump said during the campaign event for Strange,  AL.com reported.
Over 200 NFL team owners decided to send a message of team unity by kneeling during the national anthem earlier this week in opposition to Trump's comments.
Last year, Kaepernick made his intentions for protesting clear, saying: "I am not going to stand up to show pride in a flag for a country that oppresses black people and people of color. To me, this is bigger than football and it would be selfish on my part to look the other way. There are bodies in the street and people getting paid leave and getting away with murder," he told NFL Media. "I am not looking for approval. I have to stand up for people that are oppressed. ... If they take football away, my endorsements from me, I know that I stood up for what is right."
Kaepernick subsequently said, however, that he would start standing again during the national anthem when he returns to the NFL, ESPN reported in March.
In an interview with CP earlier this week, Virginia Bishop E.W. Jackson, an African-American who's known for his conservative political activism, lambasted the NFL for allowing its players to "disrespect" the United States by protesting during the nation anthem.
Jackson said that despite Kaepernick's stated reasons for staging his protests, "there is no epidemic of police brutality against black people."
"If you actually want to take a cold hard look at the data, the actual facts, there is no such thing," Jackson said. "There might have been in the 1950s, it might have been in the 1960s, but its not in 2017."
Jackson pointed to data that suggests twice as many white people are killed in police confrontations than black people each year.
As The Washington Post found via a real-time database launched in 2015 to track fatal police shootings, over 732 white people have been shot and killed by on-duty police officers during an 18-month timespan. Meanwhile, 381 of those killed by on-duty cops were African-American and 382 were of another race.
"Twice as many white people are killed in confrontations with police," Jackson said. "But you won't hear about that from the mainstream media because they are interested in pursuing this narrative of racial division."
According to The Washington Post's data, a higher total percentage of African-Americans are killed by police than the percentage of white people killed by police officers.
"White people make up roughly 62 percent of the U.S. population but only about 49 percent of those who are killed by police officers," The Washington Post reports. "African-Americans, however, account for 24 percent of those fatally shot and killed by the police despite being just 13 percent of the U.S. population."
However, Jackson reasons that the disproportionate number of African-Americans killed by police is due to a disproportionate number being involved in violent crimes.