James MacDonald's son launches church near Harvest Bible Chapel following claims he's unfit to lead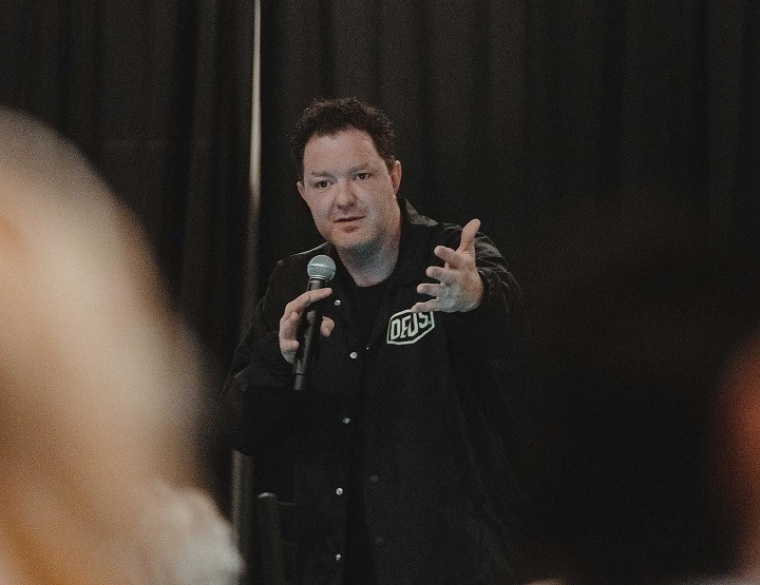 Luke MacDonald, son of the controversial founder of Harvest Bible Chapel in greater Chicago, James MacDonald, launched a new evangelical church on Sunday, following claims by some that he's unfit to lead.
James MacDonald, who was ousted from Harvest Bible Chapel for "highly inappropriate recorded comments" he made on a radio program as well as "other conduct" on Feb. 12, 2019, touted the first service of his son's Good News in the Neighborhood church on Instagram last Friday. The service was held at the Chez Hotel in Arlington Heights which is about 5 miles from Harvest Bible Chapel's Rolling Meadows campus.
"My son Luke MacDonald, his wife and 4 children are starting a new church in the northwest suburbs of Chicago – Good News in the Neighborhood. They are working hard to do what good ministry is in every generation: Holding fast to the Word of God and pioneering fresh ways of reaching people," James MacDonald wrote in his Instagram post. "If you have been out of church or are looking for a new church, Kathy and I highly recommend you to check it out in-person or online THIS SUNDAY, March 7, 2021."
Luke MacDonald noted on the church's website that "we are an evangelical church in the sense that we believe the things the evangelical church believes, but not in the sense of having a fixed political ideology."
He also noted that before starting Good News in the Neighborhood, he served as an associate pastor at Faithful Central Bible Church, a historic African American congregation in Los Angeles. He also served at Harvest Bible Chapel for 13 years as a pastor leading a number of youth initiatives as well as being an executive pastor.
A report by independent journalist Julie Roys published last November painted Luke MacDonald as an unfit leader who has an aggressive leadership style. The report cited accusations that he exhibited bullying behavior, urinated during a meeting, threw chairs in a rage, and failed to report the alleged abuse of a minor in the megachurch's youth ministry.
The Christian Post reached out to Luke MacDonald for comment on the allegations on Wednesday but he was not immediately available to respond. 
Roys reported that Alex George — whose father, Dan George, was an elder at Harvest — told her that Luke MacDonald urinated into a cup while interviewing him for a job at the church in December 2012.
George, who was a part-time youth worker with the church at the time, was seeking a full-time position with Harvest's junior high ministry.
While interviewing with Luke MacDonald in his office, he said the former megachurch pastor's son removed a cup from his desk, then he heard what sounded like Luke MacDonald urinating into the cup.
"I asked him, 'Are you peeing in that cup?' To which he said, 'Yeah,' pretty nonchalantly, and moved on as if it wasn't an issue," George told Roys.
Luke MacDonald allegedly then placed the cup of urine on his desk and told George he could make him do anything he wanted. George responded "no," and he was fired from his part-time job shortly after that.
Kevin Rowan, who first started attending Harvest around 2004, when he was 16, and volunteered as a musician, told Roys that Luke MacDonald regularly bullied him, telling him, for example, that he had a "s--- voice," and "would never lead worship" on the main stage.
"The big thing is just the way they talked about people," Rowan said, "the way they treated people — even in just conversations. ... It's like playing a game: 'We can get whoever we want to do whatever we want. No one has value unless we assign it.'"
Rowan recounted once challenging Luke MacDonald and his brother, Landon, about the abuse, and the former became enraged and "started swearing and taking the chairs … and throwing them." 
His experience, he said, left him suffering from something his counselor likened to PTSD.
"When you're a 16-year-old and trying to find your identity and you have all this s--- you're dealing with from a church ... that stuff messes with you at your core," Rowan said.