Japan Quake Death Toll Estimated over 10,000; PM Calls Crisis Worst Since WWII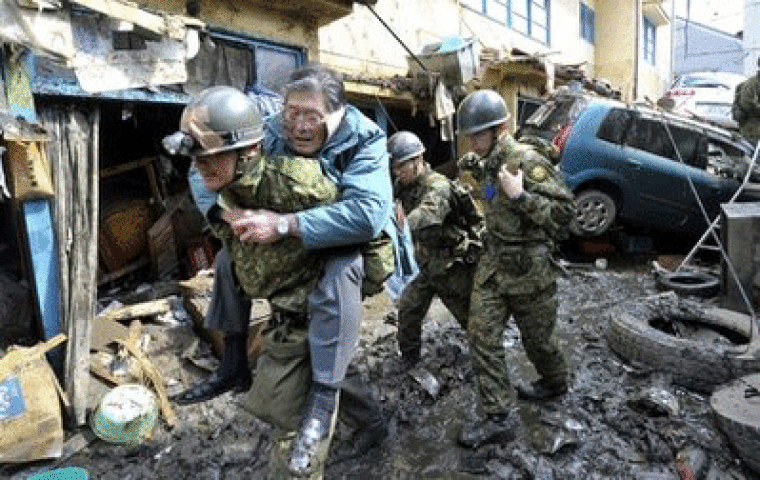 Japan's earthquake and tsunami is likely to have killed more than 10,000 people in one state alone, according to the police chief of Miyagi prefecture (state) on Sunday.
Miyagi is one of the hardest-hit prefectures by the 8.9-magnitude earthquake that triggered a massive tsunami.
"This is Japan's most severe crisis since the war ended 65 years ago," said Prime Minister Naoto Kan to reporters.
Millions of Japanese resident along the northeastern coast are without clean water, food, and electricity two days after the earthquake triggered a 23-foot tsunami that struck the island nation at 2:46 p.m. (local time) on Friday.
The U.S. Geological Survey said the quake has a magnitude of 8.9, but Japanese officials on Sunday are estimating it was 9.0. The quake is reportedly the fifth most powerful quake to hit the world since 1900 and the worst in Japan's recorded history.
5 photos
(Photo: AP/Kyodo News)
More than 1.4 million households have been without water since Friday, and about 2.5 million households without electricity, according to The Associated Press.
The Japanese government reported that it has sent over 100,000 each of blankets, bottled water, and liters of gasoline in addition to instant cup noodles, rice balls, diapers and bread to the affected areas.
But not only do survivors have to worry about getting by until aid arrives, they also have the added fear of being exposed to radiation from two nuclear reactors damaged by the quake and tsunami. At least one of the reactors seems to be undergoing a partial meltdown. But on Sunday, Japan's prime minister dismissed assertion that a meltdown had occurred and said he would not use the word "meltdown" in describing what was happening with the reactors.
But fear remains that there will be a second explosion at the nuclear power plant in Fukushima Daiichi plant in northeastern Japan on Sunday as workers urgently try to cool down fuel rods. An explosion already occurred Saturday, resulting in the roof of a building housing a reactor being blown off, according to CNN.
Amid all the turbulent developments in Japan, several Christian aid agencies are providing emergency relief to as many people as they can. The Salvation Army Japan reported that it sent a team to the city of Sendai, the hardest-hit city, on Friday night and began providing basic necessities and assessing damage on Saturday.
The group's headquarters in Tokyo also opened up its hall on the ground floor to people who could not get home because the public transportation in the city was stopped due to the quake. Those who came for shelter were given hot drinks and packed meals.
Meanwhile, World Vision deployed three staff to affected areas to assess the damage and to identify the immediate needs of the survivors. It said it will respond to the disaster with an initial budget of $400,000 for one month.
"Our prayers and that of the partnership are for the survivors as well as everyone impacted by the calamity," said Kenjiro Ban, World Vision's humanitarian and emergency affairs manager in Japan.