Jennifer Garner Takes 'Ninja' Son Samuel Affleck to Church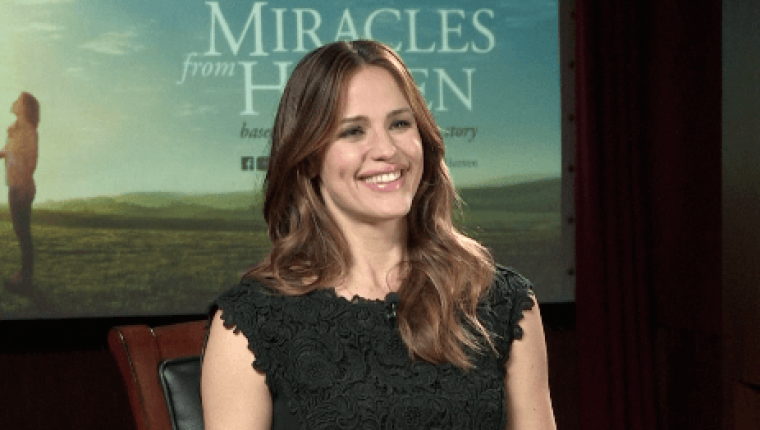 After starring in the faith-based film "Miracles From Heaven," actress Jennifer Garner is faithfully attending church and finding ways to make the experience fun for her son.
The 44-year-old Golden Globe award-winning actress was recently spotted bringing her four-year-old son Samuel Affleck to church in a ninja costume complete with swords.
"Jennifer Garner was back to her weekend routine on Sunday as she took her family to a church service in Pacific Palisades, California," Daily Mail reported of the spotting. "The mom of three kept her hand clutched to a Bible as she looked relatively serious heading into the church."
After starring in "Miracles from Heaven," Garner admitted that she was moved to start attending church more consistently.
"I will say that being around this community, and while I've always gone to church in West Virginia, that when I got back to Los Angeles, I was talking to my kids about the movie and they said, 'Mom you don't take us to church,' and we went that Sunday, and they went today without me," Garner said in a DeWayneHamby.com video. "That decision was a direct gift from this movie and for that I'm very grateful."
In the film produced by minister and Hollywood executive DeVon Franklin along with Bishop T.D. Jakes, Garner was tapped to play Christy Beam, the mother of an ill child who was miraculously healed after a hard fall from a tree. Garner spoke to The Christian Post about how the role changed her.
"Christy is such a strong woman and she's been tested by fire. There is no fire like having a child who's ill, who's suffering and this role changed me because it gave me a sense of that perspective, that I was pretending and that she had gone through something for real and people are still going through," Garner said. "It was just a constant and has stayed with me as a constant reminder of that. Also the strength and the rightness of a mother's love and that sometimes a mother's love is actually all the doctor ordered."
The West Virginia native told CP that she wanted to inspire people watching the film with faith.
"I will be so thrilled if it lifts people's hearts in that way, if it asks anyone to re-examine their own faith and their own beliefs, that would be the pie in the sky for me. I can't think of anything better," she said. "I think on a basic level even if you're someone who goes into this just because the other movie that you want to see is full and this is what's open at the time, you should walk out feeling inspired and you should walk out with a sense of hope. You should walk out reminded about how much you get from your family and community."