Jentezen Franklin Talks God's Faithfulness at Code Orange Revival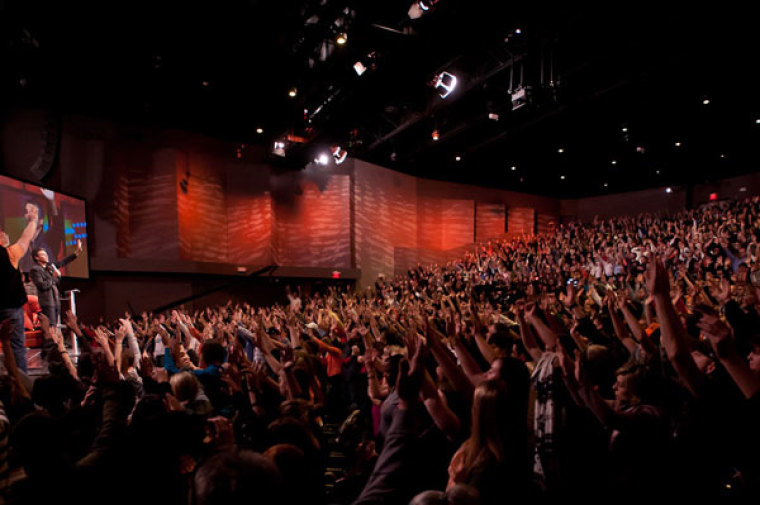 Night two of Elevation Church's "Holy Ghost, old-school revival" began Thursday night with the theme of God's faithfulness.
Jentezen Franklin, senior pastor of Free Chapel in Gainesville, Ga., and Free Chapel OC in Irvine, Calif., spoke to audiences on location in Charlotte, N.C., and via Web streaming as the second speaker for the 12-day Code Orange Revival.
He said he had prepared a sermon, but after the time of worship he decided to scrap it to talk about God's faithfulness. "You've been messing with me tonight," he told crowds.
Franklin grew up in the church and is a third generation Pentecostal preacher. He said, "When one generation is faithful, it's possible to store up mercy for the next generation."
3 photos
(Photo: Elevation Church)
His parents always prayed and fasted for him, but regardless one day "I decided I was going to be a big bad sinner." So he went out and smoked a joint. The difference between him and his friends who didn't have Christian parents was that when he got high, instead of seeing pink elephants, he saw Moses and Jesus and the four horsemen of the apocalypse.
He used this example to tell the audience that what they are looking for can't be found "in a bottle, in a joint, in crack cocaine, in a bed of sin [because] you were created for God and His hand is on your life." He said what people are looking for is in the church and in Christ.
Because his parents were faithful to God, Franklin said he had the prodigal's advantage. "If you're a child that has been raised in church you might get pulled away, but the prodigal always knows the way back home."
He sees this as proof that "when one generation is faithful it's possible to store up mercy for the next generation." He told thousands at Elevation Church that what they are doing now is not just affecting the here and now.
As they serve God they have to decide between storing up iniquity or mercy for their families. "I believe we can affect our children for generations to come. Our lives can be stepping stones or stumbling blocks," Franklin said.
He used the example of King David in the Bible and how God honored His descendants for His faithfulness.
"Don't get discouraged, all great things have small beginnings," he told Elevation, a church with six campuses and over 10,000 attendees.
Franklin himself pastors two churches. Charismamag.com reports, "Every Sunday, Franklin arrives at Free Chapel in Gainesville by 5 a.m. for prayer, preaches two sermons and shakes hundreds of hands before boarding a private jet at 2 p.m. with his family and two staff members. They arrive at John Wayne Airport, located five minutes from Free Chapel Orange County (OC), and by 6 p.m. Franklin is in the pulpit."
Franklin followed Lifechurch.tv pastor Craig Groeschel as the second speaker at the Jan. 11-22 revival. Elevation Church is hosting hours of worship and preaching to help believers in the city change their lives in the new year.
Elevation Pastor Steven Furtick, who wears orange each night of the event and sits in an orange arm chair on the stage of the church during the speaking, is the brainchild behind Code Orange.
Code Orange is meant to imply a heightened sense of urgency. The website states: "Probably the most fitting example that relates to our revival is the description for the Code Orange stage of a volcano."
Friday night's featured speaker will be Matt Chandler, lead pastor of The Village Church in Highland Village, Texas.