Jeremy Lin Marks LA Lakers Debut by Feeding the Homeless; Says He Has Grown as a Christian and Will 'Play for God'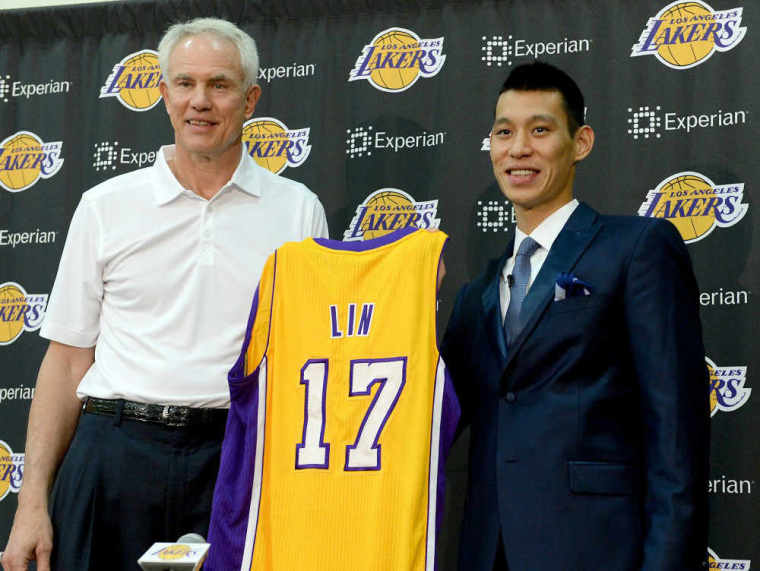 Jeremy Lin, formerly of the Houston Rockets, marked his introduction with the Los Angeles Lakers this week by joining a nonprofit ministry in feeding the homeless of the City of Angels' infamous Skid Row. He also delivered a message to Lakers fans, promising that he would play for God and play aggressively.
"Famed shooter Jeremy Lin who was recently acquired by the L.A. Lakers, embraced his new city by serving meals to the homeless today along with teammates Xavier Henry and Laker Girls at The Midnight Mission SoCal's largest social service provider," the nonprofit shared online Thursday.
In photos published on The Midnight Mission's Facebook page, Lin can be seen wearing an apron and standing behind a table with partners of the mission handing out Lakers-themed gift bags and serving guests their lunches.
Although The Midnight Mission frequently partners with athletes and stars to service the homeless, this week was the first time the Los Angeles Lakers have partnered with the nonprofit, according to the Los Angeles Times, and Lin likely could be the inspiration for the new partnership.
Lin, an outspoken Christian, works through his own organization, the Jeremy Lin Foundation to "love and serve children and youth, by providing hope, empowerment and leadership development." The foundation's work, according to the nonprofit's website, is "compelled by his relationship with Jesus."
The new Lakers point guard, who donned his no. 17 jersey for online supporters, had never visited Skid Row before. The area has long been home to thousands of the city's homeless residents. Lin told the L.A. Times he was "keeping his eyes open" for new directions for his charity.
The L.A. Times report also noted that Lin's Asian descent would be a major draw for Los Angeles' Asian community, said to be the largest in the U.S. The former Rockets and New York Knicks guard was born in Los Angeles County.
Lin was traded by the Rockets to L.A. earlier this month, and is in the last year of a $15 million contract. The 25-year-old player became a household name during his 2011-2012 season with the New York Knicks, and prompted enthusiasts to dub his impressive play "Linsanity."
Lin told reporters during his official introduction by the Lakers this week, however, that his goal is to "establish himself as something more than the crossover cultural sensation that hit New York two years ago," according to The New York Times.
"I'm not trying to recreate Linsanity. I'm not trying to be that phenomenon that happened in New York. I think I just want to be myself, more than ever," said Lin.
"It's definitely been an up and down year for me. When I look back on the past two years, I think I've grown and learned a lot as a person, as a Christian and also as a basketball player. From the minute I stepped into Houston till now, I'm definitely a more complete player," he told reporters.
Watch Lin give a brief interview in the video below, where he tells Lakers fans he will play for God and stick to what he has been trained to do: