Jeremy Lin Shows God's Love in Community Service Project During All-Star Weekend
Jeremy Lin Shows God's Love in Community Service Project During All-Star Weekend
Jeremy Lin, 23-year-old New York Knicks' starting point guard, began his NBA All-Star weekend by doing community service, and expressed his participation as an expression of God's love.
Before playing in his first Rising Stars Challenge game Friday night, Lin and Knicks guard Landry Fields helped remodel homes for the less fortunate in Orlando, Fla., where the NBA All-Star weekend took place. The project was a part of NBA Cares All-Star Day, in which NBA stars serviced eight places in the Orlando area to help improve the lives of the community's kids and families.
Despite all of the events and celebrities that showed up to take part in Lin's first All-Star weekend, the Asian-American Harvard graduate only tweeted about the service work that he took part in.
"Me and Landry Fields doing some yard work at all star weekend," Lin tweeted. "We love because God first loved us."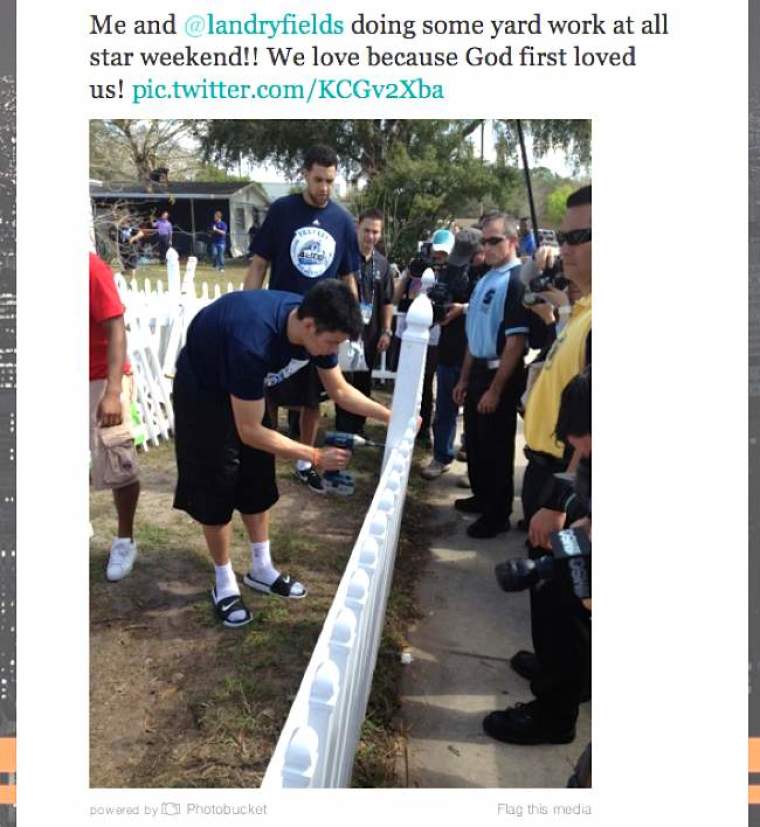 Lin and Fields aided in putting fences and a basketball hoop up for homeowner Betty McGuire and her eight children, which was captured in a photograph and posted to the point guard's Twitter account.
Fields said the opportunity to help the residents in the area was a blessing.
"We're so blessed with what we do so the opportunity to give back is something we should take advantage of and when it's there for the taking, do it," Fields said in a Central Florida News 13 report. "It really puts things into perspective. It's all fun for All-Star Weekend to come and do something like this, then to give back, it even adds to the excitement of the weekend."
Although Lin only played nine minutes in Rising Stars Challenge game, McGuire called his performance on her home miraculous.
"The whole house! Inside and out, it's nice, I feel like I'm moving into a brand new house," the mother of eight told News 13. "It's like a miracle. The only thing I can say is God is good."
WATCH VIDEO OF JEREMY LIN'S TESTIMONY
WATCH VIDEO OF JEREMY LIN PRAISING GOD FOR A VICTORY
WATCH VIDEO OF JEREMY LIN BEING COMPARED TO TIM TEBOW