Jerry Falwell Jr. Compares Trump to Bible's King David, 'a Man After God's Own Heart;' Russell Moore Responds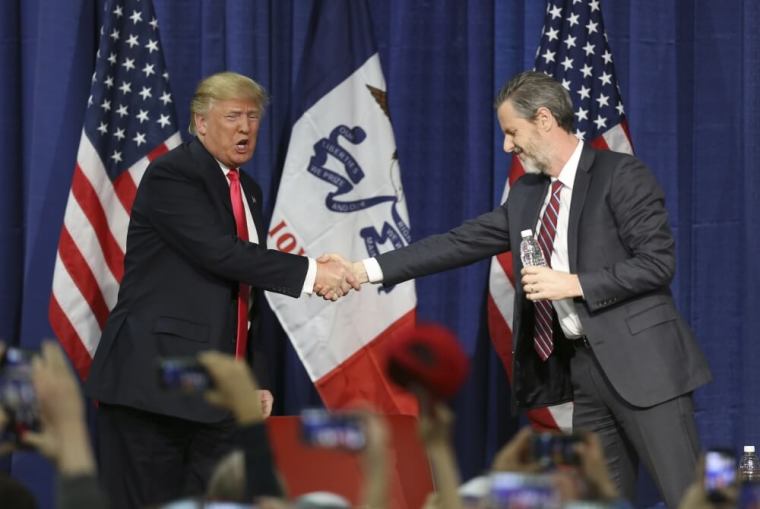 Defending his endorsement of Donald Trump, Liberty University President Jerry Falwell Jr. said, "God called King David a man after God's own heart even though he was an adulterer and a murderer."
Falwell spoke to the student-run newspaper Liberty Champion to explain his decision in January to endorse the billionaire businessman.
Jon Ward, political reporter at Yahoo News, tweeted Falwell's remarks on Trump and King David in the Bible, and Russell Moore, president of the Southern Baptist Convention's Ethics and Religious Liberty Commission, retweeted it, adding his own comment that poked fun at Trump's Bible gaffe when he previous said "two Corinthians": "There's a Psalm five-one, or something like that, somewhere, I'm told."
Falwell told the student newspaper he became Trump's friend in 2012, after the real estate mogul came to speak at Liberty University.
He also said he spent time on the campaign trail with Trump during the weekend of the Iowa Caucus, adding that he went with his family and Trump paid for it. Falwell said that Trump invited his family to sit up front with him and gave them a tour of the "big living room with this big screen TV," the master bedroom, and let his son, who is a pilot, sit in the cockpit during take off. "Then we sat there with him the whole time, just across the table," he said.
"He offered us food, … so he brought out Wendy's cheeseburgers. He ate cheeseburgers, and we ate cheeseburgers. Then he put on a concert. He found out that when I grew up in the 70s, I was an Elton John fan. So, he put the concert on the big screen. He was doing it all himself. He was the one serving the food. He was the one waiting on us. I thought it would be like caviar and something fancy, but it was cheeseburgers — Wendy's cheeseburgers."
Falwell continued that he believes those criticizing Trump are career politicians scared of change.
"I really believe that what you are seeing happening this week is the establishment is having a seizure. They're going ballistic because they are scared to death that they're going to lose power," he asserted. "They're scared to death of Trump because he's the kind of guy that will walk into Washington, kick over the tables, kick over the chairs, throw the bums out, start over, and do things that a career politician would never do."
He continued: "He (Trump) doesn't need the money. He's paying for his own campaign. He's not beholden to anybody like the rest of them are. He's made a payroll with tens of thousands of employees, and nobody else on that debate stage has ever made a payroll and never will. They don't understand it."
Falwell went on to say that Christians should't attack other Christians "because they don't support the same candidate or the candidate who they believe is the most righteous."
That's when he said, "God called King David a man after God's own heart even though he was an adulterer and a murderer. You have to choose the leader that would make the best king or president and not necessarily someone who would be a good pastor. We're not voting for pastor-in-chief. It means sometimes we have to choose a person who has the qualities to lead and who can protect our country and bring us back to economic vitality, and it might not be the person we call when we need somebody to give us spiritual counsel."
Back in January when Falwell had announced his support for Trump, Moore had exclaimed that the LU president's praise of the businessman was "absolutely unbelievable."   "Trading in the Gospel of Jesus Christ for political power is not liberty but slavery," Moore had tweeted.
And Max Lucado, often described as "America's Pastor," made the rare decision to comment on politics – an action that he said he has done only three times in 30 years of ministry – by writing a blog criticizing Trump for his indecency and antics that "wouldn't be acceptable even for a middle school student body election."  The blog went viral and Lucado explained to NPR that his main concern for speaking out against Trump is that people would make a decision against Christianity because of Trump's behavior.
"I was deeply troubled ... that here's a man who holds up a Bible one day, and calls a lady 'bimbo' the next. Here'a a man who calls himself a Christian and yet just had the audacity to make fun of a lady's menstrual cycle," Lucado told NPR. "He didn't just do this on occasion, but repeatedly, unrepentantly. Somebody sent me a list of 64 peopel he's called loser."
The Christian Post, like Lucado, has also felt compelled to take an editorial political position for the first time in its history. CP highlighted many reasons why Trump would be a "dangerous leader" for the country, including his reluctancy to denounce the support of David Duke, who is linked to the Ku Klux Klan, and his willingness to ignore the authority of the Supreme Court, Congress and the U.S. Constitution if he were to become president.
"He has taken a political position both pro and con on virtually every subject and major political party. This should give evangelicals great pause and concern about supporting such a mercurial and chameleon-like candidate," the CP editorial reads in part. "Past performance is the best predictor of future behavior."