Jesse Duplantis Says He Didn't Ask Followers to Pay for $54M Jet, but 'Believe' It Into Existence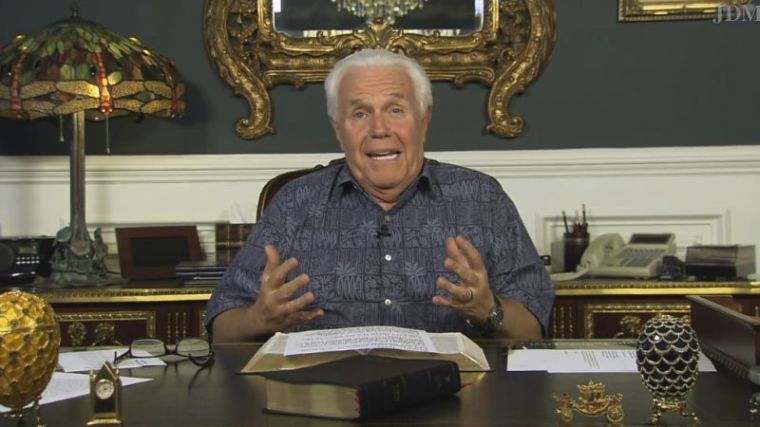 Televangelist Jesse Duplantis is now saying that he never asked followers to donate toward a $54 million jet, but instead called on them to join him in believing that God would provide him with the new aircraft.
Duplantis, the founder of Jesse Duplantis Ministries in Louisiana, received much backlash after it was widely reported last week that he's seeking donations toward a new Dassault Falcon 7X during his "This Week with Jesse" program.
Even though the prosperity preacher has already owned three planes throughout his ministerial career, he said that he's been "burning them up for the Lord" and that the Falcon 7X would allow him to get to places nonstop. 
In a new four-minute video posted the ministry's website, Duplantis attempts to clarify his earlier remarks where he claimed that God told him to believe that He would provide a Falcon 7X and that he would not have to pay for it.
"First things first, I never raised money for the plane," Duplantis said. "I put it in our magazine and said, 'Believe in God with me.' There is a vast difference between 'Believe in God' and asking for money."
Duplantis said that he was told by God: "You don't need to raise money for this. This will just come."
"I have raised money for a lot of other things and there is nothing wrong with that because religious organizations do that," Duplantis said. "But just when He said this would 'just come,' little did I realize that people would pick this story up."
Duplantis blamed the media for twisting the story.
"You know, when you start picking up a story, people start adding things to it, taking things away, things of that nature and it gets all mixed up," he said.
"Let me just say it again, this is the truth here because I am the one that started this."
"I am not asking you to pay for my plane," he added. "The Lord said, 'I didn't ask you to pay for it, I asked you to believe for it.' That is what I said. So I am believing and I want you to believe with me."
Duplantis went onto explain how he has never "duped" anybody and how his ministry is televised in over 106 million homes around the country. He added that some people have called him and asked to "get involved in that new plane you are believing for."
"I said, 'Well, that is up to you.' But I never asked you for it," he stressed. "And, there is nothing wrong with asking you for it. But that is not the issue because I didn't [ask] because I am following the direction that the Lord told me: 'Just believe me and I will.'"
Duplantis also assured that he is not upset about the negative media attention that he's received over the last week. In fact, he said that all the negative press actually "excites" him.
"I have never had this much press in my life. [Even though] it's negative, it don't make no difference," he said. "My face is on all these different things. Who would have thought I would be on Fox News, "Good Morning America," — good Lord — CNN, all these different things."
Duplantis claimed that despite his 40 years in ministry, he has never been involved in a scandal.
"This is not a scandal," he asserted. "This, what I am doing today, is to let you know the truth and let you know what is happening and what I have done to show you everything in my life."
"To all you other people who may not understand this, you have that right. I will not defend myself because I didn't do nothing wrong and I mean that sincerely," he continued. "But if you believe that, if you think I have, you have that right. That is what is good about the United States of America, it's called free speech."
Duplantis also claimed that he has plans for "giving" away one of his planes that he has owned for 12 years "because we believe God for the 7X to come in."
After producing the earlier video highlighting his initiative to buy a new plane, many were quick to point out the size of Duplantis' lavish home.
As a local ABC affiliate reports, Duplantis lives in one of the largest homes in St. Charles Parish, which is over 34,000 square feet and has over 25 rooms.
"This is the humble Louisiana parsonage of Jesse Duplantis, the TV evangelist who says God wants him to have a $54 million jet," Rod Dreher, author of The Benedict Option, wrote on Twitter.
Popular gospel singer Kirk Franklin also criticized Duplantis.
"Many of these 'ministries' built their wealth on the backs of poor rural minorities that put their trust in the hands of 'god's shepherds' only to see the prosperity benefit those doing the preaching," Franklin wrote in an Instagram post.
"Again, there are GREAT Christian leaders, and there is NOTHING wrong with having a plane ... but if the burden falls on the less fortunate and GREED is the check written by those drowning in socio-economic rivers of systematic disparities, GOD is not flying that plane."