Kirk Franklin Blasts Televangelist Jesse Duplantis' Plea for Jet: 'God's Not Flying That Plane'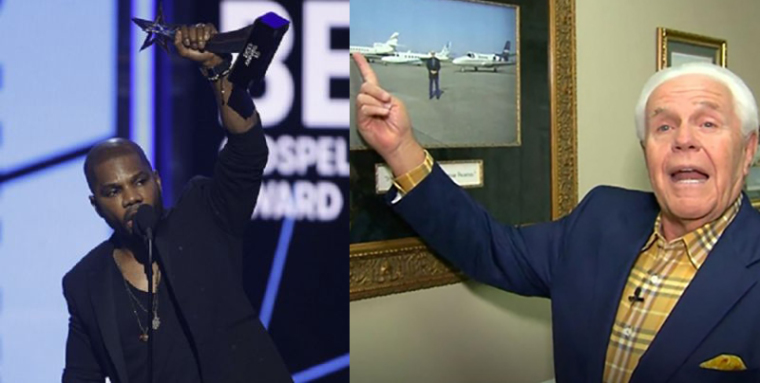 Popular gospel singer Kirk Franklin blasted televangelist Jesse Duplantis on Wednesday after the New Orleans-based televangelist broadcast a video asking for donations to buy his ministry another multimillion dollar airplane.
In an Instagram post, the singer-songwriter commented on the news this week that Duplantis is seeking donations to buy a $54 million Falcon 7X private jet and accused prosperity ministries, such as Jesse Duplantis Ministries, of targeting poor minority communities.
"This is Jessie [sic] Duplantis. A televangelist who has [three] planes, and is now telling us that 'Jesus' wants us to buy him another one," the 48-year-old Franklin wrote. "I'm posting this because now that we see popular culture stand up to the injustices in mainstream society, I believe the church should do the same for its own as well."
Franklin, the singer of songs such as "Imagine Me" and "Stomp," argued that when there is "an abuse of power that affects our message to the masses; our silence can be as loud as the bigotry and racism we see in the public square."
"Many of these 'ministries' built their wealth on the backs of poor rural minorities that put their trust in the hands of 'god's shepherds' only to see the prosperity benefit those doing the preaching," Franklin contended. "Again, there are GREAT Christian leaders, and there is NOTHING wrong with having a plane ... but if the burden falls on the less fortunate and GREED is the check written by those drowning in socio-economic rivers of systematic disparities, GOD is not flying that plane."
Duplantis claims that he needs the new jet so that he and his ministry can travel places nonstop, something he is not able to do with any of the planes currently owned by the ministry. Duplantis claims that God told him to "bleed me for a Falcon 7X" and that it was "one of the greatest statements the Lord ever told me."
"I really believe that if Jesus was physically on the Earth today he wouldn't be riding a donkey," Duplantis said in the video. "Think about that for a minute. He'd be in an airplane preaching the Gospel all over the world."
Duplantis video comes just months after Texas televangelist Kenneth Copeland bought a new Gulfstream V jet that he says is to help him to do the Lord's work. Additionally, televangelist Creflo Dollar made headlines in 2015 when he asked donors to contribute for a new $65 million jet. Dollar would later shut down his fundraising campaign for a jet.
Others have been critical of Duplantis' plea for a fourth jet.
Rod Dreher, a Christian conservative author, tweeted out a photo Wednesday showing followers what Duplantis' giant Louisiana mansion looks like.
According to a local ABC affiliate, Duplantis lives in one of the largest homes in all of St. Charles Parish, which is a combined 34,986 square feet.
The St. Charles Herald Guide reports that Duplantis' home consists of 25 rooms and two double-car garages.
"This is the humble Louisiana parsonage of Jesse Duplantis, the TV evangelist who says God wants him to have a $54 million jet," Dreher, author of The Benedict Option, wrote.
Daniel Akin, the president of Southeastern Baptist Theological Seminary, also took to Twitter to voice his condemnation of prosperity gospel preachers.
"You cannot make this insanity up," he wrote. "This is why the prosperity gospel is no gospel. It is heresy plain and simple."
Jim Wallis, a progressive evangelical leader and founder of the Christian social justice organization Sojourners, agreed. 
"The gospel of prosperity is a biblical heresy and needs to be named as that," Wallis told CBS Evening News.