'Jesus Discovery' Has 'Zero Percent Chance' of Being True, Say Experts
The "Jesus Discovery," presented by archaeologist and professor James Tabor with documentary filmmaker Simcha Jacobovici, claimed to have found the tomb of Jesus and his family in Jerusalem in 2010. However, many remained skeptical. Now, their persistence has unveiled another nearby tomb that is causing renewed debate and controversy.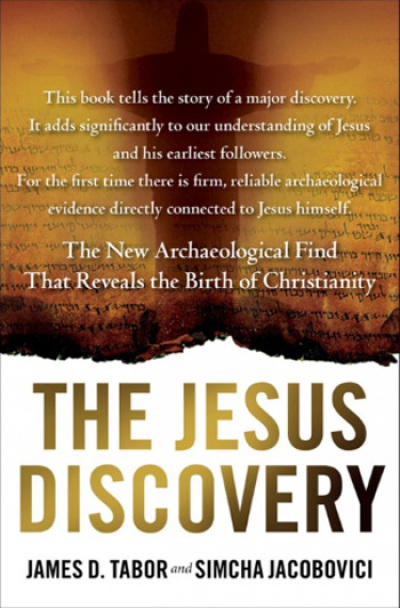 The new tomb – about 200 feet from the "Jesus Family Tomb" – is marked with the first Christian symbol, the cross. It also has markings allegedly saying "Divine Jehovah, raise up, raise up" and a drawing of a fish with a stick.
"In my assessment, there's zero percent chance that their theory is correct," Andrew Vaughn, executive director of the American Schools of Oriental Research, told MSNBC of the findings. For him, the second tomb does not strengthen the case that the first one is authentic.
The original "Jesus Discovery," book is based on a 1980 finding of 10 small caskets – known as ossuaries – that allegedly contained the bones of Jesus Christ and his family. One of the casket's inscriptions reads "Judah, son of Jesus," which the book writers radically say indicate that Jesus started a family.
The radical assertions of both findings contradict many things modern Christians believe: Jesus Christ rose from the dead and ascended to heaven, leaving no trace of a tomb or bones behind, according to the Bible. In addition, no scripture ever mentioned Jesus marrying or having children in over 30 years on earth.
Many experts agree with the Christian viewpoint that the controversial findings are false, not only for faith's sake, but to prevent archaeological and scientific misuse as well.
"Nothing in the book 'revolutionizes our understanding of Jesus or early Christianity,' as the authors and publisher claim," Duke University biblical scholar Eric Meyers told MSNBC. "We may regard this book as yet another in a long list of presentations that misuse not only the Bible but also archaeology."
"It pains me to see archaeology hijacked in the service of non-scientific interests," agreed Jodi Magness, a religious studies professor at the University of North Carolina at Chapel Hill.
Some experts accuse Tabor and Jacobovici of fabricating the meanings of an otherwise unimportant historical find for publicity, fame, and book sales. Their book was released Tuesday.
"It's an ordinary middle-class Jerusalem burial cave," Amos Kloner, the first archaeologist to examine the site over 30 years ago, told MSNBC. "The names on the caskets are the most common names found among Jews at that time."
A 1996 documentary by the BBC on the same subject led Kloner to a similar conclusion: "They just want to get money for it."
More doubt has been cast on the research, especially when the artifacts, markings, and inscriptions being discussed have never been viewed by the naked eye; Jacobovici used a robotic arm equipped with a camera to gain access to the tomb without disturbing it completely.
"The current claim is based on finds that have no context, as they have not been excavated. All we have are photos taken by a robotic arm of objects (or parts of objects), the dates and identification of which are unknown or unclear," wrote Magness.
Christopher Rollston, an expert in Semitic epigraphy at Emmanuel Christian Seminary in Tennessee, said he and others will remain unconvinced because of a lack of evidence.
"Dramatic claims require dramatic evidence," he wrote on the ASOR blog. "The claims of Tabor and Jacobovici for this tomb are no more convincing now than they were then."
SEE VIDEO REPORT BY THE MAKERS OF THE JESUS DISCOVERY DOCUMENTARY
SEE VIDEO OF FIRST REPORT ON THE JESUS DISCOVERY FROM LAST YEAR