'Jesus Revolution' director on film releasing amid Asbury college revival: 'There's a divine hand on the timing'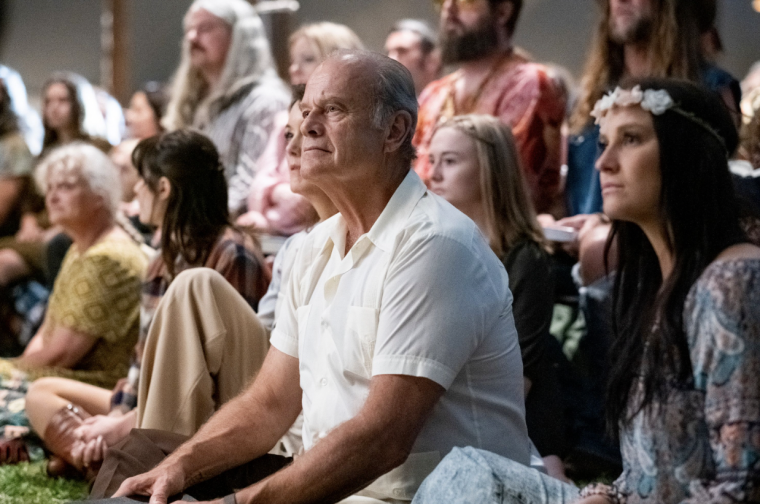 LOS ANGELES — When Jon Erwin first considered bringing "Jesus Revolution," the story of the greatest spiritual awakening in American history, to the big screen in 2015, he never imagined that nearly a decade later, at the same time the film would hit theaters, a revival would be breaking out on campuses across the United States.
"For years, we've been working on this story. We almost got it made, and then COVID got it shut down," Erwin told The Christian Post. "I just think there's a divine hand on the timing of the film. And the reason we made it was … the thing that we've said for years is, if it happened then, it can happen now. If it happened once, it can happen again."
Not far from where Erwin lives in Nashville, Tennessee, a revival was breaking out at Asbury University, a small Christian college in Wilmore, Kentucky. What started as a small service in the chapel ballooned into a nonstop prayer and worship session that's now lasted for weeks, 24 hours a day. 
"That happened in the '70s, as well — it was a huge part of the Jesus Movement," Erwin said. 
Erwin and his wife traveled to Asbury to witness the revival firsthand — and it was, he said, "unbelievable." 
"It felt just like the scenes of the movie, like it felt identical, just the emotion of it, which was why we made the movie. I just want it to feel awakening, a little bit; renewal, a little bit. And you felt it in that room. And listening to those college kids talk about their generation, their time, what God's doing — it was so inspiring to me. And I loved it. And the hope is that things like that can spread. That's why we made the movie."
"We're not pastors or politicians, we're entertainers. So the best we can do is to just tell the story of the last time this happened in American society as authentically as possible in hopes that people will say, 'this can happen again. It's going to happen now. It's our turn. It's our time.' And that's my hope. So to see that happen, even before the film comes out. It's really, really cool."
"Jesus Revolution" follows Greg Laurie in the 1970s as he, along with a slew of young people, search for truth and meaning on the West Coast. There, he meets a charismatic young evangelist, Lonnie Frisbee, who introduces him to Jesus and invites wandering youth to church, challenging traditional church culture. What followed was a countercultural movement that continues to impact society and the Church today.
Erwin described the film as "very, very authentic," adding: "The fact that Lionsgate let us make a movie called 'Jesus Revolution' is astounding and a miracle."
Hitting theaters Feb. 24, the film stars Kelsey Grammer as Pastor Chuck Smith, Joel Courtney as a young Greg Laurie and "The Chosen" star Jonathan Roumie as Lonnie Frisbee.
Laurie, who leads Harvest Christian Fellowship, told CP that the climate he experienced in the late '60s and early '70s is not unlike that of today, with young people experiencing despondence, mental health issues and searching for answers.
"This generation needs hope, just like our generation needed it. And I pray that this movie will be a spark. It's been said the theme of revival spreads the flame of revival. We're telling the true revival story, and we're praying it will inspire young people to say, we want to see that for our generation," he said. "I think if people start praying for this, we can see revival."
"Jesus Revolution" highlights how a traditional, buttoned-up pastor, Chuck Smith, embraced Frisbee's unique approach to evangelism and opened church doors to hippie kids, discarding his disgust for their free-spirited ways. It was Smith's ministry, Laurie said, that paved the way for his own.
"Chuck Smith was a man who took risks. He was not a hipster dude. He was just a very conservative guy who saw a generation going in the wrong direction," Laurie said. "I think that we as pastors need to continue to make every effort to connect to the younger generation and give them opportunities."
"We want to open the doors for other young men and women to be used by God. I think it's the idea of, let's just say, 'Lord, we're available.' One thing that comes out of this movie is, this is not the story of perfect people. It's a story of a perfect God who worked through imperfect people. That's why we call it 'Jesus Revolution.' It's really a movie about Jesus."
Reflecting on society's obsession with stories of church leaders who fail, Erwin said he sees the film as both a celebration of pastors and a challenge to them to open their doors to those discarded by society. 
"For every story that our industry tells of a pastor gone bad, televangelists, whatever, there's 10,000 pastors doing great work on the ground all across America. I think the American pastor is one of the most … under-celebrated, under-seen jobs in American society that binds us together. And they're doing great work. And a lot of times those stories are not told," he said. 
"I wanted to tell a story of a pastor that threw his doors open to something he didn't understand, and opened his doors to an audience of people that in the religious context of the day, a hippie going to church at the time, was like, go home, get a job, cut your hair, rejoin society, now maybe you can come to church. Instead, Chuck just threw his doors open to this group of people. And I think that is a challenge to pastors all across America."
Already, filmmakers have screened "Jesus Revolution" for large groups of pastors across the country — and Erwin said the response has been incredible. 
"I wanted to celebrate pastors, and then also challenge them to, let's see this happen again and open your doors; open your doors to people that either are misunderstood or you don't understand. Amazing things can happen when you have the courage to do that," he said. 
Filmmakers also stressed the importance of audiences seeing "Jesus Revolution" in theaters on Feb. 24: "You vote for your content at the box office and opening weekend will determine a lot. It'll determine how long it stays in theaters, it will determine Hollywood paying attention to the numbers," Brent McCorkle, who directed the film alongside Erwin, said. 
"If this is content that you want to see, if you want to see more of this, you have to go support the content that you want to see more of," he added. 
Laurie encouraged Christians to bring their non-believing friends to theaters, voicing hope that the film can be a catalyst for further revival. 
"Pastors, encourage your people to take non-believers into the theater, buy two tickets, one for yourself, and one for an unbeliever. Take them to see the movie, and I think that you will see people actually come to Christ as a result."
Were you there? Use #MyRevivalStoryto share your story.